Teens love the Cold War Kids.
Last night, concertgoers ages 14-19 flooded Terminal 5 in anticipation of the Kids' show. There were many of-age attendees, but it was clear most of the crowd wouldn't be enjoying any $6 Budweisers.
These were the types of teens you could bring home to mom. They had no visible arm tattoos, excessive piercings or patently bad attitudes. Judging from their pre-concert conversations, their interests include Wii Fit and collecting pictures of pugs to display on their cell phone backgrounds. One gentleman sported a shirt that read "math is delicious" and spoke almost entirely in text message abbreviations. That guy made me LOL.
The Cold War Kids opened with "I've Seen Enough" from their sophomore release Loyalty to Loyalty. The crowd greeted it with polite applause, but it's hardly one of the band's hits. For those, the Kids have to turn to their 2006 debut, Robbers & Cowards. The second song on the set, "Hair Down," was more to the fans' liking. It's a paradigmatic example of what the Kids do best. Tom Waitsian reverberating guitar need only add a few flourishes to make its presence felt. It's a barebones, primal sing-along.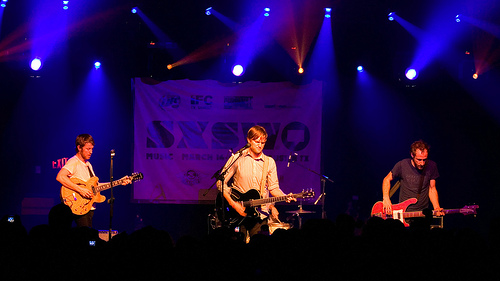 Cold War Kids at SXSW
When he has to, singer Nathan Willett can fill a room with his faux-Southern crooning. He can actually replicate his vocal range live. That's not something you should necessarily praise a professional musician for, but it's a rarity in today's pitch-correct-obsessed sonic landscape. Willett even took time out of his set to play peace maker between two front row chodes busy shoving each other. "What is this all about, Gentlemen?" Willett asked them. "These songs aren't aggressive. This is about love."
The Cold War Kids know which songs the audience is waiting for, and they don't seem sick of playing their 2006 stuff. "Hang Me Up to Dry," Hospital Beds" and "We Used to Vacation" draw the most appreciative yelps from the crowd. On some level, it's probably frustrating for the band to see their fans' lukewarm reaction to the music they're currently writing. I'm sure they have no desire to end up like the Gin Blossoms, playing county fairs and surviving off their anachronistic status. Incidentally, I can say from experience the late 90s icons do not waste anyone's time playing new crap in concert. It's "Hey Jealousy" by the barrel full when the Blossoms take the stage.
Willett's attempt to highlight a new song by dedicated it to the recently deceased J.D. Salinger fell flat. Judging from the non-reaction his tribute received, the crowd either didn't know who Mr. Salinger was, or was unaware that he just died a few days ago.
Despite some lulls, the Terminal 5 show was a success. The packed house got what they came for and ate it up with youthful exuberance. The question is whether the Kids can manufacture another smash single to compliment their aging supply of hits.