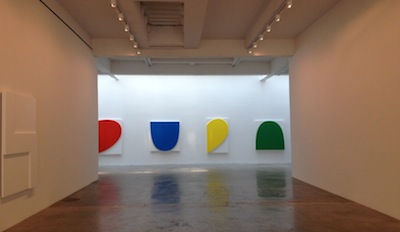 Installation view: Curves on White (Four Panels) from 2011, in Ellsworth Kelly at Ninety, at Matthew Marks's 24th Street gallery

Ellsworth Kelly, the master of lyrical minimalism, enjoyed his 90th birthday this past month with a trio of exhibitions at Matthew Marks's Chelsea gallery spaces and with concurrent showings at the Museum of Modern Art, in midtown, and the Mnuchin Gallery, uptown.
After making my sixth or seventh visit to the exhibition at the Mark Gallery's 24th Street gallery I realized that I was mesmerized not only by the masterful Kelly paintings themselves but also by the dynamic way they're displayed in the gallery's newly reconfigured ground floor space. The space's new T-shaped configuration nicely promotes contemplation. Until this show, the gallery's public showing space was on the second floor and the ground floor featured a small, peek-a-boo viewing room that was inaccessible to the public. In this new incarnation, the space and the paintings felt conceived as a whole -- and the entire gallery felt as though it had been specially designed for the presentation of this group of paintings in a gallerist's gracious and profoundly respectful bow to a master.
In the gallery on 24th Street, you enter the spare but lofty space as though through a church or temple's nave, on which were hung three crisp, angular white paintings. Beyond was the transept-like space at the heart of the gallery, featuring four of Kelly's brilliantly hued Curves on White panels hung along the dramatically skylighted back wall. It was here that the power of art, architecture, and canny exhibition design came in a suite of explosions -- red, blue and yellow and green -- fueled by natural light. Having seen this installation a number of times, in a wide range of natural light conditions -- including sunny afternoons and grey, rainy mornings -- I can report that the space and the moods of these works are ever-changing in an powerfully illuminating way.
The Ellsworth Kelly exhibitions at the Matthew Marks and Mnuchin galleries have closed. Ellsworth Kelly: Chatham Series in on view at the Museum of Modern Art through September 8, 2013.
Installation view: Black Form II (2012), at Matthew Marks's West 22nd Street gallery. Included in this exhibition was this playfully stunning, almost cartoon-inspired, inflatable capital "C" painting which harkens to butts and breasts, and simply cried out for intimate inspection.