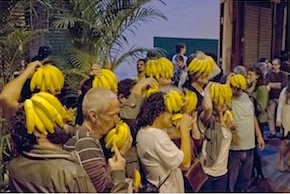 Jarbas Lopes' impromptu banana dance at the A Gentil Carioca gallery (photo by Fausto Chermont)
I've just returned to New York from a ten-week stay in Brazil, where I found the cultural scene energized by a whirlwind of gallery openings, art fairs and special exhibitions. Lingering in my memory are several moments that together afford, I think, a nice mosaic view of Brazil right now.
Moment #1: "Investigation"
This summer when I first arrived in my São Paulo home for my ninth annual Brazilian winter visit, I finally broke down and purchased a car: a compact, moss colored VW Gol with a GPS navigational system. In all my years with a home in this vast, labyrinthine Brazilian city, I'd always relied on subway, bus and taxi. But really I was in denial, pretending I could remain productive and use my lifelong New York mass-transit smarts to get around. In truth, for this North American, São Paulo's sprawl is much more analogous to that of Los Angeles: a vast, geographic footprint connected by a chaotic cobweb of roads and poorly functioning mass transit system.
In past visits, faced with transit obstacles, I'd never made more than two appointments in any given day. Having the car was profoundly liberating; and I found myself on-the-road 12-hours a day stringing together a half dozen or more appointments as I traveled to far-flung galleries, museums, collector homes and artist studios. As a result, my understanding of the city and its cultural activities took a quantum leap. Of more than one hundred appointments, stand-out studio visits included those with Ana Prata, Caetano de Almeida, Fausto Chermont, Iran do Espírito Santo, Marina Rheingantz, Ricardo Alcaide, Rodrigo Andrade, Rodrigo Bueno and Sérgio Sister, all of whom will be seen more widely in the world in the coming season.
Moment #2: "Celebration"
Rio de Janeiro is a celebratory city, and I was happy to find anarchic revelry even under the slate-gray, rain-swept skies of the opening of the ArtRio art fair. And the revelry felt most highly pitched in the fair's second pavilion, featuring beautifully installed displays by emerging galleries (standouts being the Rodrigo Bueno installation at London's Gallery Nosco and group shows from New York's Y Gallery, Milan's Thomas Brambilla Gallery and Zurich's Christinger De Mayo gallery), as well as in a special potted palm-filled exhibition "Vision of Paradise" curated by Julieta Gonzalez and Pablo Leon de La Barra.
Rio's predilection for celebration continued in a profusion of ArtRio parties and special events over the four days of the fair -- my favorites of which were an African street-cleansing ritual and an impromptu banana dance led by exhibiting artist Jarbas Lopes, which opened with on the occasion of the tenth-anniversary celebration of the A Gentil Carioca gallery, as the gallery opened a second exhibition space in a three-story, 19th-century chapel-like stone building whose elegant interior will no doubt become a hallowed site for artists.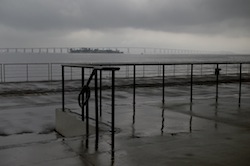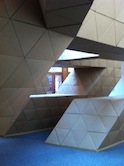 View of Rio's Guanabara Bay and the Niteroi Bridge, during ArtRio (photo by Fausto Chermont); Tony Smith sculpture at the Mercosul Bienal
Moment #3: "Atmosphere"
The Mercosul Biennial's "Weather Permitting" exhibition under the authorship of chief curator Sofía Hernández Chong Cuy (whose day job is curator of contemporary art of the renowned Colección Patricia Phelps de Cisneros) featured over 60 artists from 26 countries in three main buildings as well as in satellite spaces. The Bienal's theme explored the unpredictable interaction of nature and culture. For me, there were four standouts in the show -- two artists of two established art masters, Robert Rauschenberg and Tony Smith, and two artists of a younger generation, Thiago Rocha Pitta and Cinthia Marcelle. Summing up the entire theme of the biennial, in fact, was Rocha Pitta's 2004 video classic Sublimação, which depicts an oncoming thunderstorm and concluding burst of sunshine. And on the flip side of torrential cloudbursts was a gorgeous red-earth, desert landscape installation of Marcelle, called Viajante engolido pelo espaço.
Moment #4: "Discovery"
I'm a big fan of the jet-black monolithic sculptures of Tony Smith and was thrilled this past season to see some of this work installed at Matthew Marks on 22nd Street. A big surprise for me at the Mercosul Bienal was coming across a three-story sculpture that Smith made from hundreds of hexagonal cardboard boxes. The effect of the use of this mundane material was to give a humility and intimacy to Smith's monumental architectonic form and bring it into dialogue with elements of Central American ziggurats and Egyptian temples.
A second masterwork discovery at Mercosul is worth noting, too: a 1969-'71 action painting with mud called Mud Muse by Robert Rauschenberg from the collection of the Moderna Museet, Stockholm. The work is a lucite tub filled with drilling mud, accompanied by a bird sound track and driven by an air-valve system. Clearly created in a fever-dream by Rauschenberg -- with the collaborative support of the LA County Museum of Art and the aerospace company Teledyne -- the result is a Yellowstone-like primordial earth, bubbling and gurgling in creepy and compelling splendor like some millennial meditation on the beginning and the end of all life on earth.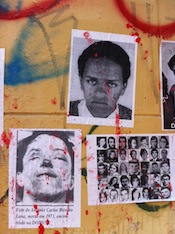 Rauschenberg's Mud Muse at the Mercosul Bienal; protest street art in Porto Alegre
Moment #5: "Torture"
While visiting the Mercosul Biennial, in lake city of Porto Alegre, I also did a day of artist studio visits in the company of Brazilian curator Fabiana Lopes, artist/journalist Sylvia Carolinne of Dasartes magazine and London gallerist Cyril Moumen. As we followed the artist Guilherme Dable to his studio from Subterrânea, the noted artist-run alternative space that he co-founded (their superb multi-lingual website is www.subterranea.art.br), I had to stop and examine the façade of a house that had been papered with photocopied graffiti depicting gruesome images of torture victims. When I asked my artist guide what these were he explained that this was a house used under the dictatorship, and that these were images of victims of torture during that dark period of Brazil's history. He told me that the author of this street art protest was making a clear reference between those historical acts and a recent act of violence in his city.
And as if channeling this somber political mood and the general theme of weather, was a non-Biennial show by Regina Silveira in which she made a stunning wall painting installation of a rain of frogs in Porto Alegre's renowned Bolsa de Arte gallery, operated for decades by its astute and glamorous gallerist Marga Pasquali. It was a thrill to meet Silveira for the first time as, in addition to her excellent gallery installation, she is the creator of one of the most impressive works of public art of the past decade. Two years ago she transformed the exterior of MASP (the world-famous Art Museum of São Paulo designed by Lina Bo Bardi, which stands on huge red legs like a giant mechanical bug from a distant planet) into a quilting pad. In the making, Regina Silveira turned an austerely brute architectural landmark into a funny, surreal, irreverent and intimate site.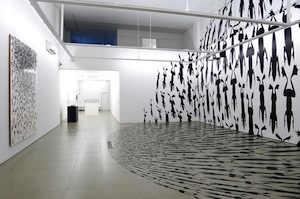 Regina Silveira's Amphibia installation at Bolsa de Arte, Porto Alegre
Moment #6: "Language"

Most mornings of my two months in São Paulo were dedicated to Portuguese lessons. Though I feel as though I will be forever stuck in an intermediate level of fluency, I can easily circulate with the language skill that I have, and I've come to enjoy the language's lyricism and joy, which finds expression in Rio even in the street.
José Datrino -- known as "prophet Gentileza" for his street preaching -- is remembered in Rio de Janeiro for writing quirky inscriptions on the underside of a highway overpass. His yellow-green inscriptions expressed his criticism of the world and his alternative to the unease of civilization. His most famous phrase is "Gentileza gera gentileza"-- "Kindness generates kindness." Datrino died in 1996, and in subsequent years his wall paintings were vandalized and later covered with gray paint. After some outcry, the project Rio com Gentileza was created with the goal of restoring the wall paintings as an important part of the carioca urban heritage.