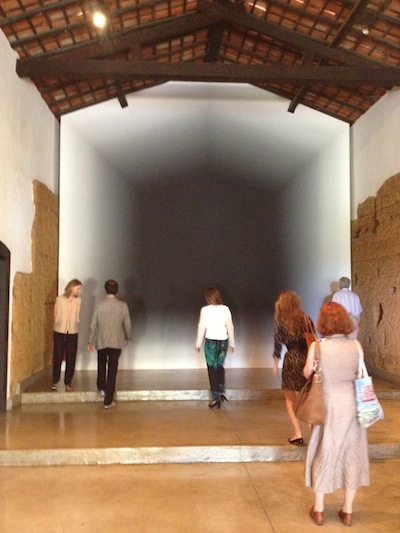 Installation view: Recou (Retreat), by Iran do Espírito Santo, at São Paulo's Morumbi Chapel: "A space of spiritual reflection..."
IRAN DO ESPÍRITO SANTO makes thoughtfully minimalist sculptures and installations by transforming mundane household objects, architectural design elements, and physical spaces with the slight of hand of a surrealist magician. Give him, say, a can of food from a kitchen shelf, a circular mirror, or a '50s ceiling lighting fixture, and he will begin to ruminate on the object's properties of shape and material, and then transform the formerly mundane thing into a sensually, minimal singularity. He slices off the lower fifth of a mirror and reverses the slice, so the green backing faces front -- and the viewer feels at sea, peering out a ship's portal at the gently rocking waves. Or he takes a pedestrian soup can and remakes the form as a beautifully solid, metal archetype. Or he refashions a glass lighting fixture improbably yet deliciously in marble. The reasons for such transformations or incursions being not immediately apparent, the works nonetheless slowly and subtly reveal the glory of such strange shifts in material properties.
Working in stainless steel, glass, copper, stone or paint on plaster, Espírito Santo employs subtle illusionistic devices. In many ways, his is an almost photographic process of taking an object and reproducing it in a new way, in a new form or "image," often in a new material. And it is that photographic illusionism that lies at the heart of the artist's architectural-scale transformations, in which he applies graphite or paint to a wall in shaded monochromes, from light to dark, to achieve gradated light shift -- as though the wall were photosensitive paper, exposed to light in small sections at a time. Because of its subtlety and surprise, on top of the conceptual sleight-of-hand, the emotional and physical impact is hypnotic.
Born in 1963 in the small city of Mococa, once home to coffee barons, Iran do Espírito Santo has received international acclaim in the past two decades, exhibiting his work widely in museums and galleries worldwide. He now lives and works in São Paulo, where the artist is currently showing a site-specific installation entitled Recou (Retreat) in that city's Capela do Murumbi, a 1949 chapel converted into an art space in the 1970s. The work consists of a mural executed in 54 shades of gray, on a panel built of wood and plaster on the chapel's back wall. Causing a perspectival shift for the viewer by suggesting a much more deeply receding space than actually exists in the chapel, the work almost shimmers like a spirit or apparition, and produces a slightly unnerving out-of-body experience for the viewer--a "retreat," if you will, from the mere four-walls of the chapel as a building into a space of spiritual reflection.
Iran do Espírito Santo: Recou (Retreat)
Location: Chapel of Morumbi
Address: Avenida Morumbi, 5387 -- Morumbi, Sao Paulo, SP Brazil
Hours: Tuesday-Sunday, 9-5

Below:Installation view: Iran do Espírito Santo, Globos (2012); marble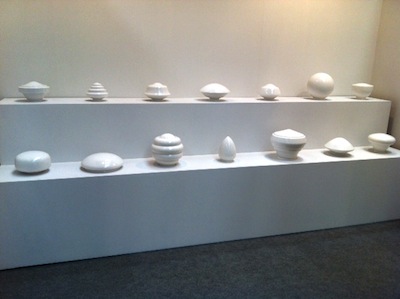 (Photo courtesy of Ingleby Gallery, Edinburgh; Galeria Fortes Vilaça, São Paulo; Sean Kelly Gallery, New York)