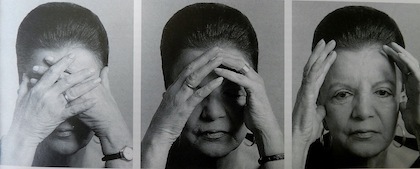 Brazilian artist Lygia Clark (1920-1988)
LAST WEEK THE Museum of Modern Art opened the much anticipated retrospective Lygia Clark: The Abandonment of Art, 1948-1988 and it is a tour-de-force.
Organized by two gifted curators Luis Pérez-Oramas -- who curated the 2012 São Paulo Biennale, a magical and moving meditation on the poetic -- and Connie Butler -- who helmed the groundbreaking WACK! Feminist Art Show at P.S.1 in 2007-08 -- the Lygia Clark show comprises more than 300 works gathered from across the planet. The exhibition is poised to inform and transform the way the world thinks about this visionary artist. Amply installed on MoMA's spacious sixth floor, the show opens with Clark's early, finely crafted geometric abstract paintings, and then smoothly leads to her three-dimensional sculpture works, and closes with an installation of soft sculptures, costumes, and performance videos.
Through her visionary work -- as expansive, subtle, and powerful as Rauschenberg's -- Lygia Clark has inspired generations of artists and informed in-the-know audiences throughout her home country of Brazil. And as always, it's long overdue that general audiences in the United States get the opportunity to learn about this legend's elegant works and generous vision.
Lygia Clark: Planos em Superficie Modulada, collage of card, 1957 (left); and Bicho (máquina), anodized aluminum, 1962
But strangely, some MoMA visitors just don't get it. I was dumfounded to read Ariella Budick's comically misguided Financial Times review of the Lygia Clark show. Calling MoMA's show... "a curiously hermetic affair, following the interior progress of an artist who is practically unknown in the U.S...," Budick exhibits the worst sort of smug provincialism. Where has she been? What -- never travelled? Such a tragic lack of curiosity. Dismissal of the unknown is not what one hopes to find in an art writer, and certainly not in a New Yorker! Relying on little more than a cascade of easy missile bursts --"primly modernist," "messily hippy," "brutally dated" -- Budick goes on to express her constrictive notion of how artists must respond in a time of political crisis (as Brazil found itself in those early days of dictatorship), by stating that "an alternative story remains untold: Clark's native country went through spasms of cultural and political turmoil during her career, but for curators Luis Pérez-Oramas and Connie Butler she might as well be a lone visionary on a deserted planet." Budick says that Clark "lacked wry humour." To which one only needs to look at the "See no evil, hear no evil, speak no evil" Lygia Clark self-portrait (above) to know something of the wit and wisdom that the artist showed the world and her critics.
Don't miss this finely crafted show by a monumental figure in art.
Lygia Clark: Diálogo de Óculos/Dialogue Goggles, 1968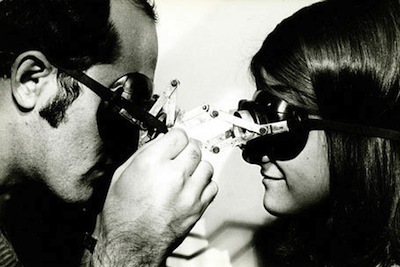 Lygia Clark: The Abandonment of Art, 1948-1988
Now through August 24, 2014
Museum of Modern Art (MoMA)
11 West 53rd St, New York, NY 10019
Hours: Sunday-Saturday, 10:30am-5:30pm (Fridays until 8:00pm)
Info: www.moma.org
Organized by Luis Pérez-Oramas, The Estrellita Brodsky Curator of Latin American Art, MoMA; and Connie Butler, Chief Curator, Hammer Museum; with Geaninne Gutiérrez-Guimarães, Curatorial Assistant, and Beatriz Rabelo Olivetti, Curatorial Assistant, Department of Drawings and Prints, MoMA.