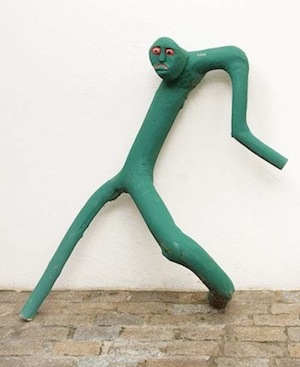 Untitled work by Véio (photo by João Liberato)
For decades, so-called outsider art was truly outside an art world whose boundaries were smugly defined by the establishment judgments of curators and gallerists, as well as the public at large. The term itself, "outsider art," seemed to express as much condescension as curiosity. But slowly things have changed. In the past year, the international art world has witnessed several major exhibitions that challenged reigning orthodoxy by integrating outsider art and non-traditional and non-academically trained artists. Recent examples include the 2012 São Paulo Bienal, curated by Luis Pérez-Oramas, on a theme of "the poetic," which at its core presented a stunning and lyrical retrospective of the collage sculptures of Bispo, a legendary Brazilian figure whose severe schizophrenia meant that he spent most of his life in a Rio de Janeiro asylum.

And now we have the current edition of the Venice Biennale, curated by Massimiliano Gioni, which hinges on outside art. Thus we appear to be living in a rare and refreshingly pivotal moment when the rigid grip of a small group of art professionals is loosening and rigid definitions of what constitutes an artwork and who can be considered an artist are evolving.

In Brazil recently I've been seeing lots of very exciting outsider work, not because curators I know were taking me to studios and shows, but because Brazilian artist stars -- like Ana Prata, Denise Milan, Rodrigo Andrade and Paulo Pasta -- have been so enthusiastic about this type of work and are personally collecting it. They often reference the work's poetry and toughness, even its anarchy. Georg Baselitz, for example, includes the work of outsider legend José Bezerra among his personal art collection.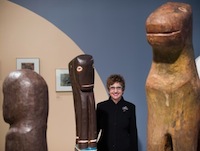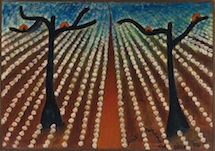 Left, dealer/collector Vilma Eid at Cartier Foundation's exhibition "Histoires de Voir: Show and Tell," June - October, 2012, devoted to work from Eid's collection (photo: C. Olivier Ouadah); right, untitled work by José Antonio Da Silva from the collection of Vilma Eid (photo by João Liberato)
What galvanized my thinking on this subject was a recent São Paulo visit to Galeria Estação where I met Vilma Eid, a visionary outsider art collector and who, through her gallery, has been a champion of an important group of superb Brazilian artists. Chief among these are José Bezerra, Véio and José Antonio da Silva.

Galeria Estação is a three-story gallery with at least half a dozen exhibition spaces permitting solo exhibitions as well as constant group shows of gallery artists. Walking happily through this museum-like space while discussing her thirty-year-long commitment to these artists, Vilma Eid is a spitfire of energy. Her gallery came about because of her passion for collecting the paintings of José Antonio da Silva, and then collecting others. Step-by-step she built a massive Outsider Art collection; then she acquired a space to warehouse the collection; an exhibition program shortly followed. And as visiting collectors asked if they might purchase works, Eid backed into representing these artists as a gallerist.
The result of Vilma Eid's laser-like curatorial focus is an exhibition treasure trove in the middle of São Paulo.
Two untitled sculptures by José Bezerra-- left, from the collection of Georg Baselitz (photos by Germana Monte Mór)