We landed in Mumbai in the dead of night, that mysterious window right before twilight, where anything can happen but nothing feels real.
The first thing I noticed were the customs signs: one for Unaccompanied Minors and Ladies, and one for everybody else. I laughed uncomfortably, but as I would learn, such gender distinctions are gestures of respect and safety. (Which I came to appreciate since we were, by coincidence, a group of women.) My two new friends and I, all invited journalists, were greeted by an enthusiastic entourage befitting royalty. We piled into a minivan and zoomed down the dark road to Mumbai. A full moon hovered above the Arabian Sea. Countless stray dogs, awake already, trotted purposefully down the freeway.
The second thing I noticed was the driving style; very, shall we say, unique. There seemed to be no speed limit, nor any lanes to speak of. As for red lights, they appeared to mean "press down on the gas as hard as you can."
Welcome to India.
We arrived at the five-star Oberoi Mumbai, overlooking the water, and were greeted with warm smiles, cold drinks and fresh flowers. We quickly checked in and I crashed instantly, excited for what was to come...
I've always dreamed of going to India, home to yoga, Bollywood, Ayurveda, Naan bread and the color pink; where goats and chickens stroll leisurely down freeways, old and new collide, 1.2 billion people speak more than 1500 dialects, and inspiration and joy live alongside poverty and chaos. Most people I interacted with seemed deeply happy. They looked me in the eyes when we spoke, their smiles welcoming.
"India will change your life," said an Israeli friend who'd spent months on an ashram and was convinced that once I'd discovered India, I'd never come back.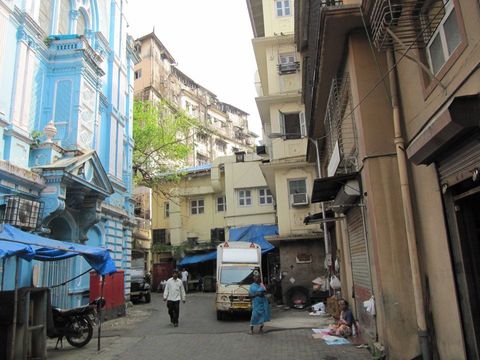 The next day over lunch at the hotel's Italian restaurant, we met the women who would join us on our journey: local representatives from Greaves Travel and Oberoi Hotels who, along with Qatar Airways, were our ever congenial hosts. (Silki from Oberoi usually dressed in chic wrap dresses, yet, she told us, she has 1000 saris in her closet!)
Mumbai's chaos makes Times Square look like a tea party. During our two days in the city, population 20.5 million and home to Bollywood as well as slums, we got tastes of its main attractions: We visited an Afghan church, Jewish synagogue, and Victoria Terminus, the Gothic train station where Slumdog Millionaire's final scene was filmed and from which 1500 local trains move daily. (Mumbai's massive railway system includes Ladies Only trains for commuters.) We learned about India's religions, and Hindu gods. We checked out Dhobi Ghat, the traditional outdoor laundry system with concrete "wash pens," where linens from the city's hotels and hospitals flutter wildly in the wind like wings.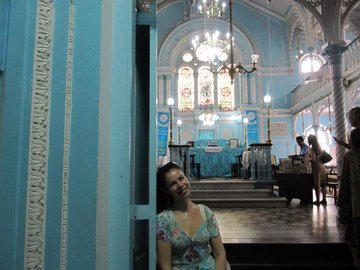 The sun was relentless. When things got too hot or we got too much local attention (my traveling companions were both blonde, a rarity in India) it was back to the van, where we were elegantly sequestered in the lap of luxury, an endless supply of chilled water bottles on hand. In addition to our hosts, in every city we were accompanied by a driver, his assistant and an expert local tour guide. Greaves did a fantastic job planning our journey, and things went so smoothly it was almost shocking. Together, our gracious handlers formed a friendly, informative and highly efficient human barricade that ensured we experienced India's finest: Amazing food, beautiful establishments, bypassing lines when checking in at airports or hotels. Bags carried for us, everything quick and easy without the usual frustrations one associates with India.
Yet small shadows of reality crept into our air-conditioned bubble: Outstretched hands banging on our minivan, smells and soot, stares and smog, beggar children grabbing at us, performing contortionist gymnastics alongside traffic. I very much appreciated the extra care, though I must admit, I remembered my backpack days and felt a twinge Colonial guilt -- maybe because the contrast between "our world" and "the real world" appeared to be so intense. But mostly, I felt incredibly lucky to be part of this first-class journey, especially since unbridled opulence is an important part of India's royal history and culture.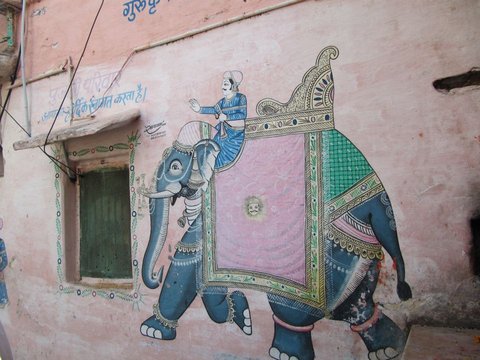 After a few days in the rural state of Rajasthan, where we enjoyed Udaipur's scenery and Jaipur's folk culture, we arrived in Delhi, where 22 languages and 1600 local dialects are spoken. We saw a bit of Old Delhi, popping by the16th century Jama Masjid mosque. (Delhi is home to the world's second-largest Muslim population.) The new part of the city was built by the British during the 1920s and attractions like Humayan's Tomb are examples of the Mughal style of architecture, i.e the Taj Mahal.
New Delhi also houses the diplomatic enclave, beautiful palm-tree lined avenues lined with consulates of every country you can think of. As our guide explained, in contrast to the wealth and opulence before us, Delhi includes some 500 urbanized villages that are considered part of the city. Many villagers are still dependent on their animals, especially cows (sacred in India) who wander off for a stroll on the freeway or plop down in the middle of the road. "You'll even see the occasional monkey or elephant," she said gleefully. As if on cue, as a couple of wild monkeys sprinted across the street near the President's house. (Classy monkeys, indeed.)
Next stop? Champagne brunch at the swanky Oberoi New Delhi, where the city's stylish movers and shakers congregate every Sunday. It was cool to see the social scene of Delhi's upper middle class. And after two weeks of girl time, some mixed company was much appreciated!