Of all the animated films that have arrived in the United States from Japan, those produced by Studio Ghibli have been the most broadly accepted, with films like Princess Mononoke and Spirited Away winning over the hearts of countless families.
To celebrate Studio Ghibli's founder, Hayao Miyazaki, California-based illustrator and graphic designer Jackie W. (@jmieldesigns on Twitter) invited her artist friends to contribute illustrations of their favorite Ghibli characters, which she then assembled into a beautiful poster and visual salute to Japan's equivalent of Walt Disney.
Illustrations are still being submitted to this collaboration, which will come to a close this month (you can track its progress on Twitter). The characters participants submit (which were first capped at 120 and have been expanded to 136) will ultimately be arranged by Jackie in chronological order, all the way up to Studio Ghibli's latest film, with a portrait of Miyazaki at the center.
In addition to illustrating the portrait of Miyazaki, Jackie contributed an illustration of Kiki, the protagonist of Kiki's Delivery Service to this collaboration. "I feel like her sometimes," Jackie explains. "Going into the big world of trying to show you can do and be yourself while doing it. Also the message in the movie about overcoming your slump. I loved the movie as a kid, still love it till this day. It's my favorite film."
This collaborative ode to Hayao Miyazaki is not Jackie W.'s first collaborative endeavor online. Prior to this project, Jackie kicked off Art Jamz, a blog that invites followers to participate in two to three-month artistic prompts.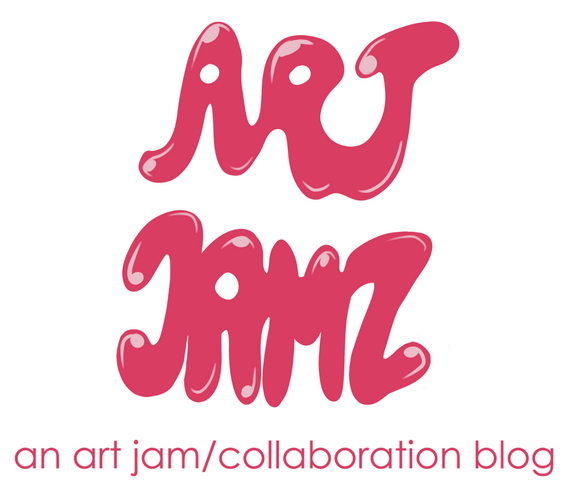 "The the reason behind the length is it will allow people to take their time developing their work," reasons Jackie.
This can be used as a stepping stone to create something bigger (like characters and creatures for a game, making your own book, zine, illustration prints, webcomic or graphic novel) or if you're fighting an art slump. I wanted to make a blog where folks can have fun with the prompts, meet other artists in a welcoming environment and also have them create their own projects. Participants can submit up to five pieces if they're on a roll. Once they submit, they would introduce themselves, describe their work and have link to their artblog/store/portfolio/webcomic/etc.
Art Jamz invites submissions of all styles and levels. The only submission requirement is that one have a site where one posts one's work (i.e. an art blog or online portfolio -- these are easy to set up on platforms like Tumblr and deviantART), making it the perfect inroad to the online art scene for those eager to get involved.