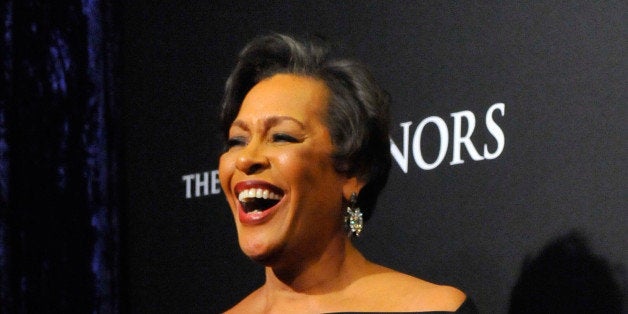 It is such a gift to feel reflected and to be seen, especially when you are different. Two weeks ago, I was watching an awards show on BET and listened to a woman give a speech. I did not know her name, but there was something different about the way she carried herself, and in her difference, I felt a kinship.
As it turns out, I was listening to Carrie Mae Weems, one of the most accomplished Black female visual artists in the world. A recent recipient of a MacArthur Fellowship and a retrospective at the Guggenheim, Weems is a rarity and an outlier in multiple regards. She is an outspoken woman of color, an artist who stands firmly in her complexities and dares to not only contemplate them, but to showcase them and allow us to engage in discourse through them.
Although heterosexual, one could consider Carrie Mae Weems and her work to be queer. While "queerness" is most commonly associated and articulated with regards to the LGBTQ community, it essentially refers to otherness or "outsiderness." Queerness as resistance to the mainstream is an critical aspect of social movements and our own individual evolutions. By expanding our narrow definitions of self, queerness allows us to explore new ways of being in the world.
As women's history month draws to a conclusion, I have been reflecting on what it means to expand the work of feminism to better include diverse perspectives and narratives. The more we can highlight a wider variety of truths, the more we can work together in authentic collaboration. I believe that this is happening more and more.
This pioneering work to expand the binaries and reaffirm those of us who are different, best exemplified by initiatives such as The Brown Boi Project, Brooklyn Boi Hood and SIGNIFIED, is essential. Recently, I had the opportunity to speak with Sam Tabet, a producer who is part of the team behind SIGNIFIED, a multi-platform storytelling archive dedicated to the other.
Simone N. Sneed(SS): When was Signified launched?
Sam Tabet (ST): Signified was created by Anna Barsan and Jessie Levandov and launched in 2011. Over the last three years we have conducted over 20 interviews with queer identified artists, activists and radical collectives in 15 cities and 4 different countries.
SS: What was the initial vision of the work?
ST: From the beginning, we have envisioned Signified as a tool to multiply channels of access for LGBTQ communities and allies across borders, language and generations. Our work has allowed us to build an international network of collaborators, political actors, and friends.
SS: Signified initially began as a video series that now is launching a larger effort. Can you tell me more about the new Queer Coordinates project?
ST: Queer Coordinates is a virtual archive of queer media that has been geographically mapped based upon its content of origin. The resulting map will not only locate queer media and queer media makers, but will spatially orient where queer communities are forming or have long been present. As a partner project of Signified, Queer Coordinates will have access to a growing archive of video interviews featuring national and international queer activists. Queer Coordinates continues in the queer radical tradition of re-claiming physical space and social visibility through self-documentation.
SS: Why do you see this self-narrative work as an essential political act?
ST: self-narration circumvents the "outsider/insider" and "normative/non-normative" dichotomy and creates the possibility for LGBTQ folks to carve out a variant sexed and gendered space and exist as legitimate political actors.
SS: How does your work transcend the digital and even the LGBT community to impact non-queer communities?
ST: Queer Coordinates draws from a public participatory model of community mapping to encourage local participation in the documentation of queer space through media workshops and skill-share sessions. From the intersection of art and technology, education and social justice, our work aims to develop media strategies for transforming local communities through technology access, common ownership, and hands-on participation. We believe that in providing the technological and artistic tools to locate oneself in the world, to see oneself as piece of a larger whole, as part of a community or even a social movement, transforms the understanding of ones existence.