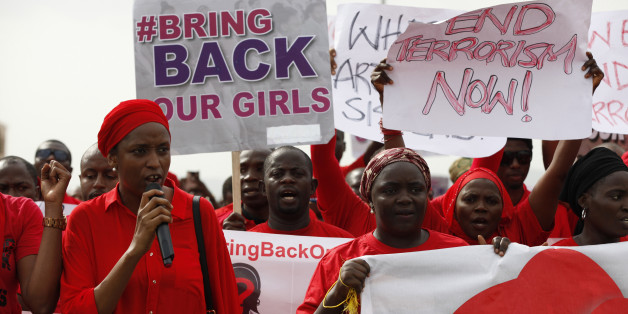 When I hear that girls are stolen from their school, I lose sleep. When I read about children being ripped from their families and trafficked for sex, I am haunted. But my true pain comes from knowing the countless people who remain bystanders, untouched by these stories that pierce my heart. Though the world has rallied, albeit belatedly, and put troops on the ground to assist in the effort to find the Nigerian girls who risk their lives daily for the opportunity to learn and attend school, the Nigerian army has been exposed as inadequate, and the girls remain missing while Boko Haram continues its vicious, cold sweep of violence.
If it weren't for Nicholas Kristof's article, "What's So Scary About Smart Girls," I might be left grasping for an answer -- if not this, then what?! But in his words lies the perfect, well-founded, forward-looking solution to senseless violence. In that article both the reason why Boko Haram acted, and the solution to fighting those like them around the globe are obvious: our world needs educated girls.
Kristof writes, "One of the factors that correlates most strongly to instability is a youth bulge in a population. The more unemployed young men ages 15 to 24, the more upheaval. One study found that for every one percentage-point increase in the share of the population aged 15 to 24, the risk of civil war increases by four percent. That means that curbing birthrates tends to lead to stability, and that's where educating girls comes in."
It makes sense on so many levels. When girls are educated, they don't get pregnant too early in life and are able to avoid having to raise children while they are still children themselves. And if they do choose to raise a family later in life, their children are more likely to lives filled with opportunity, breaking the generational cycle of unwanted pregnancy and limited choices for their futures.
Nigeria's missing girls, as Kristoff has so brilliantly made clear, are showing the global community the devastating impact that violence against girls has on the future of our world. As the rescue efforts continue, I am reminded of one of the most significant exhibitions of mass violence -- that has happened in my own lifetime -- the Rwanda Genocide. The driving force of the Genocide was the Interahamwe, young Hutu teenage boys lacking the critical thinking skills necessary to resist being brainwashed by the "Hutu power" ideology. Would this have happened had their mothers been educated?
As we approach the 20th anniversary of the 100 day stretch of killings, I find myself searching for meaningful ways to ensure one thing: never again. 800,000 innocent lives brutally ended as the world watched silently. This same inaction might have contributed to my grandfather's family being exterminated during the Holocaust. "Never again." But it happens again and again. How does one help the global community achieve the goal of eliminating acts of mass violence?
As a practicing physician, I enthusiastically support health and education programs for girls in Rwanda, and hope my commitment and actions will raise awareness and consciousness about how cruelly some of our daughters are treated. All girls deserve access to education and the opportunity to lead safe and prosperous lives. I joined the Rwanda Education Assistance Project (REAP), an organization making strides to educate and empower Rwandan girls, to make a lasting difference in the lives of the people the world once failed.
The global epidemic of abducting, trafficking and enslaving our girls must stop. Acts of violence must end, and empowerment through education must become the norm.
Help end these atrocities. Join me by supporting my campaign, and together we can make a difference education and empowering the young women of Rwanda. "Women hold up half the sky." Unleash them and observe what they hold up with their free hands.