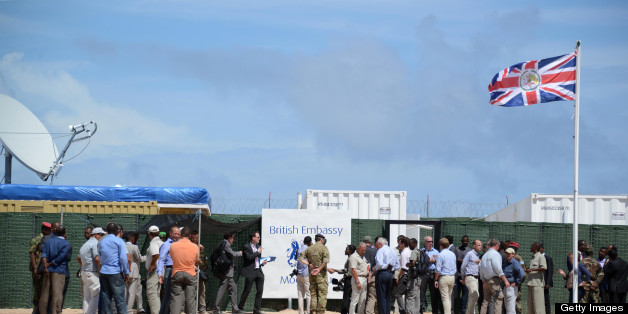 For the first time in more than 22 years, the United Kingdom has an embassy in Mogadishu. When Foreign Secretary William Hague raised the Union Flag over the new offices on April 25, the UK became the first EU country to return to the Somali capital since the ruinous civil war that began in the early 1990s.

The new embassy is a physical manifestation of the progress Somalia has made since then. It also symbolizes the UK's support for Somalia's development. Today, Britain once again reaffirms its commitment to Somalia, as Prime Minister Cameron and President Hassan co-host in London a conference with over fifty partner countries, designed to mobilize international backing for the Somali government's own plans for the future. Priorities for the conference revolve around three critical prerequisites for Somalia's future development.

First, security. Somali, Ethiopian and African Union forces have made great progress in pushing the militants of Al-Shabab out of the major towns and thoroughfares. But Somalia must eventually take charge of its own security, which means that its armed forces will have to be expanded and improved.

Second, justice. The rule of law is crucial, not only in maintaining order and public safety, but also in establishing a society in which every citizen feels fairly treated. This requires a police force that is accountable as well as effective, and a criminal justice system capable of handling, amongst other things, terrorism and corruption cases.

Third, sound public finances. This involves not only increasing accountability and clamping down on corruption, but also, for example, strengthening the tax system to provide the government with funding for salaries and public services, and to start dealing with Somalia's $3 billion debt. Establishing financial credibility will, in turn, help to unlock much-needed support from the World Bank and IMF.

President Hassan's government, chosen last year through the most representative political process in a generation, has been remarkably clear-eyed in recognizing the progress that Somalia has made, at the same time refusing to shy away from the immense task of reconstruction. It deserves international support as it confronts these challenges head-on.

But government is only part of the answer. The remarkably resilient Somali people, including those living abroad, are coming together to help Somalia get back on its feet. We Brits are helping to facilitate this, including here in the U.S.: British diplomats recently held public discussions with Somali communities in Minneapolis and Columbus.

The UK is committed to ensuring that Somalia's challenges remain high on the international agenda -- including at the G8, which we will host in Northern Ireland in June. Together we can finally bring an end to the war, terrorism, piracy and famine that have blighted Somali lives for too long, and help Somalia toward a better future. Today's conference is a golden opportunity to do just that.