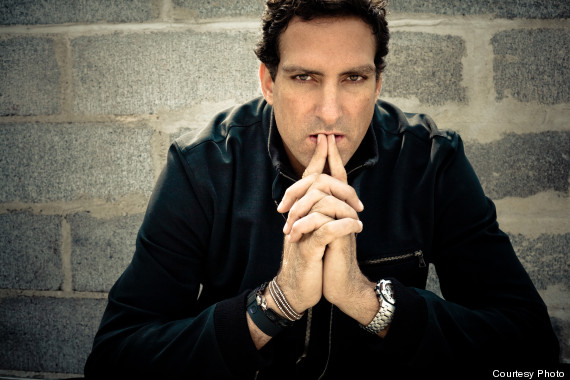 You're not likely to find too many retired NBA players hanging out in the dusty playa at the Burning Man gathering. But you can definitely count on seeing -- and hearing -- the former Miami Heat center Rony Seikaly there. For eight years and running, Seikaly has made the annual pilgrimage out to the Nevada desert, where he spins his deep and abstract house music in an environment that has captivated many of the worlds biggest DJs.
It may seem surprising to some that Seikaly would be there -- and some are still confounded by the idea of a former baller playing underground dance music. But music has been a passion of Rony's since his teenage years in Greece, and over the last few years, he's fully embraced it. On any given weekend, he can be found playing his sets at clubs and events around the world, with regular appearances in his hometown of Miami, where he's been a partner in several nightlife hotspots. He hosts his own Sugar Free Radio show on Sirius XM radio every weekend. This Friday September 6th, he'll be making his third appearance at Marquee New York, and he talked with us about his embrace of dance music, Burning Man, and more.
Hey Rony, how are you doing? Where are you at right now?
I am back in Miami and doing great.
So you just got back from Burning Man. How long have you been going to Burning Man for, and how did you first make your way out there?
This was my 8th year. I decided to check it out and fell in love.
What's it like DJing at Burning Man for you? What's been your favorite experience there as a DJ?
I love DJing at Burning Man. Its a much different experience then regular clubs. Everything is in nature and much more free.
You retired from the NBA in 1999. How long after that did you decide to really devote yourself to DJing and music?
I always loved playing music privately for my friends, but then decided to try it out publicly in a club I owned in 2007 and it took off from there.
Was there any one instance or experience where you said to yourself, 'OK, that's something that I need to be doing myself'?
Not really. It was always a passion.
When you first came onto the scene, you were connected with Erick Morillo and the Subliminal crew. Now you've gotten more into the underground side of house music. How has your sound evolved as an artist?
I was always more of an underground DJ but had to change my style to fit with Subliminal. House Music always evolves, and I have my own style that is always present, even with the evolution of house music and its genres.
What kind of sounds and styles do you feel a connection to the most as a DJ, and as a music fan?
I like groovy underground.
On your Twitter page you mention that you're "allergic to haters." Have you encountered a lot of skepticism about you entering the music world? Why do you think that's the case?
I dont waste my time on haters. They are present in anything anyone does with success. They obviously have nothing to do but hide behind their keyboards and criticize.
What's been the general reaction from your NBA colleagues about your pursuit of music and DJing?
I am sure it was shocking at first specially with the genre of music I play. But I do it out of love.
In other interviews you've said that music -- and dance music -- has always been a passion of yours. Were you a regular in the Miami club scene when you played for the Heat?
I always loved music and always had an interest in clubs in Miami. The first club I partnered in was called "Bar None" back in the mid 90's. Then we started a club called Mynt in 2001, then Mokai in 2005, and now Wall at the W hotel in Miami.
What about now? Miami is one of the better cities in the US as far as nightlife goes. What's your favorite places to go out, and where do you DJ the most yourself in Miami?
I go out to see different DJs i like no matter where they are playing. It can be a small hole in the wall or a big mega club. Its all about the music for me.
Do you think you'd be into this music as much as you are now if you hadn't wound up playing in Miami?
I have been in the music scene since I grew up in Greece when I was 14 years old.
This is your third time playing at Marquee New York. What are you looking forward to most about coming back?
I always look forward to playing at Marquee in NYC.
As a DJ, what are the most important elements for you at a club when you play? What do you think is the most crucial ingredient to make the party go off?
I think capturing the moment is the most important element in connecting with the crowd. Sometimes it takes time but when it does its a great feeling.
Tell us about your Sugar Free Radio show. What goes into putting the show together? How did you first get involved with Sirius XM and launching the show?
There was a gap in the genre of music I play and Sirius XM jumped on the idea of giving their listeners something different.
What are some future projects you have coming up?
I just keep plugging away making music and enjoy the ride. If i get bored, I will stop.
Rony Seikaly plays at Marquee New York on Friday, September 6th
For more on Rony Seikaly.
For tickets for Rony Seikaly at Marquee
For more on Marquee NY
For more on Sleepy & Boo