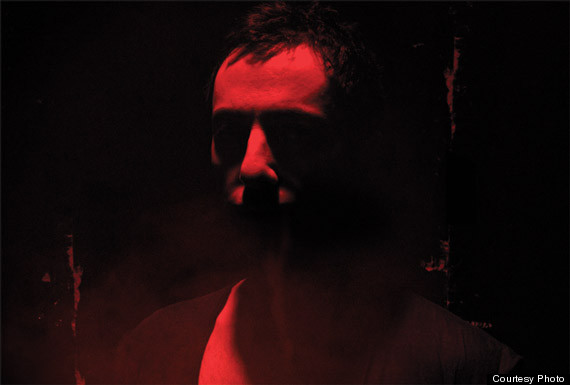 These days, there's no doubt that Dubfire (Ali Shirazinia) is one of the biggest names in the international techno scene. But a few years ago, his embrace of the sound was met with strong skepticism. Having already found massive success as one of the founders (along with his partner Sharam) of the influential duo Deep Dish, Dubfire's artistic transition from producing anthemic progressive house music to stark, stripped-down minimal techno was a bold statement of intent. Some weren't sure if this new sound was a true representation of what Dubfire was really all about.
However, if you take a look at Dubfire these days, it's clear that this shift has proven to be a big success for him. He's been embraced by legions of fans worldwide, as well as all of his peers in the upper echelons of the techno DJ community. As an in-demand performer his tour schedule is jam-packed all year long, with sets at all the major international festivals. He's wrapping up a busy summer Ibiza season, where he played guest sets for all of the top underground parties and venues. His label SCI+TEC continues to release cutting edge tracks from new and upcoming producers. He just launched his very own mobile app. And he's returning to the US to play two events, including a second trip to Marquee New York, where he played at our first Friday night when club opened in January.
But his passions aren't limited to just music. He's one of the most recognized "foodies" in the electronic music scene, regularly tweeting out pics and restaurant notes. He even interviewed Albert Adrià (brother of the legendary El Bulli chef Ferran Adrià) this year. And as he discusses below, he's putting the wheels in motion to open a Japanese restaurant in Los Angeles.
We spoke with Dubfire from Ibiza, where he was preparing to play alongside Richie Hawtin at his ENTER. night at Space.
Greetings! Where are you at right now? How's everything been going for you?
I'm actually in Ibiza for the week and playing Richie Hawtin's ENTER. night at Space.
Tell us about the summer you've been having. What's been some of the highlights for you?
The summer's been a bit of a blur really with a punishing tour schedule. But we're fast approaching the closing parties in Ibiza so it'll begin to slow down a bit for me soon. The highlight has really been all of the Ibiza dates i've played (Cocoon, ENTER., Carl Cox, DC10 and Used & Abused) and especially our SCI+TEC label party at Sands which was a showcase for my artists Carlo Lio, SHADED and The Junkies.
This summer you played a quite a few shows in Ibiza -- some at Space, some at Amnesia. Do you have a preference for your favorite Ibiza? Any particular reason why?
I'm in a fortunate position where I can play for all of my friends and at the top nights here. And having that freedom and variety allows me to play a different sort of set at each venue.
You just launched your very own Dubfire app for iPhones and Android. This is the second time you've been behind a mobile app. Tell us about the one you just launched, why was this something that was important for you to do?
Well, I was asked to be on a social media panel at IMS [International Music Summit] in Ibiza a few years ago and one of my fellow panelists was a Mobile Roadie rep who happened to be from the USA and also living in Barcelona as I am now. I had recently launched my new website and wanted to have a version of it for the mobile platforms but as an app. I'm really excited to have just launched the app and looking forward to using it in very creative ways to engage the fans.
How personally involved were you with the development of the app itself?
As involved as can be -- i'm a total control freak!
When it comes to "digital DJing", you're definitely one of the most prominent artists out there. How did you first make the jump from more traditional DJing to a digital platform?
I was always drawn to new technologies and transitioned from vinyl to the CD platform mainly because I wouldn't have to lug all those heavy record boxes around with me on tour and also to be able to bring far more music with me. But I was much slower to jump onto the laptop platform of DJing and actually began with Serato Scratch before settling on Native Instruments' Traktor Pro which has become my main DJ software. I'm actually going to be playing the enter. prep-party with just an iPad mini and a controller so that will be a bit of an experiment:-)
Do you see yourself evolving away from the Traktor type of setup you're doing now? I know there's been some talk about a "Dubfire live" type of show.
I've been developing the live show since April and it will be a 1 hour "live" show featuring most of my productions and signature remixes. I have a habit of writing lots of additional synth melodies and drum patterns so will be extracting those from the remixes as opposed to using any of the original producers' work, apart from "Grindhouse" of course. I hope to launch the show in March or April 2014 if all goes well with the development of the stage design and visuals.
It's kind of interesting to see what's going on with the more commercial side of EDM these days, because Deep Dish was really on the cusp of that, as artists that were poised to cross over to a wider audience. Now that you've really been focusing on your solo work and projects, is there anything you miss about being known primarily for Deep Dish?
Deep Dish cast a much wider net than Dubfire as far as my fan base goes so I do miss having that kind of global impact. But I'm extremely happy that I was able to successfully solidify my own brand and ideas.
There's been a lot of rumblings about Deep Dish getting back together. Is this something that you and Sharam are actively pursuing?
While I can't get into specifics, I can tell you that the ball is slowly moving forward.
Anyone who follows you knows that you're a serious "foodie". You did your own interview with the famed Spanish chef Albert Adria, and have gotten to know quite a few chefs, restauranteur, etc. Are these guys ever surprised to find out that an electronic music artist like yourself is so knowledgeable and familiar with their work?
Many are surprised of course, but quite honestly, a lot of the chefs and restaurant people I know or meet are very much into electronic music and many are fans of my work so getting them out on the town or to a festival is quite easy. And they rave like the best of them:-)
Could you ever see yourself making food a part of your professional life?
I would absolutely love to and am actively trying to settle on what exactly that would entail; my dream is to open a tiny, authentic Japanese restaurant in LA. I have the chef and just need to find the right partners and financing.
We had a great time with you at the Marquee opening in January. What can we look forward to when you come back on the 27th?
A lot of great new music:-)
You've played in New York many, many times in your career. What's your favorite thing about playing for the NYC crowd?
Sharam and I used to make regular pilgrimages to the city in the early 90's to check our favorite DJs, clubs and events and those trips formed the foundation for my early dance music education so I hold a very special place in my heart for how inspiring the city and it's talented artists were to me. It's always a pleasure to play there and I'm very much looking forward to it.
Finally, let us know what other projects -- or releases on your SCI+TEC label -- you have cooking up for us.
The label's got a jam packed release schedule, full until March 2014 so that's been going great. As far as my stuff goes I'm working on the last of our Elements series of tracks with Oliver Huntemann which is coming along very nicely. There's also a remix for Barem which should be out sometime soon and I'm about to dive into an Asia Argento remix project. And of course there are lots of bits and bobs that I'm trying to find the time to finish.
Dubfire plays Marquee New York with Sleepy & Boo on Friday September 27th.
For more on Dubfire.
For tickets for Dubfire at Marquee
For more on Marquee NY
For more on Sleepy & Boo