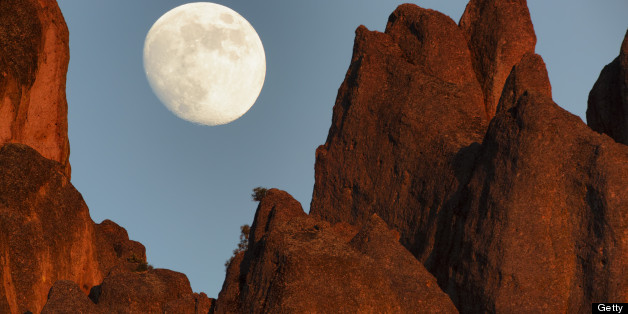 President Franklin Delano Roosevelt famously said, "There is nothing so American as our national parks." We emphatically agree. And while many of our national parks welcome millions of visitors each year (think Yellowstone and the Grand Canyon), others are far-flung, remote, or simply under the radar. Check out these 10 national parks for trails less traveled and uncover an America you never knew existed.
Pinnacles National Park, California
This haven near the San Francisco Bay Area is America's newest national park, officially signed into existence by President Obama in January 2013. The remnants of an ancient volcano make Pinnacles' craggy landscape popular among hikers and rock climbers, while talus caves carved into cliff sides allow for subterranean exploration -- and perhaps a peek at one of the 14 bat species that dwell within. Unlike other parks and monuments, Pinnacles is best visited in the cooler months of spring, when wildflowers and other flora are in bloom.
Isle Royale National Park, Michigan
Talk about undiscovered: The National Park Service (NPS) estimates that Yellowstone receives more visitors in a single day than Isle Royale National Park sees in a whole year. Be among the 15,000-some visitors who step onto the island's unspoiled Lake Superior shoreline and into its rugged forests every year. Canoeing and kayaking are two popular ways to explore; a number of guided tours run throughout the warmer seasons. By water, you can visit the Passage Island Light, a picturesque Gothic lighthouse that guides ships into Thunder Bay.
Virgin Islands National Park, United States Virgin Islands
About half a million people visit the U.S. Virgin Island of St. John each year, but many are unaware that they're stepping onto an island that's more than 60 percent national park. St. John's tropical rainforest offers miles of hiking trails, while stunning Trunk Bay features a trek of an entirely different kind: an underwater snorkeling trail -- complete with readable signage -- along spectacular coral reefs teeming with marine life. Most of tiny Hassel Island, off nearby St. Thomas' coast, is also part of Virgin Islands National Park.
Dry Tortugas National Park, Florida
Isolated from its neighbor Key West, which lies about 70 miles to the east, is the national park of Dry Tortugas. Featuring some of the most vibrant coral reefs in Florida, this park is a marine enthusiast's dream, with teal waters for top-notch scuba diving, snorkeling, and deep-sea fishing. The park is accessible only via seaplane or boat, both of which whisk only about 60,000 visitors to Dry Tortugas each year.
National Park of American Samoa
This South Pacific park lies within the territory of American Samoa and spreads its 9,000 acres across three volcanic islands. With abundant, distinctive marine life (think sea turtles and humpback whales), it's a popular stop for scuba divers and snorkelers. On the island of Tutuila, dense tropical rainforest gives way to WWII-era artillery and relics. One of the newer parks in the system (it was established in 1988), the National Park of American Samoa is not actually owned by the NPS. Rather, the NPS leased the parkland from Samoan village councils for a 50-year period.
Gates of the Arctic National Park and Preserve, Alaska
This northernmost national park contains not a single road or trail. In fact, most visitors to Gates of the Arctic must access the vast frozen wilderness via bush plane, which makes it one of the least-visited parks in the system. While advanced planning and serious camping gear are required, the 8.5 million-acre park rewards the intrepid traveler with northern lights, craggy landscapes, and wild rivers.
Lassen Volcanic National Park, California
Yosemite and Death Valley may be California's two most iconic national parks, but relatively remote Lassen is well worth your visit, too. It's home to wide wildflower-filled meadows and, as its name implies, an active volcano, Lassen Peak. Daring visitors can make the three-mile trek to and from Bumpass Hell; aside from its evocative name, Bumpass thrills with hot springs, steam vents, and rainbow-like soil formations colored by sulfur.
Guadalupe Mountains National Park, Texas
Find a hidden gem in West Texas, some 60 miles southwest of Carlsbad, New Mexico. With 8,751-foot Guadalupe Peak overlooking its acres, this national park is an ever-changing landscape of juniper-strewn deserts, steep canyons, and alpine uplands. About 170,000 annual visitors hit the well-established hiking and horseback-riding trails at Guadalupe Mountains National Park, while a number of sites, including an old stagecoach station and an abandoned ranch, await history buffs.
Congaree National Park, South Carolina
In 1969, the Sierra Club launched a campaign to save the Congaree area from private development, which led to its eventual designation as a national park in 2003. It's a lucky thing someone intervened: An almost-otherworldly biodiversity reigns within the park, with bobcats and feral pigs trawling the old-growth forest and a wealth of marine life, including alligators and turtles, swimming the Congaree and Wateree rivers.
Black Canyon of the Gunnison National Park, Colorado
Millions of years ago, the Gunnison River began carving out Black Canyon, a deep, dramatic gorge in western Colorado whose rocks rank among North America's oldest. These days, only the most experienced rock climbers scale the more than 2,000 dizzying, difficult feet of sheer canyon wall each year. The walls are so challenging, in fact, that the NPS website emphatically warns that Black Canyon "is not a place for the beginning climber." For those who prefer a life less vertical, hiking trails and scenic drives offer the barren beauty of Black Canyon without all the danger.
Readers, have you visited any of these 10 lesser-known national parks?
--By Dara Continenza
You Might Also Like: