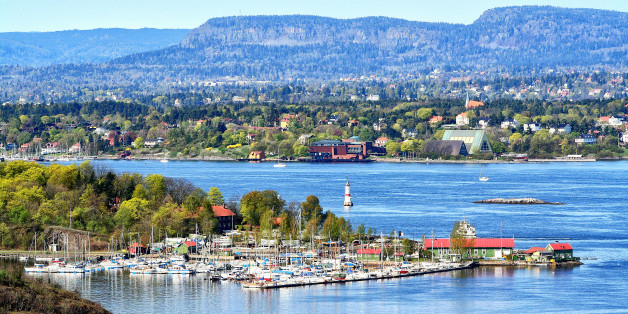 It'll take more than a discreetly tucked money belt to protect your cash in Europe's most expensive cities. Here's how to experience London, Paris, Venice, and other delightful destinations for a whole lot less than the average traveler.
Oslo, Norway
First, the bad news: Oslo earned top billing in our recent list of the world's most overpriced travel destinations, and the Norwegian capital makes it onto just about every other list, survey, and report about the most expensive places to live or visit, too.
But here's the better news: If you're determined, creative, and well informed, you can beat the high prices. Anyone willing to settle for modest accommodations has plenty of affordable options, including hostels, pensions, and guest houses (VisitOslo.com is a good place to start your search). Opt for free attractions like the Vigeland sculpture park and the Akershus Fortress, enjoy the abundance of free parks and gardens, and explore the many beautiful islands accessible by ferry.
If You Want to Save: Don't visit in late fall during the Nobel Prize Award Ceremonies, when accommodations prices are sky-high. And if you've been meaning to do a cleanse, do it during your visit. Alcohol is particularly expensive in Oslo, so you'll save a lot by skipping the drink.
Paris, France
It's a classic case of supply and demand. There's only so much Paris to go around, but the city's wild popularity drives prices for this valuable commodity up—way up in some cases. Even if you're a no-frills traveler, you can expect to pay nearly $200 per day for the basics. Luxury hotels run about $600 per night, mid-range hotels average around $210, and bare-bones (but not scary) hotels cost around $70 per night.
However, find ways to live like a local and you'll discover plenty of ways to save. For instance, by booking an apartment rental rather than a hotel room, you'll not only get more space for your money, but you'll also get a kitchen and a fridge. And that can help you cut costs. Because while there's plenty of fabulous food in Paris, there are also a lot of mediocre and overpriced options. Not eating out for every meal frees you up to explore the many wonderful (and less expensive) food purveyors and markets you'd otherwise miss.
If You Want to Save: Don't stick to the beaten tourist paths. Often, by straying just a block or two off heavily trafficked tourist streets such as the Champs-Elysees or rue de la Huchette, you'll find better food and shopping at much more reasonable prices.
Zurich, Switzerland
You know who thinks Zurich is expensive? Pretty much anyone who has ever bought a bottle of water, eaten a sandwich, or booked a hotel room there. Zurich regularly clinches a top-three spot on lists measuring the world's most expensive cities. And it's easy to see why: When you visit, you're rubbing shoulders with locals who earn among the highest salaries in the world.
So what's a budget traveler with a hankering for some clean air and a great view of Lake Zurich to do? EuroCheapo suggests a nightly hotel budget of about $170, although travelers willing to sacrifice more amenities and location can sometimes find rates closer to $100. Its editors' picks start at about $89 per night. And if sightseeing is on your itinerary, consider the ZurichCard, which offers considerable savings for anyone who plans on visiting multiple museums, taking tours, and eating out. The card also includes unlimited public transportation, including tram, bus, train, boat, and funicular.
If You Want to Save: Don't take a taxi. Zurich is a beautiful and walkable city, and it has some of the highest cab prices in the world. So strap on those walking shoes and explore the city on foot, by tram, or by free bike.
Venice, Italy
Venice has a starring role on bucket lists around the world, so it's no surprise that it's among Europe's most expensive destinations. You'll have to pay for the privilege of staying somewhere central, and eating out in the city inflates costs quickly. Price of Travel's Three-Star Traveler Index puts the average daily cost for a budget traveler at about $180.
However, the effort it takes to work within a budget can actually yield some pleasant surprises and give you a better sense of the real Venice. You'll find cheaper hotel rooms in less central locations, although getting around Venice is a pricey endeavor, so always factor in transportation costs before deciding on the lowest priced accommodations. When it comes to food, eat like a local and head to a bacaro (a small bar that serves cheap and delicious tapas-like cicheti, or snacks).
If You Want to Save: Don't hop a gondola. The tourist-magnet boats have long been glorified as a part of the Venice visitor experience, but they're wildly expensive and they aren't the only way to appreciate the city by boat. If you're planning on navigating Venice by water, consider a 24-hour travel card, which you'll only need to use about three times to recoup the cost. And if the gondola experience is a must-have, do it on the cheap by finding a traghetto. These large gondolas carry several passengers at a time across the Grand Canal for only a few euros.
Stockholm, Sweden
TripAdvisor's recent TripIndex puts Stockholm at the ultra-pricey end of European cities, with an average daily vacation cost of more than $500 (including hotel, taxi, dinner, and cocktails). This makes sense when you consider that according to The Economist's Big Mac Index, the Swedish krona is overvalued by about 36 percent against the U.S. dollar. Modest travel tastes won't protect you from the high prices, either: Price of Travel estimates that the budget-conscious traveler can get by on about $215 per day.
Hotels in Stockholm are expensive, and it's quite difficult to find exceptions to the rule. However, if you're willing to consider a hostel, prices drop. Keep in mind that many hostels offer private rooms with private bathrooms, which can provide a more hotel-like experience, at least while you're sleeping.
If You Want to Save: Don't visit in summer. Of course, this advice goes for all of these destinations, but Stockholm hotels in particular get crazy expensive during the summer. Spring and fall are comparatively affordable, and you'll still get some daylight during which to admire the city.
Geneva, Switzerland
If you thought the Big Mac Index was damning, wait until you hear this: Geneva clinched the number-one spot on Hotels.com's Club Sandwich Index (CSI), which compares this hotel-menu staple in cities around the world. At around $30, the average price of a club sandwich is an alarming indication of what you should expect to spend on a visit to Geneva. According to UBS CIO Wealth Management Research's Prices and Earnings report, the cost of a meal in a nice restaurant in Geneva is twice the world average; a stay in a three-star hotel costs around $270 per night.
Geneva may be expensive, but you've got a secret weapon: You can get around for free. The fantastic Geneva Transport Card not only gets you from the airport to your hotel for free, it's also your ticket to unlimited free rides on trams, buses, trains, and yellow taxi boats. Geneva's tourism board also lists discounts and specials on accommodations, tips on where to find free Wi-Fi in the city, and details about the Geneva Pass, which provides discounted admission to visitors planning on hitting multiple sites.
If You Want to Save: Don't eat a club sandwich in a hotel. Seriously, $30 is way too much to pay for any sandwich not made of gold. TripAdvisor and About.com both list some cheaper dining options in this notoriously expensive city.
Moscow, Russia
Moscow consistently ranks among the world's most expensive cities. In Mercer's Cost of Living survey, the Russian capital is ranked the second costliest city for expats, and in the hysterically named Billionaire Census 2013, Moscow's Ostozhenka is listed as one of the 10 most expensive residential streets in the world. And what's expensive for residents is expensive for visitors. We're talking $200 per night for a room at a three-star hotel, $530 per night for a room at a luxe property, and more than $8 for a simple cup of coffee.
Since hotels tend to be pricey, it's worth your while to shop around and book in advance. Comparing rates across sites can yield better results, and looking beyond the city center may give you more affordable options. Remember that you'll need to book far enough in advance to deal with the complicated visa process, which includes getting an official invitation from your hotel.
If You Want to Save: Don't ignore the visa process. Allow plenty of time and follow the steps carefully, since fees to expedite any of the three stages of invitation, application, and registration drive costs up significantly. Paying fines is a waste of travel funds.
London, England
For most travelers, an empty wallet is the by-product, not the intent, of a great trip to London. Expensive hotels, steep taxi rates, and thousands of attractions, shows, and restaurants quickly drain the travel coffers. The city ranks in the TripAdvisor TripIndex's top 10 most expensive cities around the world, with an estimated hotel-meal-drinks-taxi cost of about $450.
Expensive it is, but most travelers can work around London's biggest wallet pitfalls without much trouble. There are so many ways to save, in fact, that Visit London devotes an entire section of its website to the many ways to make the most of London on a tight budget. Check out free attractions, cheap eats, inexpensive accommodations, and affordable days out.
If You Want to Save: Don't pay full price for a show without first checking to see if you can get tickets for less. TimeOut London rounds up some of the most popular ways to save. And some theaters offer discounted tickets at the very last minute if you go to the box office.

Copenhagen, Denmark
Coming in at $170 per day on Price of Travel's 2014 Three-Star Traveler Index for budget travelers, Copenhagen is pricey even if your vacation desires are modest. TripAdvisor's TripIndex ranks Copenhagen among the 10 most expensive international cities for a vacation, putting the cost of a night at a nice hotel, taxi, and dinner and cocktails for two at around $440.
That said, there are definitely ways to maximize your vacation budget. For instance, the Copenhagen Card cuts costs on attractions and transportation. And unlike many city cards, this one allows you to easily calculate how much you're likely to save before you purchase it. The calculator on the right side of the page lets you mark which sites you're likely to visit to compare the cost of the card against the a la carte pricing of individual attractions. And Copenhagen's many inexpensive bicycle-rental companies allow you to experience the world's top cycling nation from the back of a bike.
If You Want to Save: Don't tip for services. In Denmark, gratuities are built into the price you see, so unless you experienced service that was so above and beyond that you think it deserves additional monetary acknowledgement, don't add extra money to your bill.
Brussels, Belgium
Brussels holds a unique place on this list as a city that is very expensive … some of the time. Headquarters of the European Union and home to the Manneken Pis statue, the city is a surprising mix of serious and playful. It's a city of contrasts, and the hotel prices reflect it. Brussels' standing as a major financial center draws business travelers and often drives up prices. But when the business travelers aren't in town, hotel prices drop and it becomes a more affordable destination for leisure travelers.
Helping things along, Brussels has an impressive number of inexpensive hotels, as well as hostels and B&Bs. It's home to the neo-canteen restaurant movement, built around the idea of fresh, delicious, and affordable food. And its USE-IT service is a tourism benefit targeted at young backpackers, offering free Internet, coffee, advice, and parties.
If You Want to Save: Don't eat in the Quartier de L'Ilot Sacre. The bustling narrow streets cater to tourists, but the food isn't great and there have been reports of a number of scams, including large-scale credit card fraud and hidden pricing. If you do go, make sure to find out the price of what you're ordering up front and pay with cash.
-- By Christine Sarkis
You Might Also Like:
Read the original story: 10 Places in Europe You Never Thought You Could Afford by Christine Sarkis, who is a regular contributor to SmarterTravel.