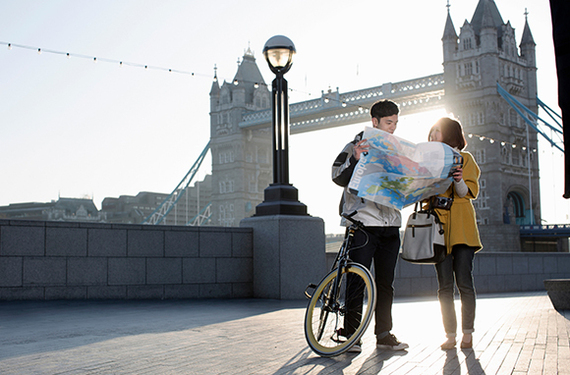 With nearly 200 countries in the world, choosing your next destination is no small task. Luckily, some cities and countries are setting themselves apart in 2015 with brand-new service and developments, big birthdays, yearlong festivities and global events.
Ready for a vacation that makes the most of 2015? Here's where it's at in the coming year.
Japan
Three years after its devastating earthquake and tsunami, Japan is back and looking forward to hosting the world during the 2020 Summer Olympics. New service, big openings and a may-not-last-for-long affordable twist mean that 2015 will be a great year to embrace the intoxicating swirl of tradition and modernity that makes the country a visitor favorite.
It's not every year that Japan celebrates a whole new Shinkansen (bullet train) route, so the March debut of the Tokyo-to-Kanazawa fast train is big news. Cutting the travel time in half, the Hokuriku Shinkansen will traverse the beautiful coastal route in about two and a half hours. The quick trip from Tokyo is sure to put Kanazawa—known best for its castle gardens, lacquerware traditions, standout cuisine and internationally renowned museum of modern art—on the radars of more visitors who have limited time but boundless curiosity.
In Tokyo, new hotels are getting a jump on the boom that's set to reshape the city's skyline between now and the Olympic Games in five years. 2015 openings include Aman Tokyo, Hotel Unizo, Tokyu Stay Shimbashi, Hotel Sunroute Ginza and a Richmond Hotel.
The favorable exchange rate means greater affordability for Americans in Japan right now and likely into the coming year as well. And around the country, as cities and towns begin preparations for the Olympics and beyond, expect to find more value- and convenience-boosting offerings, such as free Wi-Fi in public squares and a boost in free visitors' centers (some operated by local governments, others by developments or local associations) with English-language offerings.
Next spring also brings the full reopening of Himeji Castle, one of the most famous in Japan and a UNESCO World Heritage site. And 2015 marks the 70th anniversary of the atomic bombing of Hiroshima and Nagasaki, making it a particularly powerful year to pay a visit to the haunting and educational peace parks and museums in both cities.
England
Let's put it this way: If Heathrow blared the "Happy Birthday" song on repeat all year long, it would not be unjustified. With big anniversaries and celebrations to match, 2015 is set to be a fun, playful and educational year in England.
The biggest birthday is the 800th anniversary of the Magna Carta. In celebration, the four original copies of the iconic document (plus an original copy of the U.S. Bill of Rights) will come together for a limited time at the British Library. In addition, the British Library will host a Magna Carta exhibition from March to September and Magna Carta trails will lead visitors around England. 2015 also brings the 150th birthday of Alice's Adventures in Wonderland. The Story Museum in Oxford is hosting a special Alice's Day on July 4. The English Riviera will celebrate the 125th anniversary of Agatha Christie's birth, and around the country, events will commemorate the 50th anniversary of Winston Churchill's death.
Cities will take center stage in 2015. Bristol, for instance, will take on the title of 2015 European Green Capital. Throughout the year, the city will host events, including the Big Green Week and Bristol's Biggest Bike Ride. And 10 cities around England, including Brighton, Gloucester and Leeds, will host the Rugby World Cup 2015.
Milan, Italy
Since the 1850s, World's Fairs—now more commonly known as expos—have been bringing the world together. In 2015, more than 130 countries will convene in Milan for Expo 2015 Milano. From May 1 through October 31, Milan will give more than 247 acres to the event, focused on the theme "Feeding the Planet, Energy for Life." An expected 20 million visitors from around the world will get a taste of the foods and traditions of the world. Countries will also highlight their food-sustainability efforts and debut technological innovations.
Milan is gearing up to be host to the world with new parks, pedestrian zones, bike trails and other infrastructure improvements. It's also putting into place some new citywide technologies, including smart city wireless technology that offers not just Expo 2015 information but also free Wi-Fi zones and city information available to smartphone users.
Toronto, Canada
Toronto is getting ready for its time in the spotlight as host to the massive Pan American Games. A new airport link will benefit both game goers and travelers starting mid-year.
The 41 nations participating in the Pan American Games will converge on Toronto this coming July for two weeks of competitions in nearly 50 sports. Diving, gymnastics, swimming, sailing, pentathlon and figure skating are on the schedule. Like the Olympics, the Pan Am Games happen only once every four years and feature an over-the-top opening ceremony, but unlike the Olympics, these games are priced to be affordable, with more than 75 percent of tickets costing $45 or less.
Heavy traffic has long made the drive to and from Toronto Pearson Airport a headache. But with the 2015 opening of the Union Pearson Express, travelers will be able to hop an express train and get from downtown to the airport in a predictable 25 minutes. The train will be up and running in time for Toronto's turn as the host of next summer's Pan American Games.
Los Angeles, California
Need a new reason to head to Los Angeles? How about three? With a boost in air service, new (gasp!) train service connecting downtown and the beach and a new contemporary art museum, 2015 will be a great year to visit LA.
American Airlines is showing its commitment to LAX as a hub by debuting new service to more than a dozen destinations—including West Palm Beach, Indianapolis and Hartford—in the coming months. In 2015, the city will not only be easier to get to but it will also be easier to get around in once you arrive. Los Angeles has been slowly expanding its metro system, connecting more of the massive metropolis through light rail. In 2015, the Expo Line expansion will reach the Pacific Ocean and tourist favorite Santa Monica.
Fall will bring the opening of the Broad Museum. With its eye-catching honeycomb exterior (designed by Diller Scofidio + Renfro, which also designed Boston's Institute of Contemporary Art) and 2,000 works of postwar and contemporary art, the museum will add a whole new dimension to downtown.
Greece
For years, the threat of financial ruin and an unsettled population have kept travelers away from Greece. But 2014 brought a shift in the tide, as vacationers, discouraged in part by high prices in nearby Italy, looked east for that intoxicating Mediterranean blend of history, beaches and fabulous food. The result has been record increases in visitor numbers—a trend that seems set to continue in the new year.
After six consecutive years of recession, Greece is expecting budgetary surplus and growth in 2015. Tourism is a large part of that turnaround, and as tourists return, their dollars are fueling the country's economic recovery.
So aside from its usual charms, what does Greece offer visitors in 2015? Great value for money, and, according to Greek Tourism Minister Olga Kefalogianni, the eventual lowering of taxes in the tourism sector, which should boost affordability even more. What's more, Greek carrier Aegean Airlines (a Star Alliance member) has expanded its service to both international destinations (including a number of European hubs) and destinations within Greece. This makes getting to smaller cities and islands within the country both easier and more affordable.
Atlanta, Georgia
This coming year is going to be a fun one in Atlanta. With new transportation options, new attractions and new shopping destinations, the city is making itself irresistible to travelers looking for a fresh and novel getaway.
The much-anticipated Atlanta Streetcar is about to make its grand debut. The streetcar will make a 2.7-mile loop around downtown, connecting major sights and centrally located hotels.
The newly opened Center for Civil and Human Rights adds another high-profile attraction to downtown's Pemberton Place, alongside the Georgia Aquarium and the World of Coca-Cola. And the airport-adjacent Porsche Driving Experience, complete with a test track, will open in the next few months as well.
Two big openings on the retail front offer new reasons to explore the city in 2015. The upscale streets of Atlanta's Buckhead neighborhood will continue to see new shops, restaurants and cafes opening next year. And Ponce City Market will house a food hall, plus activities such as rooftop mini golf and bocce. And since the historic structure will also include office space and apartments, it will likely draw both locals and visitors.
Mons, Belgium
We're really on board with European Capitals of Culture. Competing for the title often leads to infrastructure improvements and new hotels, museums and attractions. And winning the honor guarantees a year of cool and unique activities that are perfect for visitors.
This year, Mons, Belgium, is one of two cities distinguished as a European Capital of Culture. The UNESCO-heritage-rich city will host 300 events drawing on the visions of 5,000 artists and inaugurate five new interconnected museums. Mons has also debuted two new concert halls to stage events during the year. With so much to offer, the city—just 40 minutes from Brussels—is set to be a major draw for visitors in 2015 and beyond.
Plzen, Czech Republic
Historically known as a city of industry and beer, Plzen (also spelled Pilsen) in the Czech Republic will make its name as a European Capital of Culture in 2015. In anticipation of the year, the city is reinvigorating public spaces, building a new theater and opening the Svetovar Culture Factory, a multifunctional creative center that includes performance spaces, community event spaces, live-art programs and artist residences.
And while visitors will still be able to find plenty of great beer in Plzen, they'll also be treated to a year of exhibitions, concerts, theater, dance, festivals and public art. Events kick off in mid-January and run through the end of the year. And the spirit of the year will continue at least through the end of the decade, thanks to funding that makes cultural development a part of the city's long-term plan.
Other Capitals of Culture, Food and Sport
Cities and countries around the world will rally around particular themes in 2015. For visitors, this sort of concerted effort means plenty of great activities in destinations that have spruced themselves up for the occasion. Here are some of 2015's standout capitals:
Read the original story: Destinations to Watch in 2015 by Christine Sarkis, who is a regular contributor to SmarterTravel.
You Might Also Like: