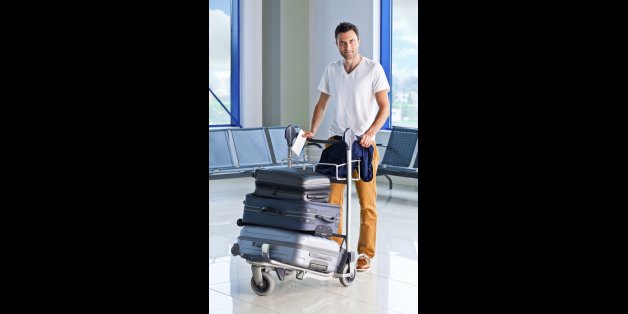 The forever suitcase: defined as the one bag that will last a lifetime, be your constant companion on trips of all kinds, and meet your particular travel needs, all without disintegrating into a pile of cheap materials before you even make it home. This is no carry-on bag, folks. This is a suitcase that has it all and fits it all.
I scoured the racks and tested out many makes and models. Height, weight, maneuverability, and durability were the most important criteria, but I also examined features like zippers, handles, and compartments. My final list of medium-sized beauties boasts super-smooth wheels and ergonomically designed handles alongside new features like built-in overweight indicators and global bag-tracking systems. Read on to find out which suitcase should find a forever home in your closet.
Note: Prices quoted are manufacturers' list prices. Most suitcases are on sale for lower prices through online outlets such as Amazon.com and LuggagePros.com.
Delsey Helium Ultimate Expandable Spinner Suiter
Perfect For: The Overpacker
The built-in overweight indicator in Delsey's Helium Ultimate 25" Expandable Spinner Suiter Trolley is a godsend for the traveler who tends to pack everything but the kitchen sink. While the scale won't exactly help break your habit, it will at least prevent you from throwing in that one last item (or seventh pair of shoes) that would otherwise have taken your bag from pleasantly plump to totally overweight. The 25" Helium Ultimate comes preprogrammed to indicate when it's overstuffed and weighing in at more than 50 lb. Simply pack your bag, then lift it by the small top handle. If the bag is overweight, a built-in display on the handle will turn red.
In addition to this much-appreciated cost-saving measure, Delsey has thoughtfully included a number of useful interior and exterior pockets so you can keep organized all the extras you just had to pack. The ergonomics of the bag could use a bit of work, as the handle was a bit difficult for me to pop up and the spinner wheels were a bit tippy. With hope, Delsey will work out these kinks, and their admirable efforts to make the world a better place for overpackers won't go unnoticed.
Weight: Medium weight, at 10.8 lb.
Dimensions: 25.2" x 16.9" x 10.6"
Warranty: Limited lifetime warranty. Delsey covers all manufacturer defects.
List Price: $350
Briggs & Riley BRX Explore Upright
Perfect For: The Adventure Traveler
Whoever thought the grown-up version of a backpack would be this much fun? With a myriad of pockets, bright-orange interior detailing, and a super-lightweight design, Briggs & Riley's BRX Explore 25" Upright is the perfect bag for adventurous types. The khaki-colored version that I tested out has the classic look of a canvas backpack, but the bag is also offered in slate gray and a dark red color called "Lava." It has extra handles in convenient places, an external buckle system that allows you to connect it to another bag in the BRX line, and details like moisture-wicking mesh lining. This rugged suitcase wouldn't look out of place on the hiking trail—but all zipped up, it would fit right in at a fancy hotel, too.
And this bag has pockets galore. The Explore's exterior, made with abrasion-resistant tarpaulin, has a number of large and small pockets for everything that needs to be at arm's length. Inside, there are separate pockets for wet and dry items and straps to compress your gear and save space. Add Briggs & Riley's lifetime warranty, and this innovative bag adds up to a great deal.
Weight: Nice and light, at 9 lb.
Dimensions: 25" x 18" x 11"
Warranty: Lifetime warranty. Briggs & Riley will repair any damage (even if caused by an airline) at an authorized local repair center or at one of the company's official repair centers.
List Price: $335
Travelpro Platinum 7 Expandable Rollaboard Suiter
Perfect For: The Frequent Flyer
The year was 1987, and Northwest Airlines pilot Bob Plath was fed up with the two luggage options currently on the market: a heavy suitcase carried by a top handle or a horizontal model with four wheels pulled by a strap. So he designed a small suitcase, standing it upright, attaching just two wheels, and creating a long, extendable handle for the top. And thus was born the Travelpro Rollaboard.
You know you can trust a luggage company that was founded by a pilot. Travelpro's Platinum 7 26" Expandable Rollaboard Suiter has a timeless look, with ballistic-nylon fabric, nickel accents, and herringbone trim. Like the exterior of the bag, the interior is classic and offers no superfluous components: simply a compartmentalized lid (including a detachable garment bag) and a hidden mesh bottom pocket. Its incredibly smooth wheels are a necessity for frequent flyers. And, with its durable materials, stylish details, and attention to functionality, the Rollaboard Suiter was clearly created with flight crews in mind.
Weight: Medium weight, at 11.6 lb.
Dimensions: 26" x 18.5" x 12"
Warranty: Lifetime warranty. Travelpro covers damage resulting from defects in materials and workmanship. In addition, at the discretion of the manufacturer, it covers damage caused by airlines or other carriers.
List Price: $560
Victorinox Mobilizer NXT 5.0 Expandable Upright
Perfect For: The Top-Shelf Shopper
Victorinox has been creating and delivering its signature, the Original Swiss Army Knife, since 1891, and chic travel gear and accessories since 1999. The NXT 5.0 luggage line offers top-of-the-line quality coupled with the best warranty out there, and a digital tracking system to boot.
The Mobilizer NXT 5.0 27" Expandable Upright is a beauty to look at, and its construction and design are both simple and elegant. When standing upright, the sleek suitcase angles ever-so slightly backward, eliminating any worry that it might topple forward from the extra weight when packed full. Its wheels are extremely smooth and quiet, and they turn on a dime. Victorinox has thought of everything—from the TSA-compatible lock and "self-healing" zippers to the Swiss Tracker Bag-Tracking Program, included with all bags in the NXT 5.0 line. (Each bag features a unique ID number that the 24-hour customer-service support will use to reunite you and your luggage, all at no cost.) The durable ballistic-nylon exterior is built to last and, according to this test by CBS News Travel Editor Peter Greenberg, can even withstand a beating by a 10,000 lb. elephant.
The interior features a very large foldout garment bag with foam cushioning that helps eliminate wrinkles. I tested out the suitcase's handy attach-a-bag feature, which allows you to secure an additional bag to the front of your Mobilizer. Add up all of Victorinox's thoughtful features and its customer-friendly warranty, and it's no surprise that this bag tops my list.
Weight: On the heavy side, at 13.8 lb.
Dimensions: 27" x 20" x 11.75"
Warranty: Lifetime warranty. Victorinox's first-rate warranty not only covers manufacturing defects in materials and workmanship for the life of the product, but it also covers damage caused by common carriers such as airlines, taxis, trains, and cruise ships.
List Price: $645
Samsonite Silhouette Sphere Hardside Spinner
Perfect For: The Innovator
According to the luggage expert at my local Macy's department store, Samsonite's Silhouette Sphere 26" Hardside Spinner line is jumping off the shelves, and for three good reasons: its hard-sided exterior, its innovative wheel design, and the trusted Samsonite name. Made from extremely durable polycarbonate material, this bag is designed to stand the test of time and to resist dings and dents. The super-compartmentalized interior more than makes up for the fact that the bag has no outside pocket—dare I say, there are almost too many compartments inside this suitcase.
The Silhouette Sphere's hook is its spinner wheels, or wheels that rotate in all directions. This feature is obviously meant to make the suitcase more maneuverable, but I actually had a bit of trouble getting the wheels to change direction. I conducted a test in which I pulled the bag behind me, then stopped, turned around, and pushed it backward; this proved difficult for the bag, since the wheels were forced to reorient themselves, creating a momentary lockup.
Despite this slight drawback, the Silhouette Sphere is a high-quality bag, and it has my favorite handle: gel-infused, it practically melts into your hand. You'll thank me later for this built-in massage.
Weight: Medium weight, at 11.1 lb.
Dimensions: 26" x 18" x 12"
Warranty: Limited 10-year global warranty. This warranty covers only manufacturing defects and does not cover any damage caused by misuse, accidents, abrasion, exposure to extreme temperatures, solvents, acids, water, normal wear and tear, or transport damage by airlines.
List Price: $600
Antler Liquis Medium Upright
Perfect For: The Lightweight
Antler's Liquis Medium 4-Wheeled Super Lightweight Upright is loud—with bright color options; a sculpted, wavy design inspired by a waterfall; and a hard exterior that ensures your bag will be noticed—but its lightweight design and smooth wheels are sleek and quiet.
While some hardsided pieces I tested out had problematic zippers, the Liquis Upright's shower-resistant zippers run smoothly. Made with polycarbonate (considered by many experts to be the lightest, most durable, and highest-quality material for hardsided luggage), this bag is designed for strength as well as practicality. At a mere 6.6 lb., it's as light as a feather, and the built-in grips on the base of the suitcase prove that it was engineered for easy lifting. For anyone with back problems (or for those of us who just really don't like physical activity), this exceedingly light suitcase is a smart choice.
Weight: Extremely lightweight, at 6.6 lb.
Dimensions: 26.8" x 18.1" x 11.4"
Warranty: Limited 10-year warranty. Antler protects against defective workmanship or materials but not against any normal wear and tear or mishandling by a carrier.
List Price: $700
Road Warrior M Series Upright
Perfect For: The Apartment Dweller
Most apartment dwellers simply don't have the space to store a medium-sized suitcase, but Road Warrior has made a 27" bag that can be stashed in even the tiniest studio. The M Series 27" Upright collapses down to almost half the size when not in use—I measured the bag, collapsed, at 6" deep, compared to its normal depth of 13"—proving the company's claim that their luggage "only requires half the storage space compared to a standard upright." The "micro-pop" technology allows you to literally lock the bag into its expanded form and, with the pull of the red rip cord, drop it instantly back into a collapsed state. And just like that, the slim suitcase unobtrusively taking up minimal space in your closet is like Mary Poppins' carpetbag: bigger than it appears.
When you take your M Series on the road, the expansion feature means you won't have to worry whether the fruits of your vacation retail therapy will fit in your luggage. Along with this selling point, the M Series' comfort-grip handle delivered on its promise and was one of the best I tested out. This is a bag for anyone who packs big but lives small.
Weight: On the heavy side, at 12.3 lb.
Dimensions: 27" x 20" x 13"
Warranty: Limited lifetime warranty. If your bag shows signs of damage due to a defect in workmanship or materials, Road Warrior will replace or repair your bag at no expense. They will not, however, replace or repair your bag if it is damaged while in the care of a third party.
List Price: $670
Tumi Vapor Medium Trip Packing Case
Perfect For: The Fashionista
Tumi's eye-catching Vapor Medium Trip Packing Case is bold, beautiful, and filled with surprises. The Vapor line is focused on innovation, from the smartly designed interiors to the molded bumpers that protect the outside from damage. Patented zipper technology even ensures that, if caught on something, the zipper's pull—and not the entire zipper—will break away, so you'll be left with a still-functioning zipper and only have to replace the pull. Plus, the triple-layered polycarbonate shell looks and feels like it could withstand even the most careless airline baggage handler. And in the unlucky event that your bag goes missing, the Tumi Tracer hotline will work to find it for you.

If there is a fault in this suitcase, it's the warranty that comes with it. Lasting for only five years—four of which feature coverage in only a limited capacity—Tumi's protection is less than ideal. But if you can't resist this pretty piece, your fashion sense (if not your wallet) will thank you.
Weight: Medium weight, at 10.3 lb.
Dimensions: 28" x 17.5" x 11.5"
Warranty: Limited five-year warranty. In the first year of ownership, Tumi covers all damages, including those caused by wear and tear and airline mishandling. In the second through fifth years, Tumi's warranty only covers defects in materials or workmanship.
List Price: $595
-- By Julianne Lowell
You Might Also Like: