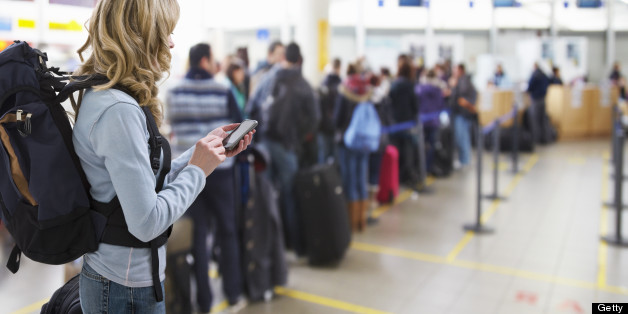 The average traveler will spend 15 years of life waiting in line. Ok, I made up that statistic -- but it feels true. Whether standing in a long customs queue or attempting to visit the Louvre on a summer Saturday, we globetrotters spend way too much time lingering in line. But there's a better way to see the world: Live life in the fast lane. Here are 10 smart tricks for skipping lines at airports, attractions, cruise terminals, car-rental counters and hotels.
Make Reservations for Rides
You may have heard the controversy about wealthy park-goers who hire physically disabled tour guides so they can skip lines at Disney World. For those of us with even nominal ethical standards, however, there are more respectable ways to avoid the queue at Space Mountain. At Walt Disney World and Disneyland, visitors can save time by grabbing a free Fastpass; it's essentially a reservation for your ride. Look for Fastpass machines, which spit out tickets that tell you when to return to access your ride of choice so that you can wait in a much shorter line.
Six Flags parks have an analogous program—but it's not free. With Flash Pass, visitors use electronics booths stationed throughout the parks to reserve ride times in advance (Flash Passes can also be purchased online). Rates vary, but I tested out some prices, and a Regular Flash Pass for Six Flags Great Adventure in New Jersey, for example, costs $50.
Many independent amusement parks, such as Hersheypark, Knott's Berry Farm, and Cedar Point, offer similar line-cutting passes, too. Check your park's website for more information.
Be a Theme Park VIP
Open your wallet and book a special (and usually expensive) tour to save even more time. Purchase a VIP Tour at Disney parks and you can enjoy "preferred boarding" as well as automatic Fastpass access at select rides. (Prices vary by park and season. But to give you an idea of costs, hourly rates at Disney World start at $315 for resort-hotel guests.) You can also go VIP at Six Flags parks, which offer a similar VIP tour with front-of-the-line ride privileges; rates vary by park. Or get a VIP Experience pass, which comes with line-cutting perks, at Universal Studios Hollywood for $299 per person.
Buy Your Tickets Ahead of Time
Many museums and attractions offer online ticket booking. Guests can either print tickets or store them on smartphones. At the Museum of Science and Industry in Chicago, for example, visitors can purchase and print tickets at home, then avoid the line when they arrive. This is a simple step that travelers often skip—especially when deciding to do a tour or see an attraction at the last minute.
Alternatively, think about buying a CityPASS. It's the same idea: You have the tickets for a bunch of attractions already, so there's no need to get in line to buy them. And CityPASS booklets often include admission to places that don't normally allow visitors to buy tickets in advance, so it's an especially fantastic tool for skirting lines.
Use Express Checkout
Nowadays, at many large hotels, there's little need to wait in line at the check-out counter when you leave. With express checkout (sometimes called self-service or automatic checkout), hotel guests can drop their room keys into a box or use an electronic kiosk to complete the check-out process. Some hotels even allow guests to check out via the in-room television system. The morning you check out, hotel staff will typically deliver a bill for your stay to your room. If the bill looks OK, simply deposit your keys and go. (Express checkout isn't the right choice for travelers who need to dispute a charge on the bill or change the method of payment.)
And while automatic checkout is more common than self-service check-in, keep your eyes peeled for the latter, which is a growing trend, too.
Join a Car-Rental Loyalty Program
Did you know that car-rental loyalty-program members can often skip the counters and head right to their cars? Moreover, it's free to sign up with many major companies. Spend a minute filling out the program form and you could save hours standing in line waiting for your turn at the car-rental counter. For example, Hertz's Gold Plus Rewards program offers "Carfirmation" of your rental: a text message with the car type and location sent directly to your phone. Just show up at the rental facility, go right to your designated car in the parking lot, and drive off into the sunset. (Your contract will be waiting in the vehicle.) It's totally worth the few minutes it takes to sign up.
Avis, Budget, Dollar, and Enterprise are a few examples of other major car-rental companies that also offer free loyalty programs with line-skipping privileges.
Become a Trusted Traveler
By applying for new programs like TSA PreCheck ($100 for Global Entry members), Global Entry ($100), and Clear ($179), travelers can access expedited airport-security and customs lines at eligible U.S. airports. You must exchange some privacy for this privilege, though. PreCheck requires a background check. And to join Clear, plan on submitting to fingerprint verification as well.
Note that these programs are pretty limited for now: Clear is only at five airports. PreCheck and Global Entry are a bit more widespread, with lanes and kiosks at more than 40 airports. And with PreCheck, you must be flying with an affiliated airline in order to take advantage of the expedited-security privileges.
Read more in 10 Ways to Speed Through Airport Security.
Join an Airline Loyalty Program
It's standard practice with frequent-flyer programs: Elite members get to cut in line. They can zoom through special VIP queues when boarding, when checking in, and, at some airports, even when going through airport security. That last option, however, is somewhat controversial: In 2012, a senator from Nebraska introduced a bill to nix elite security lines at airports. But for now, frequent flyers still get special treatment from the TSA.
On most major airlines, even the lowest loyalty levels offer priority-line access; this is probably because it costs airlines nothing to allow some customers to get in line ahead of others. According to SmarterTravel Contributing Editor Tim Winship, "There aren't any costs to the airlines in allowing passengers to board earlier, clear security faster, etc. So any revenue generated from selling priority access is pure profit. Ka-ching!"
Of course, the average leisure traveler doesn't have the mileage credentials to earn diamond/plus/gold bullion/whatever status with an airline. But there are other ways to skip those snaking airport lines, which we'll get to next.
Upgrade Your Plane Ticket
You've seen the express check-in lanes and heard the early-boarding calls for the fortunate flyers of first class. So you know that a ticket upgrade is one way to beat the airport waiting game. But if you're flying coach, you can access some of these same perks. Flyers can often purchase an upgrade to a premium coach seat—which can come with priority boarding or expedited security—for a (sometimes) minor fee. Read my review of JetBlue's Even More Space; prices for this product vary, but I paid $65 on top of ticket costs for a bigger seat, early boarding, and access to the expedited lane in airport security.
Other airlines offer different iterations of such line-cutting perks. Southwest flyers who purchase EarlyBird Check-In can secure better boarding positions and get on the plane before others. American's Main Cabin Extra, featuring group-one boarding and slightly larger coach seats, starts at an easy $8.
Get a Fancy Airline Credit Card
Airline-affiliated credit cards offer a surplus of travel perks: free checked bags, bonus miles, access to airport lounges—plus priority boarding and check-in. Skip lines and find bin space for your carry-on by signing up for cards like United's MileagePlus Explorer Card or the Gold Delta SkyMiles Card. There are plenty of other options—every legacy airline offers some kind of credit card that comes with priority boarding and sometimes even access to the first-class check-in lane.
Many of these cards charge annual fees, and APRs vary. Find a helpful chart comparing airline credit cards on FrequentFlier.com.
Avoid the Cruise Cattle Herd
The worst part of a cruise, according to me, is the interminable wait in the terminal. Going through security and checking in for your cruise along with thousands of fellow passengers can sometimes take hours. But just like airlines and amusement parks, one cruise line sells skip-to-the-front-of-the-line passes. Carnival offers "Faster to the Fun," a package that includes priority check-in and express boarding, for $49.95 per cabin.
You can also get priority cruise boarding with a cabin upgrade or by joining a line's loyalty program. For example, Platinum Level members of Disney Cruise Line's Castaway Club (those who have taken at least 10 Disney cruises) are eligible for priority boarding. The same goes for elite members of Royal Caribbean's loyalty programs, as well as those who've booked suites with the line. Cruisers staying in suites or penthouse cabins on Norwegian Cruise Line sailings receive speedy priority embarkation and disembarkation, too.
You Might Also Like:
Read the original story: How to Cut Lines When You Travel by Caroline Costello (Google+), who is a regular contributor to SmarterTravel.