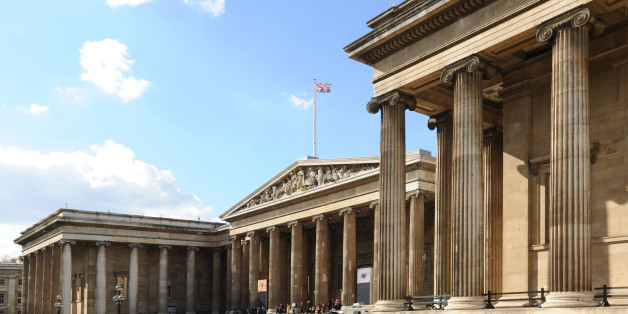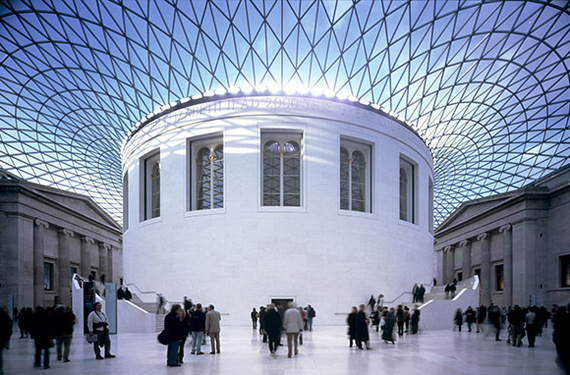 (Photo: The British Museum)
Jetting around the world isn't free, but cultural enrichment can be. We uncovered 10 incredible museums—from Paris to Beijing—where cultural discovery is rich but admission is free for all.
Smithsonian Institution, Washington, D.C.
When we rounded up these amazing free museums in the U.S., of course the Smithsonian made the cut. These 19 separate museums and institutions make up one of the largest collections of American art, artifacts, and wildlife in the world. No visit to the nation's capital is complete without exploring the Smithsonian or its National Zoo, home to some 2,000 animals (including the cuddly, world-famous giant pandas).
Musee d'Art Moderne, Paris, France
When you think of famous museums in Paris, your mind may jump to the Louvre or the Musee d'Orsay. And while those institutions are worth a visit or two, they're generally not free. The Musee d'Art Moderne de la Ville de Paris, however, is free to everyone all the time—and it has plenty to offer, from rotating exhibits by major modern artists to a permanent collection featuring 22 pieces by Matisse, among thousands of other important works of the 20th century.
The British Museum, London, England
Housing an enormous collection of art and artifacts from the world over, The British Museum is a must-do on any visit to London. Its works number in the millions and include such controversial objects as the Elgin Marbles, the Rosetta Stone, and the Benin Bronzes. Free family-friendly activities, lectures, and special exhibits take place daily. The massive museum takes several days to walk through, too, so repeat visits are a great way to take advantage of The British Museum's complimentary offerings.
National Museum of China, Beijing, China
Established in 2003 to help locals and tourists alike explore China's vast legacy, the massive National Museum of China has 2.2 million square feet of gallery space. Visitors can see artifacts dating back 1.7 million years as well as items from the modern era, the Cultural Revolution, and the last imperial dynasty within its dozens of exhibition halls. The museum is an excellent way to discover cultures that Western history classes often overlook.
Nationalmuseet, Copenhagen, Denmark
Denmark's largest museum is also one of its most beautiful, housed in a sprawling 18th-century manse near the center of town. Inside, follow Danish history from the age of prehistoric humans to the modern day. Let the little ones run wild through The Children's Museum, where they can try on historical Danish clothing and clamber aboard a replica Viking ship, or visit during NatNight, when your free cultural experience comes with a nightcap.
Museu da Electricidade, Lisbon, Portugal
Overlooking the Tagus River in Lisbon, the Museu da Electricidade is housed in an old power plant that perfectly encapsulates the spirit of its contents. Discover the history of electricity, sciences, and industrial archaeology through especially kid-friendly interactive exhibits. Rotating photography and contemporary-art installations add to the museum's surprising offerings. TripAdvisor visitors call it "a secret hidden delight of Lisbon" (and a welcome break from the heat).
Daimler Contemporary, Berlin, Germany
Entrance is always free at Daimler Contemporary, a hip museum devoted to global contemporary art. This is a good thing, considering that the collection changes focus four times per year, as new art acquisitions and rotating exhibits make every visit different from the last. See paintings, photography, conceptual art, fashion, and several sculptures located outside on Potsdamer Platz.
Museu Afro Brasil, Sao Paulo, Brazil
Still spinning from the World Cup and pining to experience more Brazilian culture? The Museu Afro Brasil exhibits some 6,000 works of art, documents, jewelry, photographs, and textiles that highlight the importance of African influence on Brazilian culture. This moving museum was founded in 2004 by the artist/curator Emanoel Araujo and remains free on Thursdays and Saturdays (with a small $0.50 entrance fee otherwise).
Nicholson Museum, Sydney, Australia
The Nicholson Museum is home to the largest collection of antiquities in the Southern Hemisphere, and fortunately for visitors Down Under, it's free. With thousands of objects (including mummies) spanning the globe from the Middle East to Europe, the small but unique museum is an excellent break from beach days. Its location—the Sydney University campus—also offers plenty of other educational diversions, including an art gallery and a natural history museum.
Te Papa Tongarewa, Wellington, New Zealand
New Zealand's dedication to cultural history is exceptional, and there are few better places to discover the country than at Te Papa Tongarewa (the Museum of New Zealand). With five collection areas (art, history, Pacific, Maori, and environment), the museum's exhibits and programs seek to explore the country's uniquely bicultural character as well as the natural world in which it thrives. See everything from tyrannosaurus fossils to Maori art to contemporary fashion installations.
Read the original story: Incredible Free Museums Around the World by Dara Continenza, who is a regular contributor to SmarterTravel.
You Might Also Like: