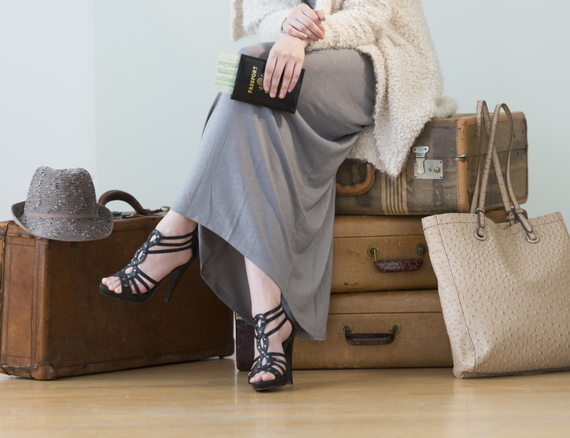 (Photo: Tetra Images/Getty Images)
Travel-supply stores seem to support the notion that we should keep an entirely separate wardrobe for travel -- one that's plain and purely functional. We disagree. There are lots of travel-friendly apparel and accessory options sold by mainstream retailers that will help you maintain a smart elegance on the road. We've curated a list of practical travel clothes that are sophisticated enough to pass muster on the plane as well as in the Parisian brasserie. Discover 10 travel-appropriate additions to your everyday wardrobe.
I.d. Seersucker Convertible Maxi Dress
A convertible dress that doesn't confuse is a desirable prize. This adaptable seersucker number made by I.d. and sold by Anthropologie is simple enough: The halter tie is removable. And the hem can be shortened or lengthened by way of covert buttons. You get two looks in one dress, which is a terrific solution for those days when nothing you've packed seems to suit your mood. The seersucker fabric is decidedly summery, but the addition of a tailored jacket and boots will take you into fall. Price: $119.95 (on sale).
Sperry Top-Sider for J.Crew Tweed Slip-on Sneakers
How do you spruce up a sneaker? Dress it in wool. A rubber sole plus a tweed upper equals comfort and style, simultaneously. Sperry Top-Sider's tweed slip-on sneakers, sold by J.Crew, have a soft top that will flatten nicely when packed in a suitcase. They don't have laces, so you can quickly slip 'em off before shuffling through the backscatter. Most importantly, they are sneakers that don't look like something you would wear to a CrossFit session. These are listed as men's shoes, but women can wear them too! Just order two sizes down. Price: $70.
Baggu Reusable Bag
It's affordable. It's colorful. It's a must-pack accessory, especially for travelers. The Baggu reusable bag folds up into an infinitesimal pouch, so it's hugely easy to pack. And it can serve myriad purposes on the road: separating dirty clothes from clean ones, functioning as a grocery bag in overseas markets that charge for bags, or acting as a beach bag when you don't want to get sand in your purse or carry-on. Price: $9.
ASOS Collection Kimono
Kimono is the new cardigan. And it happens to be an ideal piece for traveling. With its blousy shape and swingy sleeves, a kimono will keep you feeling warm, comfortable, and unrestricted in aircraft cabins. It's like a Snuggie, only thinner and a thousand times less embarrassing. This printed jersey kimono from ASOS makes for an elegant outfit topper, especially in transitional seasons. Cost: $67.71.
Anniel Soft Oxfords
A traveler could purchase a pair of fold-up ballet flats from Tieks or Linge. Or she could invest in something a little more supportive and just as easy to pack. Anniel handcrafts shoes in the Italian town of Montebelluna. In addition to ballet flats, the company makes soft lace-up oxfords in a range of materials, including leather and fabrics. I can't think of a more appropriately chic and comfy shoe to wear while touring a French market or biking alongside canals in Amsterdam. These Italian-made shoes aren't widely sold in the U.S., though. Shopbop sells the oxfords in suede for $163, and Anthropologie stocks Anniel footwear.
Double or Nothing Convertible Trench Coat
In the same vein as the aforementioned seersucker convertible dress, the Double or Nothing Trench Coat from Nasty Gal features hidden buttons with which the wearer can adjust the length of the garment. Go from swingy, cropped coat to flowing, full-length trench in seconds. The coat is made of a lightweight unlined tencel, so the sleeves can be rolled to the elbow for even more styling options. Cost: $118.
A Kiss of Cashmere Multi-Way Dress
I wish I had spotted this dress before my most recent trip to Istanbul. This knit sweater dress from Victoria's Secret has a big cowl that can be draped over the head like a hood or even slung over one shoulder. In other words, it's a dress with a built-in headscarf that will serve you well when you're visiting mosques and churches. Better yet, it comes in seven colors. Price: $79.50 and up.
Bonobos Quartermaster Jacket
You may have read about Scottevest, the travel-clothing company that constructs coats with dozens of pockets, on our site. Scottevest arguably corners the market on coats packed with 20-plus pockets that are specially designed for travel. But a military-style jacket with plenty of pockets can moonlight as a practical carry-all, too. This simple men's military jacket from Bonobos ups the style quotient with a slightly tailored fit and sturdy cotton fabric, while supplying a handful of roomy pockets. It has a detachable hood, too. Price: $225 (on sale).
J.Crew Curator Pant
I have this pant, and I can vouch for its status as one of the best travel pants around. The J.Crew Curator Pant is a smart, slouchy mid-rise style that feels like a soft lounge pant yet looks absolutely nothing like pajamas or workout wear. You may consider it a modest take on the harem pant, depending on your idea of what qualifies as a harem pant. J.Crew has been selling this style for years, so it's safe to call the Curator a classic. Price: $128; select colors are on sale for $99.99.
Uniqlo Ultra Light Down
Uniqlo sells packable, lightweight down vests, coats, and jackets for both men and women that provide plenty of padding, yet roll right up into little pouches. This solves that wintertime vexation caused by puffy, bulky, difficult-to-pack outerwear. Uniqlo's Ultra Light Down vests and jackets are also ideal for fall and spring travel: Layer them under a lighter-weight transitional coat when you need a bit of warmth on a frosty day. Price: $49.90 and up.
Read the original story: Travel Clothes You Can Wear Anywhere by Caroline Costello, who is a regular contributor to SmarterTravel.
You Might Also Like: