"Wait, Five Guys has breakfast?!"
Yes, Five Guys has breakfast...but only if you're in DC. And at an airport. Or outside the McPherson Square Metro Station, where I was lucky enough to chance upon a Five Guys's street location that serves breakfast.
In addition to the breakfast menu's scarcity, Five Guys has taken some liberties with the term "breakfast." When they say "Five Guys Breakfast," what they really mean is "Five Guys Plus Eggs," because they just added eggs to their menu and re-appropriated their existing hamburger toppings into breakfast sandwich ingredients.
So to recap: when I say "Five Guys has breakfast," what I really mean is "A few Five Guys locations in DC add eggs to their menu from 8 to 11 a.m."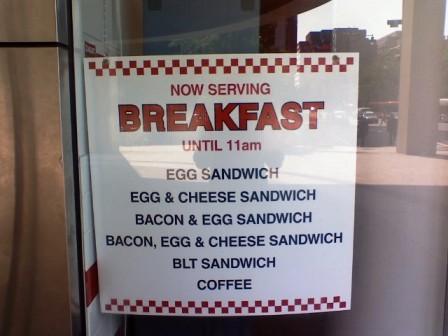 (Sidebar: I love that "BLT sandwich" is a breakfast food.)
But what Five Guys lacks in creativity they make up for in quality, flexibility and so many toppings. The 15 sauces and extra toppings Five Guys usually has available for their hamburgers are also fair game on their breakfast sandwiches. I took advantage of this option and ordered a Bacon, Egg & Cheese Sandwich with grilled onions and grilled mushrooms.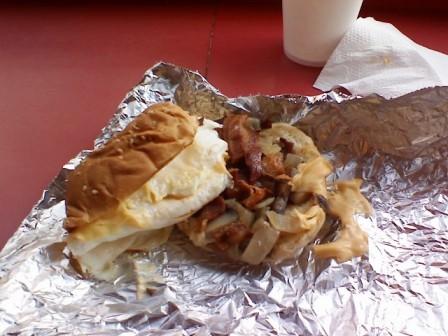 The sandwich came hot and loaded with cheese and two eggs by default. Just as with their burgers, if you want only one egg or one patty you have to request it specifically. Given that Five Guys's buns are soft and not toasted or grilled, the sandwich was pretty floppy. However, it was a gooey, delicious floppy rather than a sad, gray floppy.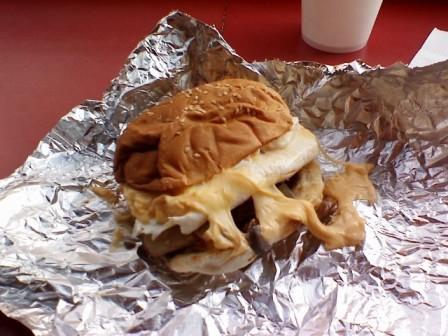 The bacon came in chunks rather than strips and contributed a much-needed salty crunch. The grilled onions were slightly sweet and not overpowering, while the grilled mushrooms delivered that subtle umami only mushrooms can provide. These three toppings came loosely packed on the lower layer of the sandwich like a hash. My one complaint about this sandwich was the location of the cheese. I think the sandwich could benefit from pouring the cheese over this bottom layer of loose toppings rather than the eggs, as it would bind the toppings together and keep them from falling out.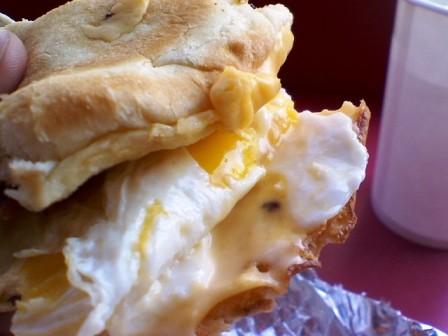 The eggs themselves were phenomenal, especially when compared with the yellow rubber circles you usually find on a fast food breakfast sandwich. They could have used a little more salt; when added to a regular hamburger, they did not hold up on their own.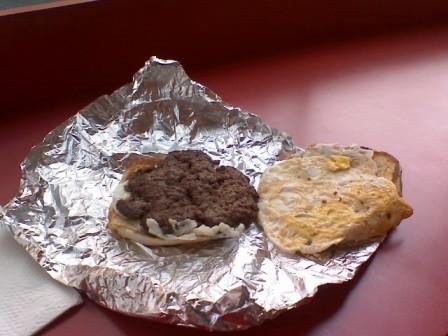 Luckily, a lack of salt can be easily ameliorated by, well, adding salt. Or ketchup. Or bacon. If it's one thing American fast food doesn't have a lack of, it's salt. As for prices, the egg, cheese, bacon, onion and mushroom sandwich and the hamburger patty egg sandwich were both $5.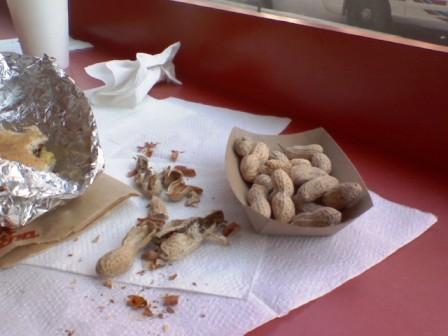 Bonus! The free-for-all hard shell peanuts Five Guys serves at lunch and dinner are also out during breakfast. This, plus Five Guys's present lack of any specifically breakfast-ey menu ingredient other than eggs, indicates Five Guys is still holding fast to their lunch/dinner M.O. and probably doesn't have many plans to expand their breakfast offerings, food-wise or geography-wise, any time soon.
In the end, one can look at the Five Guys Breakfast menu one of two ways:
1. Uh, all they did was add eggs to their menu.
2. Whoa, they added actual eggs to their menu.
And that is worth more than all the gimmicky menu expansions in the world.
Review by Sam