Behold! McDonald's is offering a caramel pie and it's being test marketed in the Great White North first (aka Canada), much like the Oreo pie from earlier this year. While many in the U.S. lost their mind over the proposed Oreo pie, is the caramel pie as promising? So Good gave it a full review. Here's what Andy, our North-of-the-border correspondent thought.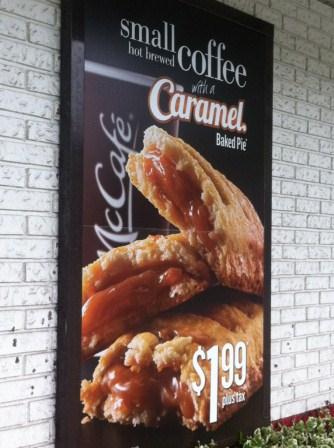 This pie is sweet. Feed a piece to a hummingbird and it will have to go on dialysis sweet. It's as if they've melted down 20 Werther's Originals and funneled it into its awaiting pastry vessel. Buy a carton of milk to help foil the impending sugar onslaught and you'll thank me.
The crust on all four of my pies (don't judge me) was burnt. I am wondering if this version has to be left in the oven longer, as to assist the gloppy caramel in achieving a more desirable viscosity? It definitely has a shorter shelf life once it cools down and seizes up, resulting in a pudding like consistency.
There's not much more to review. It's caramel shoved in a turnover. Nothing that's going to force a rocket scientist to tap out.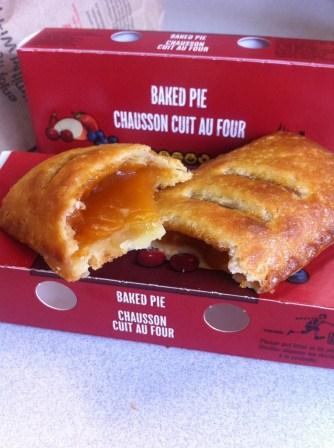 The plus side to the caramel pie is its seemingly preordained soul mated pairing with any of McDonald's soft serve desserts. Break this up over a caramel or chocolate sundae? Bliss. The creamy ice cream mixed with chunks of pastry provides an extra, welcomed texture, while cutting the overall sugary punch of the pie.
The bottom line being, does caramel really warrant it's own pie? Why not caramel-apple? Have you had the deep fried caramel-apple empanada from Taco Bell? WOW. Did McDonald's just have a surplus of caramel laying around? If you've managed to give us Oreo, Holiday, Peach & Wildberry varieties of your iconic dessert, the least you can do is stretch.
If anything, at least this version makes me appreciate Werther's Originals more.
Follow So Good on Twitter: www.twitter.com/SoGoodBlog
Also on HuffPost:
PHOTO GALLERY
High Calorie Chain Meals