Pan-seared Parmesan-crusted chicken alfredo makes a great family meal for a Sunday night. It's rich and satisfying and has 4 different layers of flavor. It's super easy and is a great change from the traditional pasta and sauce. It's also a great way to get kids to eat their veggies too! If you are in the mood for Parmesan crusted wings, see this recipe.
Prep time: 10-15 Minutes
Cooking time: 20-30 minutes
Ingredients:
3 skinless boneless chicken breasts. .
3 large carrots peeled and cut into 1/4 inch discs
1 head of broccoli cut into just florets
5 tbsp of butter or margarine
1 cup of Parmesan cheese
1 egg (beaten)
1/2 cup of half and half
1 tsp salt
1 tsp pepper
2 Jars of Barilla Alfredo sauce
1 lb of fettucine pasta
Directions:
Steam broccoli and carrots together in a large microwavable bowl. Vegetables should be completely submerged under water. Steam for about 8 minutes. Once steamed drain and set aside.
Split each chicken breast in half and pound them out to 1/4 inch thickness. (If using thin chicken you can skip these steps). Once the chicken is pounded out sprinkle both sides with salt and pepper.
In medium bowl beat egg and add 1/4 cup of half and half. (reserve other 1/4 cup for alfredo sauce.) In a large bowl or plate spread the Parmesan cheese.
Melt a tbsp of butter in a large skillet.
Once the butter is hot and starts to bubble dip your chicken in the egg and cream mixture let the excess egg drip off. Then dredge chicken in the Parmesan. Place the chicken in the skillet. Let chicken cook about 5-7 minutes on each side to ensure it's thoroughly cooked. Add more butter to the pan by tbsp as needed. Chicken should be a deep golden brown.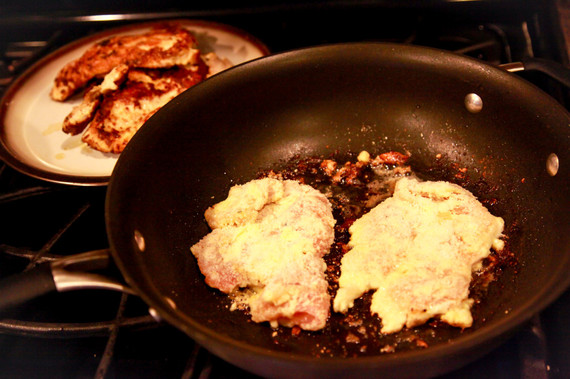 Let chicken sit and cool for about 10 minutes.
While chicken is cooling mix alfredo sauce and half and half in a medium sauce pan. Stir and cover and cook over medium heat, stirring occasionally to keep the sauce from sticking to the pan and burning.
Bring 2 quarts of lightly salted water to a boil and add pasta. Cook pasta accruing to the directions on the box.
While pasta is cooking cut chicken lengthwise into strips.
Once pasta is fully cooked drain and add to vegetables in large bowl and mix in alfredo sauce. Make sure everything is coated. Plate the pasta and vegetables and set 4-5 strips of chicken a top. ENJOY!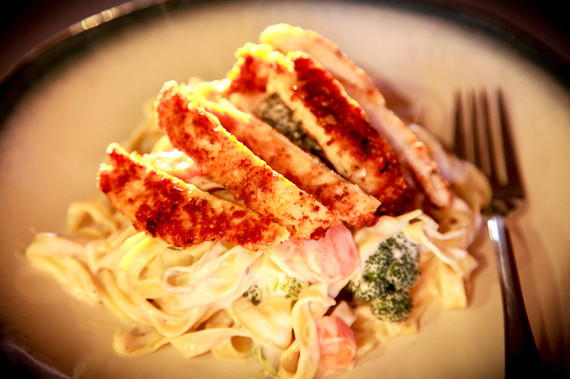 Tips and Tricks:
When pounding out the chicken place it in a plastic zip-lock bag it creates less mess.
Try adding peas, corn or even sugar snap peas for more texture and sweetness.
You can also substitute half and half with 1 or 2 percent milk for less fat and calories.
Any pasta works great, spaghetti, tortellini, angel hair, penne or even rotini.
To add more flavor try adding roasted peppers or tomatoes.
Fun Facts:
Parmesan-crusted chicken alfredo was invented by di Lelio at his restaurant Alfredo in 1914 as a variation of fettuccine al burro. When butter was added both before and after fettuccine was put in the serving bowl, the butter was known asdoppio burro (double butter). Di Lelio's "original contribution" was to double the amount of butter in the bowl before the fettuccine would be poured in (thus a triplo burro (triple butter) effect instead of double) which he started doing for his pregnant wife who was having difficulty keeping food down. Alfredo added the new dish to his restaurant's menu when his wife began eating again.