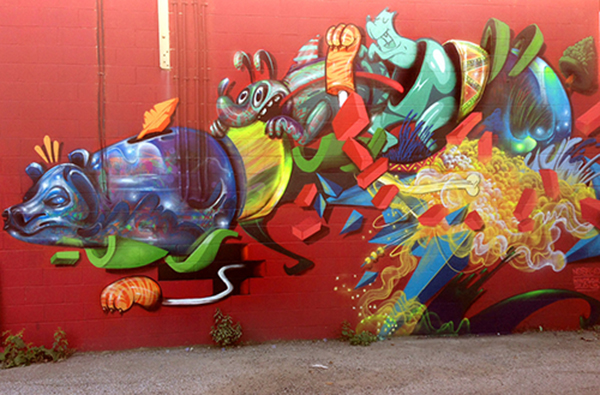 As apart of the "That's Not Art" series covering alternative arts and culture.
Yis "NoseGo" Goodwin is one of Philadelphia's most talked about artists to ever grab a paint brush or a can of spray paint.
For Harry Potter fans, the 27-year-old's art work can be compared to a boggart caught mid-shape shift; for foodies imagine a massive sandwich with assorted meats, cheeses and breads. For everyone in between, his work is layered with childhood dreams and adult introspection.
Either way, Nosego's work takes an ambidextrous approach to experimenting with different styles and putting them in one piece.
Having grown up on 21st and Bainbridge in Philadelphia, Goodwin was surrounded by art enthusiasts.
With two artists for uncles -- one a sculptor and the other a graphic designer -- and a mother that experimented with all mediums, he was always immersed in the visual arts.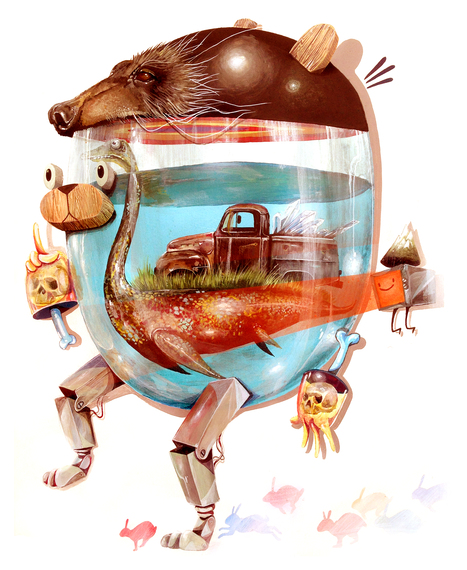 "I went through phases where I wanted to be a basketball player or skateboarder," NoseGo says with a laugh.
It wasn't until he attended the Philadelphia High School for the Creative and Performing Arts (CAPA) that he began developing an interest for graffiti art.
"At such a young age you occasionally feel like you don't have a voice," he says. "This makes you feel like you do."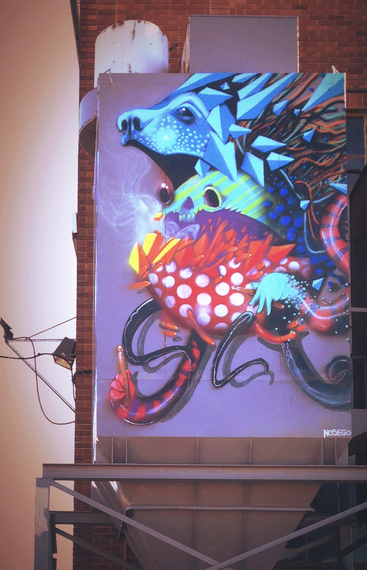 Eight years later, the Electric Factory wears his art on its side, and there is a four-tiered piece of his outside Woodward Gallery Project Space in New York. Abroad, his work "Unit 44" floats under a staircase in Newcastle, United Kingdom.
"The pieces don't have one focus," he explains.
It's the idea of having small moments making one large moment, kind of how when you go through life and you have different experiences. The ones that you draw from, those are the ones that make you, you.
Comparing his work to a sloppy toy box where the toys overlap each other, he's taken the same approach to art itself, mixing both fine art and contemporary. "It's like playing with a G.I. Joe and then a ninja turtle," he says. "Who's to say you can't take these two aspects and put them together?"
His manager Amanda Bompensa has became his manager after meeting him through mutual friends. The two clicked instantly and Bompensa has been granted the chance to watch the evolution of NoseGO.
"It's constantly growing and evolving which is mind blowing to watch. I've watched him work super quickly to a slowed down focused pace -- he is a professional," she says. " He is only going to continue to blossom from here on out. I could not be more grateful to be able to be a part of his team and see what journeys lie ahead!"
According to Complex Magazine, NoseGo is one of the Top 10 Street Artists to Watch and one of their Top 50 Artists to Follow on Instagram. He was featured in Ron Howard's "Made in America" documentary, and has collaborated with Cartoon Network, Nickelodeon and Converse. In 2014, he'll be showcasing his work in Berlin, Hawaii, Miami, Los Angeles, San Francisco and will be flown out to Thailand to paint a mural with a public school.
He'll be taking part in the Beyond Eden Art Fair in California and some critically acclaimed contemporary art shows hosted by SCOPE as well as Art Basel. While many artists struggle for their next gig, NoseGo is booked until 2015.
"Before I didn't know where my next check was coming from now I have some security as to what my future potentially holds," he says. "It's kind of beautiful."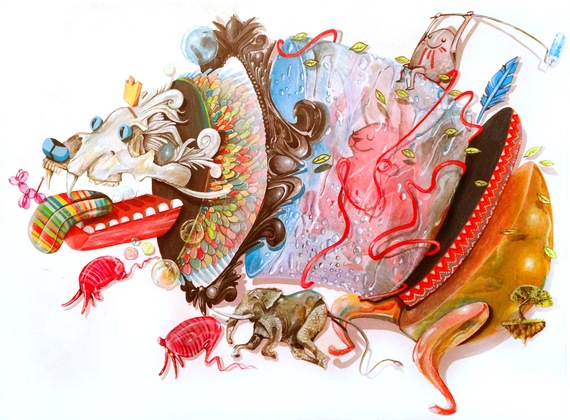 Why his art isn't art: It is what it is. I don't think it's unique or different, I'm just being myself.
Check out his work: nosego.com