As a model, a lot of our time is spent simply waiting. Waiting in between jobs, waiting at castings. L'attente. This is how I found myself first exploring different cafes in NYC where I had been living for the past several years. I soon came to realize that coffee could be more than just a bitter dose of caffeine, knocked back in a morning frenzy. It is, instead, in some sense a culture in and of itself.
Now that I am living in Paris, however, this kind of approach to coffee is still somewhat elusive. One morning, on my way to one of my castings I happened on a certain café with a promising exterior. I popped in to check it out. I wound up enjoying one of the best coffees I have had here in Paris. This quiet, unpretentious place took me completely by surprise. I decided to find out more.
Fragments, as the cafe is called, is run by a young, enthusiastic 26-year-old, Youssef. He sat with me one morning recently to explain his philosophy behind the cafe. The concept is to have his cafe as a kind of coffee laboratory. Taking beans from a variety of different roasters, he plays with different approaches in order to discover new tastes. It's the complete opposite of the modern coffee chain approach; here, every coffee is a kind of experiment.
Although it would seem that Youssef, this coffee scientist of sorts is a honed expert, it turns out that he is relatively new to the world of cappuccinos, cortados, and all the other endless variations of coffee. Two years ago, he started his first cafe, Black Market, as a kind of warehouse to store cartons of organic vegetables which he was delivering to customers throughout Paris. Coffee became a way of bringing his customers together. Soon, the cafe itself took off and Youssef was hooked. He became obsessed by the complex taste of coffee. Black Market has since closed, and his second cafe, Fragments, is now dedicated solely to coffee. However, instead of aiming to attract a trendy crowd of young hipsters, the cafe has a calmer vibe. The energy clearly lies behind the counter -- a kind of zen dedication to creating the best possible cup of coffee.
Why do I find this kind of dedication so moving? To me it represents the rebirth of real craft. So much of what we consume, whether it be food, clothes, or media has lost it's meaning. Do we really understand any more what we are wearing, eating, or consuming in general? These fundamental basics have become so complex in their continuation that comprehension seems beyond hope at times. Perhaps however, if we step back, if we chose to reexamine these basics, which appear simple enough, such as a cup of coffee we can arrive at a certain level of real comprehension, and therefore real appreciation and enjoyment.
Is this kind of enjoyment simply a middle class luxury? An exclusive, artisanal world of hippsterdom? I would beg to differ. Change can be effected by these seemingly small choices we make. In this simple cup of coffee lies a whole, complex chain of people, hours labored, land cultivated, extraction, refinement. The coffee is merely the end product of this story. Where we put our couple of dollars can overtime have an enormous impact. To push towards a change in consummation that I think is, in fact urgent. A luxury? Perhaps, but also a growing necessity.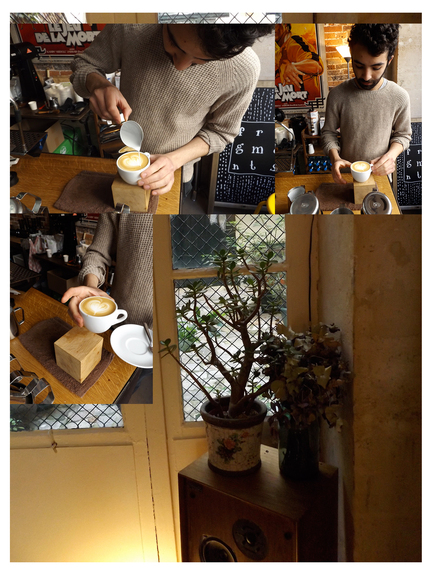 Fragments
76, rue de Tournelles,
75003 Paris