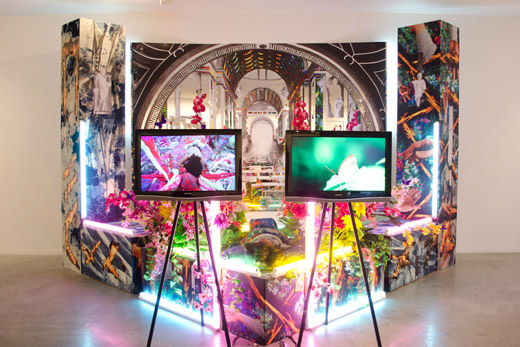 Installation view of 2012-2555
Go to MoMA PS1, lie back on the giant denim tie-dye pillows, and watch Korakrit Arunanondchai's transformative two-screen video installation, 2012-2555. The hyperreal reflection on the cyclical nature of memory, death, and rebirth. Between the two screens is a life-sized mannequin shrouded as a dead body. Around it, fake flowers, reflective surfaces and a disco rendition of a gothic cathedral in the background.
Sound overwhelming? It is. But at the same time, the work is calming, meditative, and mesmerizing, allowing the viewer a portal into the afterlife that is not dark or foreboding, but instead colorful and peaceful.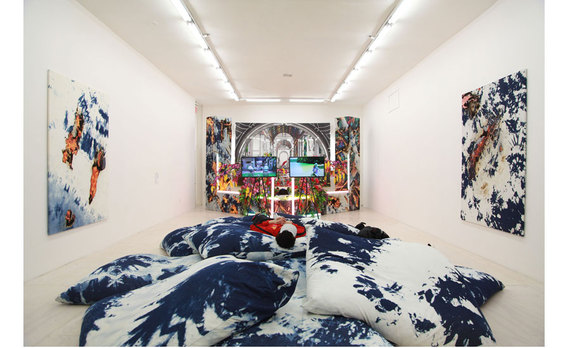 Installation view of 2012-2555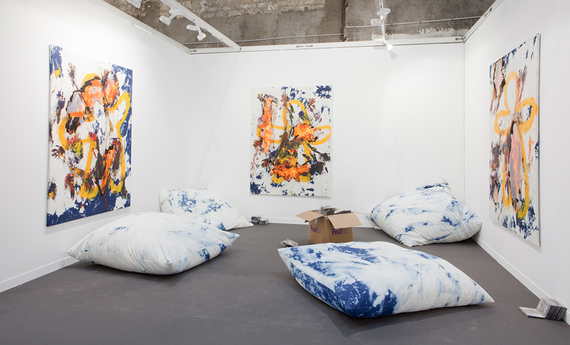 Installation view of 2012-2555
The video is also a funereal monument to Arunanonchai's older work, which focused on painting. His denim paintings, like Muen Kuey, include burned images collaged into the paintings. The series deals with themes of westernization using the symbol of the American jean. The video Painting with History in a Room Filled With Men With Funny Names (2013) shows the original paintings.
The Bangkok-raised artist examines history, ritual, and self-representation through the lens of a cultural outsider, creating a common artistic ground.
Korakrit Arunanondchai will be on view at MoMa PS1 through September 14.
This article was originally published on Whitewallmag.com. Read the full article here.
Correction: A previous edition of this article referenced the death of the artist's grandparents as an inspiration for the exhibition. This is false and we regret the error.