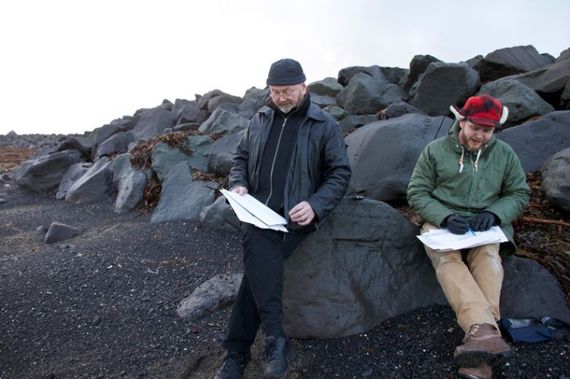 The Raging Pornographic Sea
Iceland is known for its extensive history of epic sagas and mythology, which informs Ragnar Kjartansson's new exhibition "Me, My Mother, My Father and I" at the New Museum in New York. The name references the film included in the performance piece, a video of his parents allegedly conceiving him. Former Sigur Ros singer Kjartan Sveinsson composed a 10-part polyphony to replace the dialogue of the video, which is performed live every day the show is open.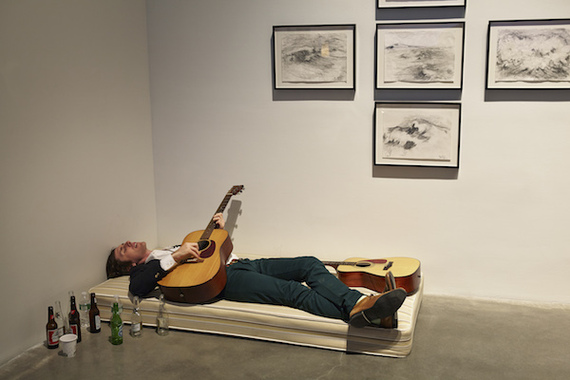 Installation Shot of "Me, My Mother, My Father, and I"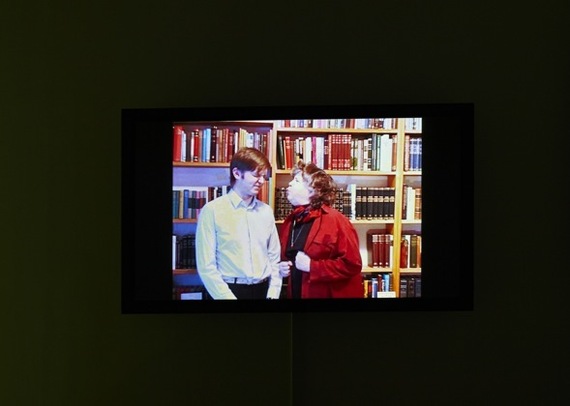 Installation Shot of "Me, My Mother, My Father, and I"
Bridging the event of his birth to contemporary artist worship, the performance consists of ten musicians continuously playing in a troubadour-like fashion. Strewn around them are cigarette butts and empty beer bottles, as Kjaransson provided an unlimited amount of both for his performers. An uncovered mattress sits in the middle of the room for those wishing to take naps. A couch sits against the far wall. Kjaransson's The Raging Pornographic Sea, a series of drawings of the sea the artist made with his father, hangs on the back wall. Their drawing styles are so similar, it's impossible to tell who made which.
The dissonant sounds of Sveinsson's composition complement the video and artworks beautifully, as the polyphony conflates the distinction between reality and fantasy, past and present, myth and identity. Though the line between artist and viewer is usually severe in performance art, the intimate space of this room allows for interaction with the musicians. Each daily performance is unique, as you could find yourself experiencing the work alongside a group of tourists, or, alone as one of the musicians spookily serenades you.
"Me, My Mother, My Father and I" will be on view at the New Museum through June 26.
This article was first published on Whitewallmag.com. Read the full article here.