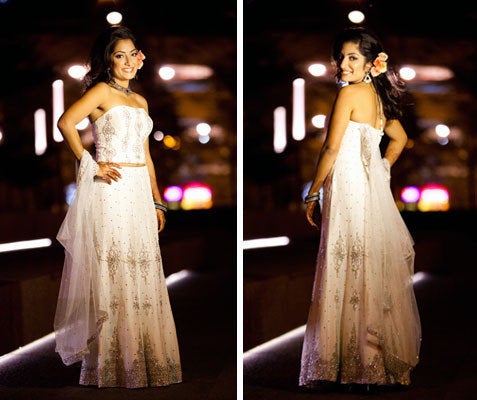 When I go to my American friends' weddings, I usually ask my mom to buy me a dress and pick out jewelry, and I'll usually wear exactly what she suggests. Sometimes I'll even just wear one of her dresses tailored to my size, even though we're several sizes apart. It's no big deal...my mom's style is my style.

No, that never happens. Like, never ever happens. Yet as an Indian American woman, up until about the time I turned 28, I had no issue enacting the above scenario for the 5+ Indian weddings I attend every year. It was always one of three situations:
1) My mom or an aunt would travel to India every few years and pick out clothes that I'd then wear to weddings in America.
2) My mom would alter one of her blouses for me, which generally made me feel like my waist was too short, my shoulders too slumped, and my boobs like they were in a bra two sizes too big.
3) My mom would take me to Little India, and I'd pick something that I sort of liked (but something that she liked too so we could share), and then watched my mom try to haggle them down from $750, or whatever ridiculous price they started with, to $250. When we'd get home, we'd discover that the quality of the garment wasn't as good as we thought, and of course, they don't accept returns.

I proudly tried to go by myself once, but the minute they heard my Americanized Gujarati (Gujarati is the language spoken by most shopkeepers in Little India), we both knew I was going to get ripped off.

The money thing wasn't the worst of it. Going to these stores was essentially the same as having someone else go shopping for me. A lot of them sourced their clothes from bargain basements in India. Their clothes didn't reflect my Indian American style, or even allow me the chance to develop one.

It's like when you were 13 and your mom still bought your clothes for you even though you were ready to go shopping on your own, but you didn't have a car, a credit card, or know any cool brands besides Claire's.

Indian weddings tend to be fashion parades, and as someone who didn't have the money or vacation time to travel to India frequently, I could never quite fit in.

Then came along a new wave of E-commerce sites like Luxemi.com, that take the Rent-the-Runway and Shop Bop models to fill a void for women who go through what I did. Just as Rent-the-Runway made American designer clothing accessible to thousands of women, Luxemi (unlike the shops in Little India) works with designers in India to bridge the cultural fashion gap for South Asian Americans. They'll take current American fashion trends, like color-blocking and prints, and find Indian definitions of them.

Thanks to Indian American fashion sites, I've been able to explore my own style, which doesn't involve me wearing massive amounts of jewelry on heavily embroidered clothing. I can take a beautiful and basic, but high-quality, sari, like a Neeru Kumar (whose saris are a little reminiscent of ones my grandma used to wear), and restyle it with a favorite chunky necklace, a soft headband, or an unexpected belt. Or I can borrow a designer Satya Paul print sari (one that I'd normally never be able to afford), and choose to go light on the jewelry (at which my relatives would scoff. "No matching set? Your face is naked without one!" they'd exclaim).

These sites are a little new for South Asian brides to have fully adopted them for their wedding ceremony wear, but full disclosure: I rented a very traditional Victorian jewelry set with blue stones to wear at my own reception to complement my Indo-Western gown. More and more of my peers are straying away from spending thousands on expensive, real gold and gem stones that traditionally signify an Indian bride, and moving toward wearing more trendy, fake jewelry that matches their colorful outfits and costs less. But most have a hard time swallowing the price tags in India for something that isn't even considered an investment. To me, renting a set was better than spending money on a costume set that I'd never wear again -- plus, it took care of my something borrowed and my something blue in one fell swoop!

Moreover, with this newfound Indian American fashion identity, I was able to find a dress that really represented me. Without it, I probably would have worn what every other bride at the bargain stores in Mumbai was wearing because I didn't know my own style any better. It might make me a little less Indian to say this, but I'm not the blinged-out-Indian-bride type, and that's what I would have become.

With the high number of Indian fusion weddings happening these days, Indian families love that their non-Indian friends and in-laws can dress the part for the festivities, without having to invest too much money, or deal with the hassle of scouting out reputable shops and tailors in whatever city they're in. Believe it or not, non-Indians fare worse than I do at the shops in Little India.
Photo of the author's wedding gown by Studio Vᅢᄅritᅢᄅ Photography