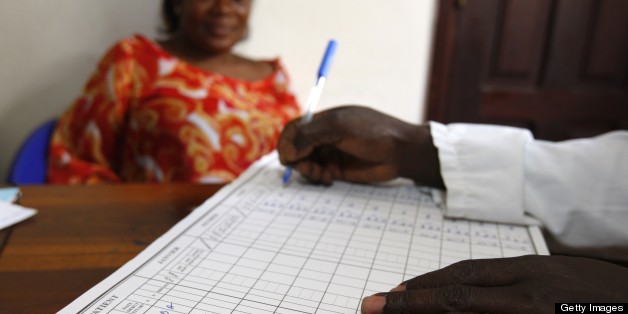 As thousands of delegates gather in Kuala Lumpur for the third global Women Deliver conference this week to discuss the health and empowerment of women and girls around the world, it's worth remembering that for women in their reproductive years, AIDS remains a leading cause of death. In India, nearly 40 percent of HIV infections are among women, and the stigma is such that many public health centres here are still reluctant to care for women living with HIV, which allows other sexual and reproductive health issues to go unnoticed and untreated.
Women living with HIV, especially those with advanced immunosuppression, particularly in middle age, and those with multiple partners such as women in sex work, are more vulnerable to infection with the human papillomavirus (HPV) that often leads to cervical cancer. Early detection is possible through a Pap smear test. Though inexpensive, these tests are not always easily available at primary health centres in India, and while every government district hospital should provide them, test kits and trained personnel are often missing. Typically a woman living with HIV is referred for the test only if her doctor thinks she is vulnerable, basing that decision on symptoms alone.
The HIV response in India and around the world needs to integrate Pap smear testing into routine care for women living with the virus. At India HIV/AIDS Alliance we have been concerned by the rise in cervical cancer in women living with HIV and in female sex workers and are pushing for mandatory Pap smear tests -- which cost as little as five rupees (US$0.10) -- to be considered a regular diagnostic in HIV services along with other routine tests like CD4 counts.
While we often talk about the need to integrate HIV services into sexual and reproductive health (SRH), one of our programmes, the Koshish project, funded in collaboration with the European Union, has taught us the importance of bringing SRH services to intervention sites for people living with HIV. Services need to target the holistic needs of people living with HIV. If women living with HIV are not given expanded access to appropriate SRH services, including Pap smear testing, then there is a real danger that they will fall through the cracks of both HIV and SRH programming.
People living with HIV being able to advocate for their SRH rights is key to confronting stigma, expanding the availability of necessary services, and increasing their uptake. Data collected during Koshish is supporting national-level advocacy with the Government of India to ensure that prevention of cervical cancer among women living with HIV is a priority and more broadly that the full range of SRH interventions, including contraception and safe abortion, is made available.
Beyond advocacy, people living with HIV need to be closely involved in the design and delivery of services that they need. "Nothing about us without us" is a powerful principle that has informed HIV activism for many years. An expansive idea, it reaches outside HIV. As we consider the future needs of the world's women and girls this week in Kuala Lumpur, we must keep women living with HIV on the agenda and this principle at the forefront of our minds.