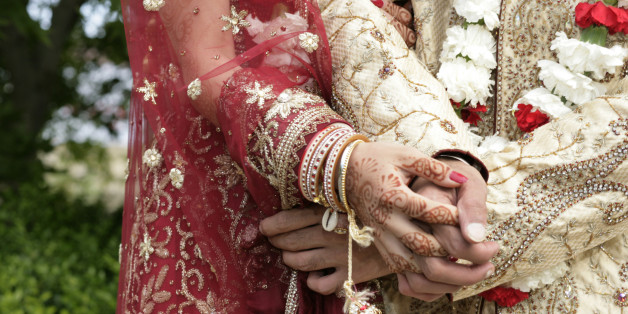 Whether it's something old, new, borrowed, or blue, for many brides, tradition is the foundation upon which the wedding of her dreams is built. No bride is the same and no culture celebrates the same traditions. What I find most fascinating is the variety of rituals you'll experience, both near and far. Whether you're planning your own nuptials or are traveling to a wedding abroad, I've uncovered five international customs that go beyond "The Wedding March."
Swedish
Everybody loves a wedding toast, but it's safe to say Swedish wedding guests may love them the most. In fact, so many guests prepare speeches for the bride and groom that there is often a designated "toastmaster" who introduces each speaker. Typically the bridal party, bride's parents and grandparents, groom's parents and grandparents, and even friends of the couple will stand up to say a few words. This makes for a rather lengthy reception but is undoubtedly a memorable and special treat for the brand-new Mr. and Mrs.
German
Forget your Vegas bachelorette party. In Germany, instead of embarking on one final night of single lady fun, brides celebrate "Polterabend," or an evening of breaking dishes with their friends and family. The shattered shards are meant to represent life's trials, and as the couple sweeps up the remains, they demonstrate to their guests that they are able to work together and overcome life's troubles. Typically, the Polterabend is an open invitation and allows for the couple to celebrate with all of their family and friends, including those who may not attend the actual wedding.
Latvian
For many Americans, we mark "I do" as the moment when a bride becomes a wife. According to Latvian tradition, this transition occurs at midnight on a bride's wedding night, when she finally removes her veil and replaces it with a bonnet -- the symbol of a married woman. (This tradition probably requires a few extra spritzes of hairspray!) The veil is then passed down to one of the bride's younger sisters, who will marry next. Sound familiar? This tradition is similar to that of an American bouquet or garter toss.
Vietnamese
A happy marriage is in the hands of the groom's mother, according to Vietnamese custom. A mother-in-law who presents the bride with the gift of pink chalk prior to the wedding has symbolically painted a rosy future for the couple.
Indian
Traditional Indian wedding ceremonies can be challenging to understand. But if you see the bride and groom partaking in some friendly sparring, don't be mistaken: Those are real games played to determine the dominant member of the marriage -- I speak from personal experience from my own! Dunking hands into a bowl of water to see who can pull out the wedding bands first, ducking when your partner is trying to put the ceremonial garland around your neck -- these are all true signs of love and early attempts to add a little silliness into a long life together.
Different as these customs may be, they share one common theme: they celebrate happiness. When a couple mixes tradition with their taste and personality, a wedding becomes the perfect place to begin "happily ever after" -- and isn't that the best tradition of all?
Sonali is the co-founder of Brideside, an online retailer of designer bridesmaid dresses and accessories that revolutionizes the bridal boutique experience to make finding and buying beautiful bridesmaid dresses effortless and fun.