It happened. I met Russell Wilson (and hugged him twice), live on the Huffington Post.
After the segment, a number of my colleagues approached me and said, "This is why I love my job." I had a grin from ear to ear. For the rest of the day, I was floating on a cloud. It's important to look beyond the paycheck and be reminded why we go to work everyday. We all work here not only to pursue our passions, but for the chance to make an impact on the lives of others. It is humbling to know that my experience meeting Russell on HuffPost Live was just as exciting for my colleagues that set it up, as it was for my family, friends and me. That result is overwhelming and it's the type of situation that only works because it was so spontaneous and unplanned.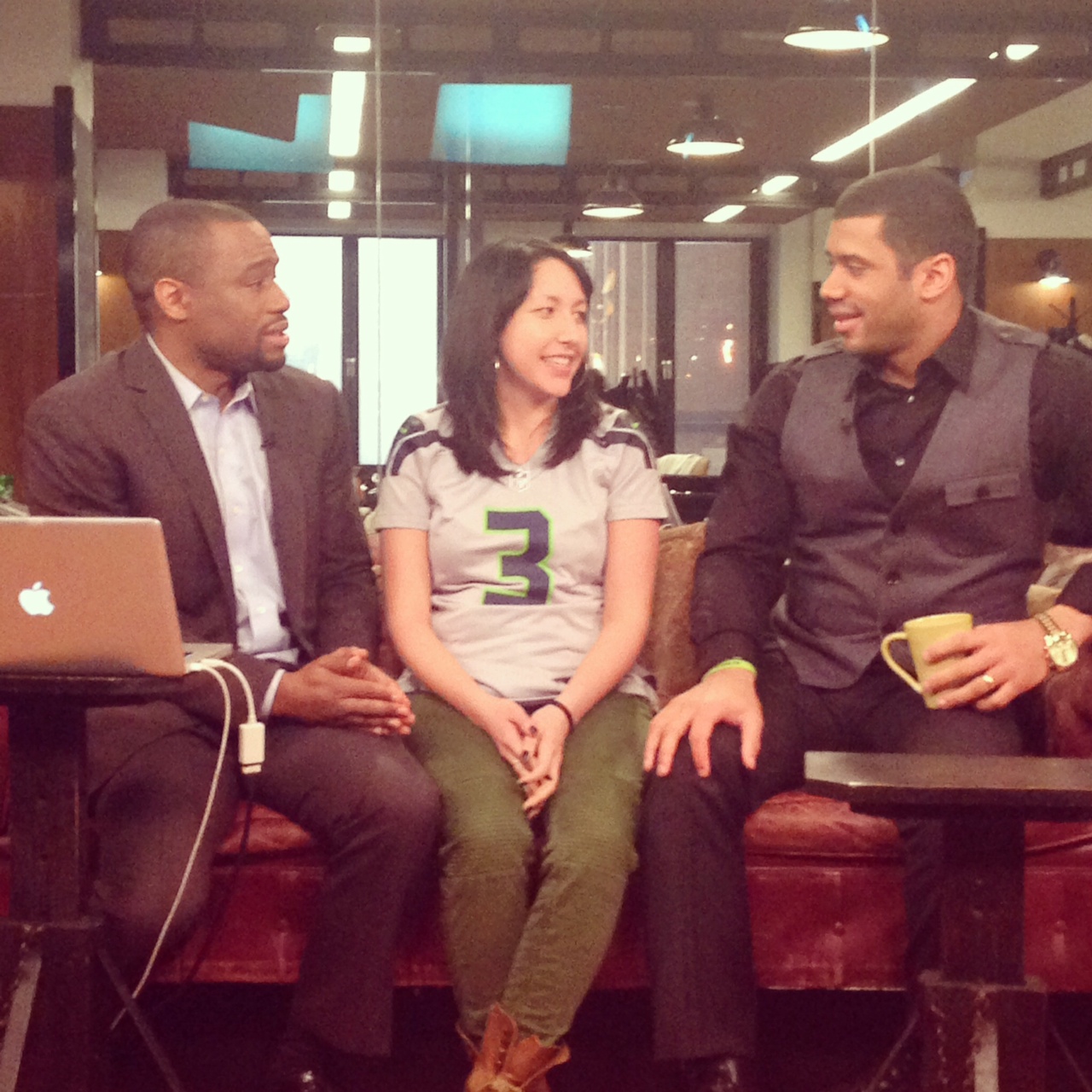 I haven't won the lottery but I still buy tickets. I forget my umbrella when it's raining. I couldn't afford tickets to the Super Bowl game but what I got instead was so much better. Nosebleed tickets that cost more than my rent and stadium-priced Bud Lights will never compare to sharing the couch with the quarterback superstar. It's hard for me to believe this was luck or any sort of coincidence with all the reasons why it should not have happened...
Per our regular crew rotations, I could have been scheduled for a different shift that day and not on set in the morning. I could have devastatingly watched him drive away from our studio as I show up to work unable to comprehend what I just missed. (Feeling much like when I learned that Santa wasn't real).
I happened to have my Russell Wilson jersey at work that day. Yes, I am a diehard fan, but it's not my security blanket, people! What if it was at home?! I will admit I had it on hand recently with the prayer that he might come to our show. I had given up hope as I kept checking for a segment booking with his name and saw nothing.
Russell wasn't scheduled to be there. It had been only a couple of weeks since the Seahawks won their first Super Bowl and it would be unlikely that he would have time to do an unbooked press interview. Still fresh from their victory, the Seahawks must be extremely busy. Yet, there he was, my favorite player strolling around the AOL office prompting a spontaneous interview with our host Marc Lamont Hill.
I could have been watching the impromptu interview from my couch at home, wearing my Seahawks snuggie, alone and unemployed. Still glowing, I look around the studio and see that I am fortunate enough to work with an incredible team that would allow me to have this day. I couldn't stop smiling and later that night, I think I was still smiling in my sleep.
Meeting one of my greatest heroes was nearly an out-of-body experience. This, on top of our first Super Bowl victory, means the world smells of roses and I recount all my blessings. I will have this meeting documented to share my exuberance with all my friends and family for the rest of my life. My grandchildren will gather around to watch this video when Russell is either inducted into the NFL Hall of Fame or has become the owner of his own NFL team.
While the headline read that Russell Wilson gets a surprise visit from a "super fan," my HuffPost Live team surprised me with a dream come true. He wasn't even scheduled to be there that day! At the very least, I hoped I could sneak in a small "hi" or frantically snap a blurry photo. When they told me I was going to go on set to meet him live, I froze in shock. My legs were paralyzed. I was overjoyed and trying not to pass out. Brad, our stage manager, had to shove me towards Marc and Russell on the couch.
This is undeniably the greatest moment I will ever experience as a lifelong Seahawks fan. (Apologies to my boyfriend who is reading this, too).
I am honored to be a 12th man. I love my team and will continue to support them throughout the wins and losses to come. The importance of being a 12th man member not only means celebrating our all-time victory, but celebrating as a community -- an army of fans. The time we all come together and root for our Seahawks. Regardless of race, sexuality, beliefs -- we are the 12th man and we are strong as a whole. Nobody cares what you looked like, so long as you wore blue and green! The welcome home parade alone proves that, as thousands of the 12th Man Army gathered in the streets of Seattle for what my friends are still calling a "magical day."
So you might not care about football, or how loud the Seahawks fans can cheer (Beastquake!). However, the precedent set by our 12th man community has to count for something.
Russell Wilson is an incredibly talented, smart, kind-hearted player and a compassionate leader. He plays football, as he describes, without caring if you're black or white but only if you want to play and win. This is the reason he is my hero. As we all follow his example, our team's unity and heart won us a championship.
This may have appeared to the audience as a planned meeting, but I am not an actress. As coincidental as everything seems, once all the pieces came together I had to search for the deeper meaning. I feel compelled to share my story and love for being a 12th man because these things don't just happen. Russell Wilson embodies community and passion on and off the field with his teammates and the fans. True heart and passion are contagious. So in the end it all comes down to the theory we studied in kindergarden -- teamwork is the key to success. Sharing our victories make them that much sweeter. And that's why I love my job.