It's no secret that YouTube is the most powerful launching pad for young musicians today. Less known is that the online video service is now starting to infiltrate the world of galleries and high art. Frieze New York 2013, an art fair on Randall's Island in NYC, is launching a new sound component to their art fair, which will take place this coming May 10-13, 2013. One of the artists who will be presenting her work, Trisha Baga, "is known for intricate installations that combine psychedelic projections, sculptural assemblages, and arrangements of found YouTube videos combined with audio recordings." Not only will the exhibit feature installations created from YouTube clips, but it will also include an app to build community and experience around its content. The installation will be curated by Cecilia Alemani and presented with BMW, meaning the audio component of the fair will be premiered in the VIP cars at Frieze New York, and will also be played through a listening kiosk inside the fair and streamed online at friezeprojectsny.org. Alongside Trisha Baga, the Frieze Sounds program will also feature the audio works of cutting-edge artists Charles Atlas and New Humans, and Haroon Mirza, promising to be a fascinating eclectic blend of talent set in both a traditional gallery space, but also extending outside into the physical world of moving, live transportation.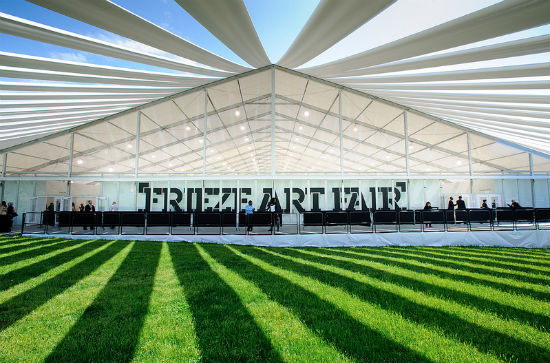 Frieze New York's initiative somewhat incorporates the Wagnerian theory of "Gesamtkunstwerk," or total work of art, as Alemani seems to be striving towards a complete artistic experience for the fair's visitors. The setting is in itself an artistic expression, the fair takes place in a somewhat quirky, modern looking building in Randall's Island Park overlooking the East River, while also extending outside of the exhibition space and into vehicles shuttling visitors to and from Randall's Island. The visual and aural will use all artistic mediums to take the visitors on a metaphorical journey up the East River. "Each of the participants has taken a different approach to this brief: Trisha Baga will estrange everyday noise; Charles Atlas and New Humans will use their own voices whereas Haroon Mirza will employ the noise of the fair itself."
All three artists will present different exciting means of expression through sound. "Charles Atlas and New Humans extend their collaboration into a new aural experience, utilizing electronically fractured vocals by Atlas and Tajima... the soundtrack and backdrop for urban island life." (Press Release) Haroon Mirza will use the fair's environment: "Microphones installed inside the fair's tent will absorb background noises and the sounds of people moving through the booths, bringing the listener to focus on that universe of unheard voices that pervade public spaces."
All quotes are from the The Frieze New York Press Release, released March 1, 2013.