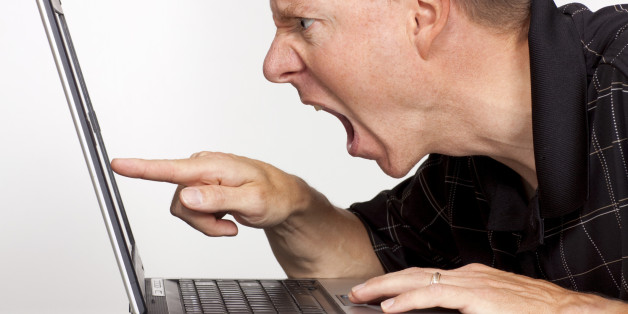 During a recent segment of Last Week Tonight, John Oliver took on revenge porn and misogyny online. He not only accurately described them, but, equally important, he described what their effects on victims are.  Women are the majority of the targets of abusive online assaults, experiencing more sustained, gendered and consequential abuse.  They incur huge social, financial, psychological, emotional and professional costs. The problem of online harassment has very little to do with free speech and everything to do with behaviors that are, for the most part, already illegal in one way or another. As Oliver pointed out, law enforcement continued to be more part of the problem than the solution.  There have been some very positive changes in the past year, however.
In the case of revenge porn, women make up more than 95 percent of reported victims.  The unauthorized sharing of sexualized images is still not illegal in the majority of US states. Twenty-two states now have laws on the books and proposed national legislation is due next month.  (Every state has it's own flavor of related laws. You can check your state here). These developments are due to the relentless efforts of individuals such as Charlotte Laws and organizations like the Cyber Civil Rights Initiative, a nonprofit started by revenge-porn victim Holly Jacobs in 2012, and Without My Consent. Greater public awareness, increasing numbers of policy initiatives, and social media platform reform are shifting norms in a way that abusive non-consensual sharing will be harder.
Social media companies, whose policies tend to dynamically evolve with the law, have, also made substantive changes in the past several months. Surprising everyone, reddit was the first to make a significant change, prohibiting the sharing of any "photograph, video, or digital image of [a person] in a state of nudity, sexual excitement, or engaged in any act of sexual conduct," without the subject's consent. Twitter and Facebook both made similar changes in the following weeks. Last week, a Google announced that it remove, upon request, nude or sexually explicit images posted on the Internet without consent.
These are important changes because they seek to correct distortions in the law that have resulted in degradations of women's privacy, safety, consent, property rights and more.
"What do you do when someone tells you there's a website out there that has their password or credit card?' explains Professor Mary Anne Franks, who sits on the board of CCRI and is a relentless crusader, working closely with social media companies.
I'm asking [companies] to think about is why would you consider password information or credit-card information to be so sensitive that you would take those down, but you consider naked images not to be that private? This is just as important, if not more, and the risk of publishing this type of information without consent is much greater and the damage is much more severe.
"Revenge" porn, however, is only one aspect of online misogyny, which takes many forms, including, for women being intensified by racism, homophobia, anti-religious sentiments and other forms of hate. As Professor Danielle Citron explains in her influential book, Hate Crimes in CyberSpace, some tactics perfectly legal, some not. The spectrum of harassment and abuse runs the gamut, from bullying of teenage to outright criminal acts.  It includes everything from anonymous harassment to exacerbated intimate partner violence to the trafficking of girls and women. As with offline violence against women, the bulk of the abuse is at the hands not of strangers, but of people known to the women targeted.
Tech-Enabled Intimate Partner and Acquaintance Violence
While media narratives often focus on stranger abuse and harassment, the fact is that the most sustained and destructive examples are, like offline violence against women, most likely to be perpetrated by people known to victims. Anonymity isn't the issue, male entitlement is. Even the expression "revenge porn," which I personally can't stand, suggests that when a woman ceases to want to have sex with a man, "revenge" -- which suggests a fundamentally just reason to retaliate -- is an understandable response.
According to Erica Olsen, Deputy Director of Safety Net, a program created by the National Network to End Domestic Violence (NNEDV), a 2012 survey conducted by the organization found that victims were experiencing intimidation and threats by intimate abusers via technology, including through cell phones, texts, email, social media.  In addition to "revenge porn," angry ex-partners create impersonator content online, sometimes with brutal results and use technology-enabled blackmail, intimidation and extortion.  Earlier this month, the Supreme Court chose not to rule on what constitutes a "real threat" in the context of domestic violence online.  The Court skirted the First Amendment issue, choosing instead to decide the case, in favor of a man who had graphically described killing his wife, on statutory grounds.
What constitutes a threat is also highly pertinent to stalking, which, off and online, is routinely enabled by technology. Justice Department records reveal that 70 percent of those stalked online are women and more than 80 percent of cyber-stalking defendants are male.  Gendered patterns of coercion are established early.  Teenage girls, 25 percent of whom report dating violence, now have to contend with unprecedented risks online.  For example, while teenage boys and girls sext at the same rates, boys are between two and three times more likely to share images without consent, in order to gain status.
Slut-Shaming and Rape Videos
Revenge porn lives on a spectrum that often begins in slut-shaming and too frequently ends not just in stalking, but in rape.  The list of targeted individuals includes, very publicly, Amanda Todd, Raetah Parsons, Audrie Potts, Felicia Garcia, Tyler Clementi, Rachel Emke, Steubenville"s Jane Doe and Jada. (Rarely does slut-shaming target boys, particularly straight boys.)  Notably, regardless of what country you live in, ours included, "bullying" now includes the filming and sharing of rape and gang-rape videos online.  Pictures and videos like these are a particularly awful aspect of another form of electronic abuse, the pretty widespread sexual surveillance of women.
Sexual Surveillance
While everyone is tied up in knots over government surveillance, we would do well to consider the surveillance that women live with already.  In November, after a rabbi was arrested for secretly filming women taking a ritual baths, I researched other examples. I consider myself fairly jaded at this point, but was floored by the bottomless pit of hateful human behavior that I encountered. People, nearly always men, are secretly filming other people, almost always girls and women, in their apartments; in changing rooms; department stores; supermarket bathrooms; on public stairways and subway platforms; in sports arenas and locker rooms; in police stations and in classrooms while they teach. While it is safer and comforting to think that men looking at women in these ways is not a question of power "looking," "taking," and sometimes "sharing" women and images of women, these images are, and always have been, political acts with social consequences.
Child Predation and Trafficking

Child predation and sex trafficking also disproportionately affect girls.  Seventy-six percent of trafficked persons are girls and women and the Internet is now a major sales platform.  Social media is also very effectively used by traffickers. When Jaclyn Friedman, Laura Bates and I launched a gender-hate speech campaign in 2013, readers sent us hundreds of examples of violence against women online. Among the most disturbing images were those of girls being violently abused in brothels. The only apparent purpose of their being posted was to show the helplessness of the girls and to send a message to them.
Child predation realistically only affects 2-5 percent of kids, these are the children, by and large, who would have been runaways or otherwise identified by predators offline. But, now, those same people are often simply moving online to groom children, most often young girls, for abuse.
From the perspective of those girls and women, how is this not harassment and abuse?
Silencing Women in the Public Sphere
According to an analysis of Tweets, conducted last summer, women journalists and writers are among the most targeted for online abuse.  It doesn't really matter what we say, just the fact that we are women saying it, hardly a new phenomenon, on or offline. The harassment includes rape and death threats, one-off name-calling, and sustained campaigns, often involving hundreds or thousands of people. Most recently, and profusely, the gaming industry's Gamergate, which actually began in an act of intimate partner abuse, has provided ample examples.
Many online harassers default to the excuse that that they don't actually mean what they said. This was the case last week after Australian journalist Clementine Ford publicly exposed a harasser, who called her "lesbian scum," and threatened to rape and beat her.  After Ford shared the abusive messages Facebook temporarily suspended (and then reinstated) her account. The man, who simply wanted some "sick fun," explained that he "thought it was pretty obvious it was an empty threat, but I guess she didn't." That might be the case to someone whose chances of being raped are relatively slim (1 in 77), but for a woman, whose chances of being raped are 1 in 5, assessments are qualitatively different. As Ford herself points out, teenage boys are often the perpetrators in these cases. She calls for girls to shame and blame boys who are engaging in harassment at school and online. The man has apologized, after a public shaming, but fed up after years of similar interactions, Ford is planning to press charges. For some reason, a huge number of people think that women should consider this funny.
The "humor" argument for much of this abuse sometimes spills over into aggressive cyber mob attacks, almost all of which have targeted girls or women.  Sometimes it involves someone in the public sphere, such as Anita Sarkeesian. Other times, however, it doesn't. For example, #Slanegirl became a trending global public shaming of a teenage girl filmed performing fellatio at a concert. Police later reported that she had been drugged.  Similarly, #IamJada was a hashtag used to mock a 16-year old who had been sexually assaulted. People copied her pose, she was unconscious in pictures, and shared their photos on line for fun. She successfully used the same social media to turn the campaign on its head.
Eliminating anonymity is often suggested as a miracle cure, but anonymity is actually not the problem, and it affords many people opportunities to stay on line when they otherwise wouldn't.
Misogyny, not technology, is what is "unsafe." In theory, online harassment and abuse can happen to anyone -- but they don't.  The dynamic is one built on a preexisting foundation of thinking of women and girls as public property that everyone has a right to comment on, shame, silence and use for their own purposes. It's not trivial that these abuses are overwhelming targeted at women and abusers are overwhelmingly likely to be men.  The hostility of that reality isn't in the fact that I'm describing it, but in society's unwillingness to consider the very gendered dynamic of these abuses.
The answer is not to suggest that children and women avoid the Internet or other technologies; instead, multidisciplinary approaches that incorporate awareness raising, education and prevention are vitally necessary. It's important that users claim ownership of these spaces and technologies.
There is good news though. There exists an ever-expanding network of advocates, lawyers, academics, advocacy groups and activists who are working to reshape cultural norms around policies, laws and everyday interactions. There are many ways to get involved, support people who are harassed or targeted for abuse and engage in productive and beneficial counter-speech. A good first place to start is to listen to girls and women when they say it matters to them.  
Resources
Heartmob from Hollaback
National Network to End Domestic Violence
Online Abuse Prevention Initiative
Tactical Technology Collective
The Women's Media Center Speech Project