Co-written by Ab Stevels
Business models innovation can be a powerful instrument for increasing value creation and capturing by aligning organizational, culture, activities, routines and assets. However, throughout the business model creation process, focusing on profit alone will leave enormous value potential on the table.
By widening the scope and including sustainability considerations from the start, novel solutions are inspired and the size of the resulting pie increased.
Business model innovation is all about configuring the activities of organizational units, so as to activate enablers within and outside the firm to create value in a specific product/market set. When a promising combination has been formulated, actionable criteria needs to be communicated effectively to the design team for the appropriate product, service or experience to be created.
It is during the formulation of such inspirational design briefs that disconnects often occur between the business model and the design concept. A study of design briefs show that they contain little to no information about strategy in general and about sustainability specifically. Including both of these elements can have a tremendous mobilizing effect on the creativity within the project and seeking the assistance of designers in translating them into actionable design criteria can provide new insights and a much smoother, streamlined execution.
To ensure that actionability and sustainability are properly considered, we framed the business modeling activity as an alignment of its elements from the Business Model Canvas with the Design Quality Criteria from the Inspirational Design Brief. By coupling and decoupling business elements and design quality criteria, it was now possible to construct and explore and get an overview of distinct differences between various business models, much in the same manner as realized in a Blue Ocean Canvas.
Applying Pareto's 20/80 optimization and highlighting the twenty percent of the core connections which are expected to provide eighty percent of the value, important priorities can be made clear and thoroughly investigated up front. The Business Model Design - Brief matrix presented here demonstrates how drivers and enablers can be combined in the case of a luxury hybrid sports sedan.
Step 1, first the top twenty percent of drivers contributing to the business are identified. These are the ones judged to be crucial for differentiation from competitors (orange drivers). Then Business Model - Design Quality Criteria connections are established (dark blue circles). Finally, the most important items for sustainability opportunities can be highlighted (orange ellipse). In this manner the critical connections for sustainability, between drivers and enablers are clearly visible. This helps the design team members to focus on key actions to be taken.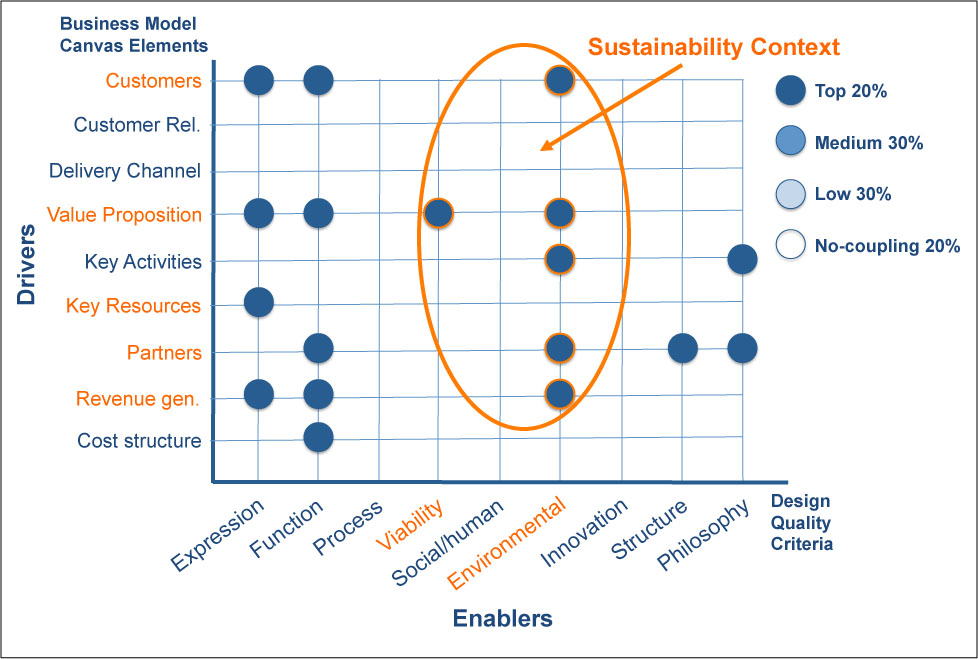 Step 1 - Identification of the core Business Model - Design Quality Criteria connections, to keep.
Step 2 - It is just as important to know where to focus as where not to focus, in order to avoid distractions. Therefore, in a second step, following the identification of the top twenty percent of influencers, the connections with little or no importance are highlighted. These do not differentiate the concept from competitors and action in these areas can be reduced or eliminated entirely.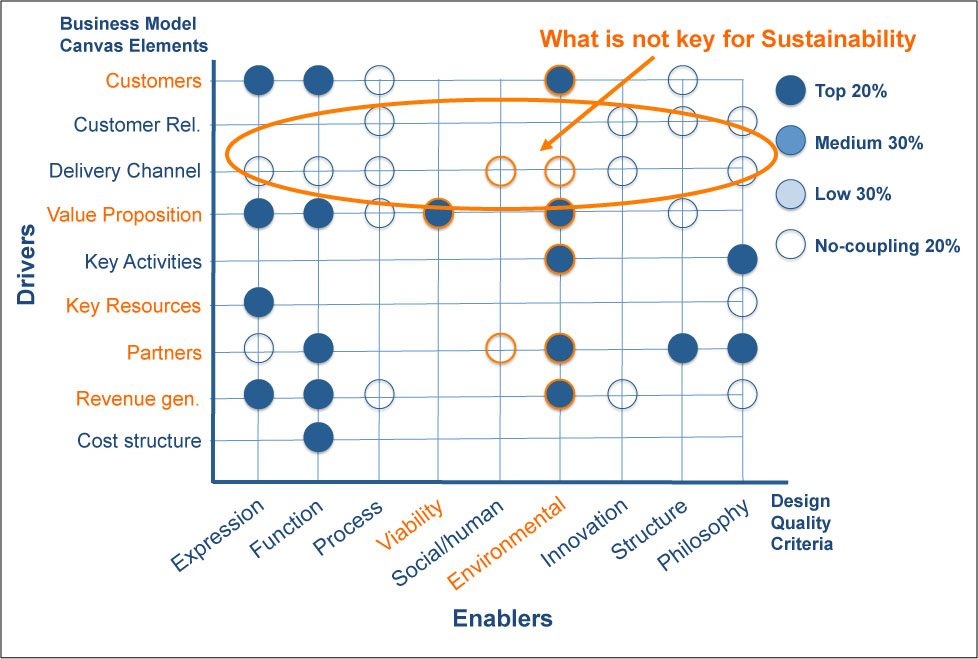 Step 2 - Identification of the least important core Business Model - Design Quality Criteria connections, for tradeoff or elimination.
Step 3 - In the third step, the median important connections are assigned and a map of the connections of drivers - enablers is established for this category.
Executing these three steps allows one to set clear priorities and greatly assists the integration of sustainability issues into powerful design briefs with profitable results!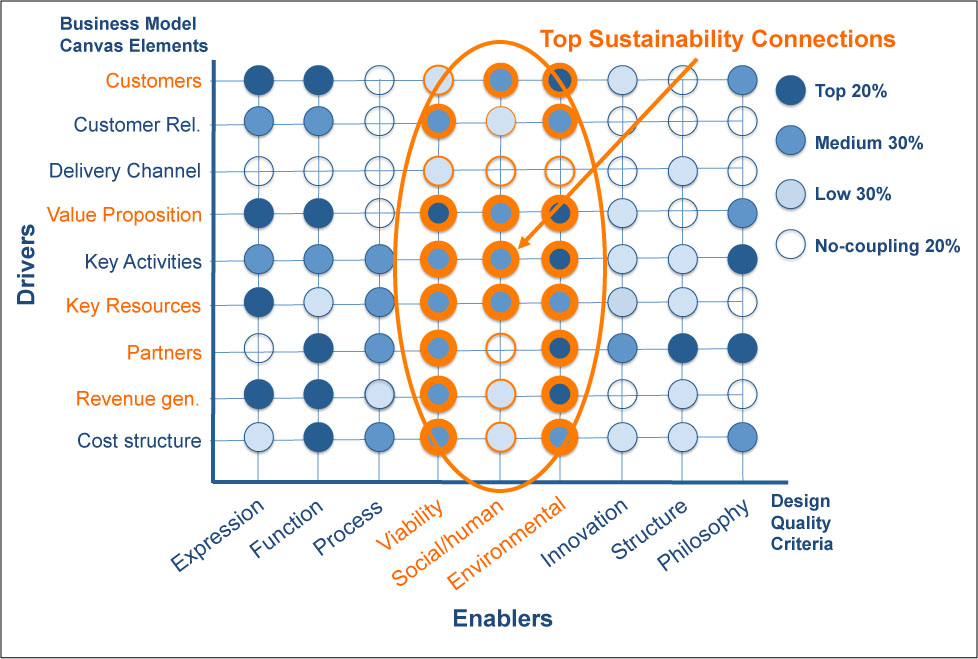 Step 3 - Identification of the medium important Business Model - Design Quality Criteria connections, to be negotiated and optimized.
In this manner management and designers jointly explore concepts by increase/decrease emphasis on coupling of drivers and enabling design criteria. The overview of connections can be clearly comprehended by all participants, iterated upon and communicated to the final design team. This comprehensive approach, combined with a focused iterative process, can help to ensure that the new business model is actionable and can be rapidly tested in practice.
At the end of the day, only if the resulting business model is clear to all participants can potential roadblocks be removed and sustainable and true actionable progress be achieved.
Special thanks to Ab Stevels for researching and co-writing this article.