"Seat of the pants" decision-making accounts for 90 percent of an organization's frontline actions, while 10 percent reflects their stated strategic intent. Therefore, those in the organizational frontline trenches might be forgiven for wondering: "What the heck were they thinking?"
Fortunately, leaders, managers and frontline creative professionals no longer have to reinvent the wheel every time they want to launch a new offering. This past decade of research has provided excellent methods for identifying and describing key success parameters, such as Organizational Renewal, Business Model Experimentation, Inspirational Design Briefing and Minimal Viable Products. What remains is to connect these parameters so that all stakeholders can co-create an offering that most profitably leverages their organization's capabilities.
To accomplish this, Hanyang University, Paris College of Art and ingomar&ingomar has developed a "Bridging Business & Design" roadmap, connecting key parameters and providing an overview for strategic planners. This roadmap allows them to assertively forge ahead and to know whether the road they select is the most or least traveled and how to deal with the associated risk.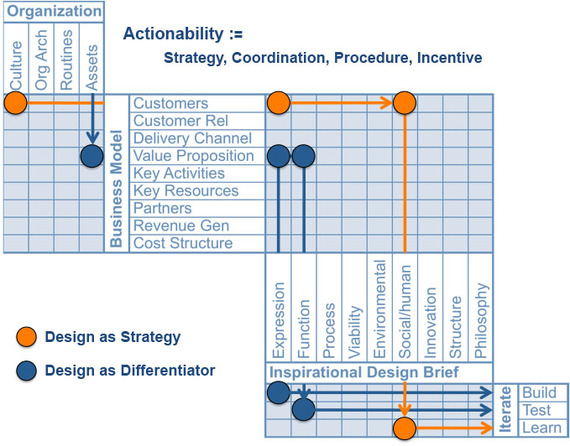 The first step, on the road to Bridging Business & Design, is connecting the four key elements of organizational capabilities: Culture, Organizational Architecture, Routines and Assets to the Business Model Canvas for the new endeavor. The better the alignment, the more profitable the business opportunity becomes.
Second, the Business Model Canvas' nine elements: Customers, Customer Relationship, Delivery Chanel, Value Proposition, Key Activities, Key Resources, Partners, Revenue Generation and Cost Structure, have to be connected with the Design Brief. If the business model is not communicated effectively to the design team executing the plan, it will not remember to use it and even the best team will most likely fail.
Third, the Design Brief's nine Design Quality Criteria: Strategy (Design Philosophy, Supply Chain Structure and Innovation level), Context (Social/human, Environmental and Viability) and Execution (Process, Function and Expression) have to be expressed so that the creative team can synthesize concepts of Minimal Viable Products. These, in turn, can then be quickly prototyped, and tested, providing a learning feedback to the team for the next iteration. This feedback loop then questions the brief and business model, as well as, organizational capabilities.
Design can support New Product Development on four levels. Level one -- by differentiating offerings, level two -- by streamlining the process, level three -- creating unique internal and external configurations and level four -- assisting in the creation of actionable strategies.
An example of a road most traveled is "Design as Differentiator" (90 percent of new products travel this road) it could be that the organization is budgeting some of its assets to formulate a new value proposition, then relaying the required new features and expression of the offering to the design team and having the team primarily focus on building and testing. Think about the next generation smart phone, car or dish drainer.
An example of a road least traveled is "Design as Strategy" and could be used for the organization to match its unique culture with a specific customer segment, and then relay desired new social/human values and expression of the offering to the design team and have them focus mainly on learning from these targeted users. Think about smart watches, personal rapid prototyping and space tourism.
No matter which road is taken, one's capabilities have to match the road's terrain or one can quite literally become road-kill. Knowing what parameters are most important to consider and organizing their interdependencies before forging ahead, will make the journey much more enjoyable and profitable for everyone.