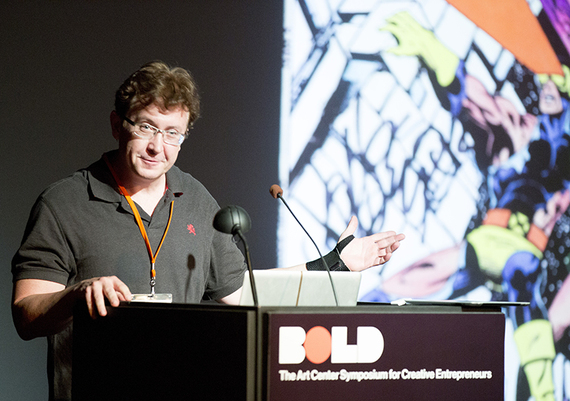 The creative professions are moving into a new Golden Age after having lived for more than a century now in the shadow of engineering, marketing and financing. In this new era, how do these creative professionals capture the immense value available to best advance the world we live in?
Creative Professionals have a long proven record of founding sizeable successful businesses, such as, design agencies, design consultancies, architectural firms, fashion houses and movie studios. However, we have few examples of creative professionals establishing titanic manufacturing firms in areas such as consumer products, construction equipment, aviation and automotive. The only really big companies that readily spring to mind seem to be Dyson and recently AirB&B. Why might this be true?
One possible answer may be found in the differences of the industries supply-chains. In manufacturing firms, such as Apple, BMW and Nike, design contributes to about five percent of the New Product Development (NPD) process and NPD. Design is only one of many critical functions along with, marketing/sales, manufacturing, operations and financing that make an offering possible.
If a business mainly relies on finance people, such as is the case in banking; it makes sense that people from this profession would make good candidates for founding a new bank. On the other hand, if programming constitutes the major part of value creation, a programmer might be the best candidate for starting a new software company.
In a business such as movie production, however, creative professionals are deeply embedded in most of the process, from design to manufacturing and distribution of a comprehensive experience. Think the trailer, movie theaters, soundtrack, online downloads, DVDs, merchandizing of figurines, T-shirts, cups, etc., the follow-up on how the movie was made, the TV animated version, etc.
How can creative professionals best contribute as entrepreneurs? At Art Center College of Design, in Pasadena California, hundreds of the college's 20,000 alumni recently gathered to explore just that question. Under the heading "BOLD" a daylong symposium invited world-class creative professionals to speak on topics from business plans, trend prediction, bootstrapping and branding. During the full day's events and all the coffee breaks in between, participants shared their entrepreneurial experiences and debated how design might best be leveraged in business.
At the end of the day, the comic book artist, Brian Haberlin, brought it home for everyone by sharing his life story and showing his latest venture, which is the graphic novel "Anomaly." This turned out to be not just any high quality 300 plus page landscaped formatted comic book, but a continuously updatable, multimedia adventure experience, merging the humble technology of a book with an iPad containing updatable apps. Waving his iPad, like a magic wand, 3D characters popped up from the pages, interacting with the reader and involving him as an active participant in the game. Brian received a well-deserved standing ovation for this magical interactive innovation.

For creative professionals to truly add and capture value in an entrepreneurial endeavor it does have to be truly magical. Design has to discover unrealized user needs and develop new technologies that offer a user experiences, which is a factor ten times better than anything currently on the market, not just an improved interface. Google Search, Facebook and the iPhone are examples of offerings that have successfully accomplished this feat.
For creative professionals to advance their field through entrepreneurial ventures, they have to leverage their expertise through a significant part of the value-chain while providing and executing something truly novel and useful. Doing this is to succeed in establishing a true Design Driven Startup.