You heard some '80s songs Wednesday night! And you saw neon, fringe, high heels, some sparkle, jackets for the boys, and of course tons of jewelry! Here's what our Top 8 Idol contestants wore this past performance night.
Be sure to follow me on Twitter at @SoysFashion for the latest Idol updates and fashion news!
DeAndre Brackensick
I #LOVE big face watches for men, and DeAndre rocked the look brilliantly for both his performances!
(Left) For his rendition of DeBarge's "I Like It," DeAndre wore an AllSaints button top and shoes with J Brand pants. For accessories I added an AllSaints tie and Brera Orologi watch to top off the look.
(Right) For his duet performance, he wore a Krochet tank, Zara t-shirt, and Dylan George pants. His shoes were by Puma, and his accessories included an AllSaints tie and Nixon watch.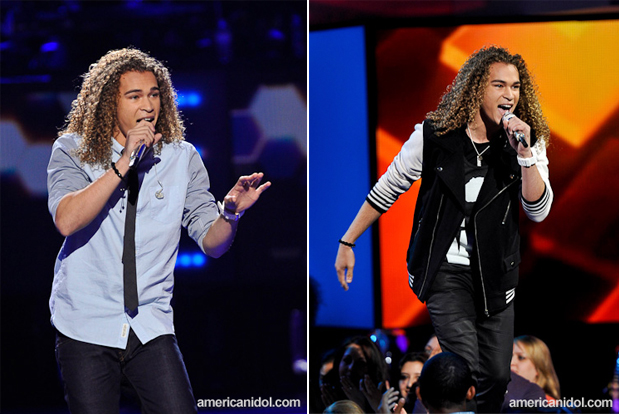 Hollie Cavanagh
I had so much #FUN with Hollie's fringe dress this week! I had to shape her dress by giving her fringe layers like a haircut to give it body and better movement. I gave it a V-shape to show off her slender body.
(Left) For Hollie's performance of Irena Cara's song "Flashdance... What a Feeling" under a shimmering disco ball, Hollie wore a fringe dress with major movement by Gai Mattiolo paired with Nine West shoes. She wore statement earrings by Neon Dirt.
(Right) For her duet performance, I styled Hollie in a top and pants from Kitson and Steve Madden shoes. Her jewelry included earrings from Prb Studios, Private Collection, a Devora Libin Jewels bracelet, and rings by Swarovski and Rich Rocks.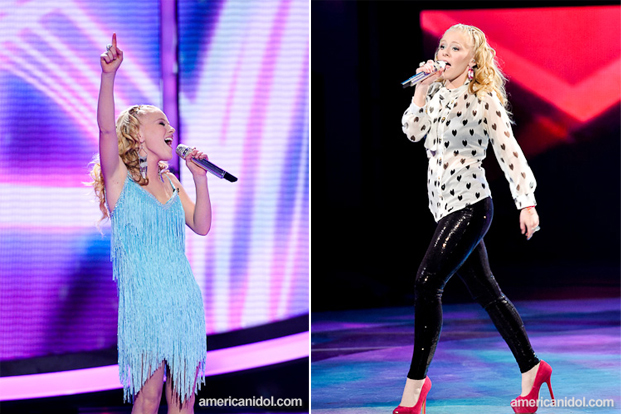 Colton Dixon
It was his first time at an All Saints store (ever) and we went on a little shopping spree! I didn't have to alter his jeans from there at all. They carried his skinny leg jeans called 'pipe' which fit him like a glove!
(Left) To sing the quintessential 80s tune by Cyndi Lauper, "Time After Time," Colton wore a Greg Lauren tee, Heathen vest, and AllSaints pants. He wore shoes from H&M and a scarf again this week, this time from Zara.
(Right) For his duet performance I styled Colton in an Alternative Apparel tee and AllSaints pants, jacket, and shoes. Accessories included a Good Art Hlywd bracelet and GodDaughters rings.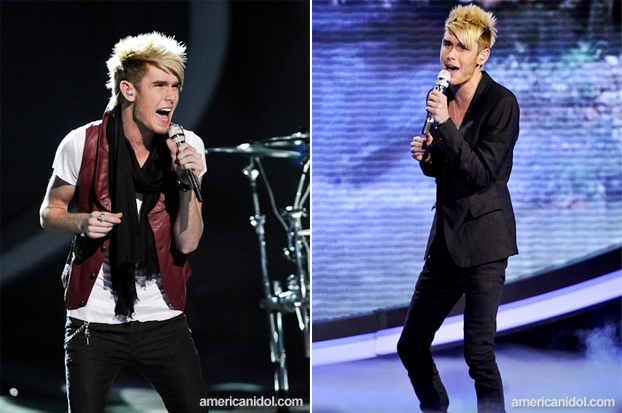 Skylar Laine
Skylar #LOVES Virgins, Saints & Angels jewelry, and I layered her up in that from LIVE! On Sunset for her duet! That sweetheart dress with that print brought out her rugged character, but also her sweet feminine side naturally.
(Left) For her strong performance of Bette Midler's "Wind Beneath My Wings," Skylar was styled in a bold pink Jovani dress from Mint Collection and Helen's Heart shoes. Her jewelry included sparkling earrings from Arden B., Swarovski bracelet, and rings by Neon Dirt.
(Right) For her duet, I put Skylar in a dress by Zimmermann and tall spring-worthy shoes from Arden B. You saw tons of jewelry again with a necklace and bracelet by Virgins, Saints & Angels and earrings from LIVE! On Sunset.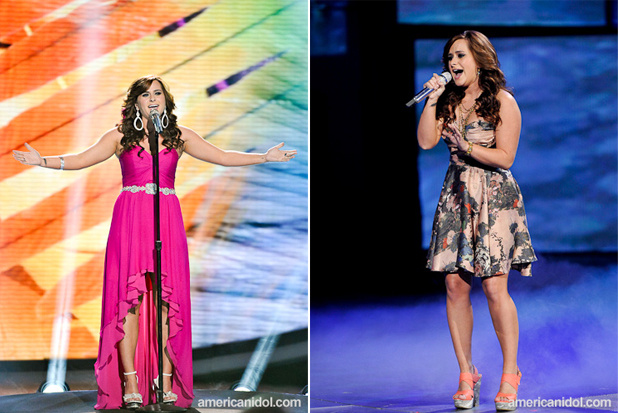 Joshua Ledet
Another stylish way to wear a pocket square is with a flower! Joshua has such a slick, cool style now that I wanted to bring out another element that he can call his own. It's nice to layer a white flower with a white pocket square, so the flower doesn't look like a napkin. Tip: For those of you trying this at home, make sure you get a vile of water to keep the flower fresh all day!
(Left) Joshua wore, for his powerhouse performance of Simply Red's "If You Don't Know Me By Now," a Hugo Boss top, Theory pants, and an Authentic Icon jacket (available at Kohl's stores this month). I topped off the look with Franceschetti shoes again this week along with a Swarovski bracelet.
(Right) For the duet Joshua wore a Zara top and Dolce Vita suit with Franceschetti shoes. I wrapped up the look with Swarovski bracelet and cufflinks.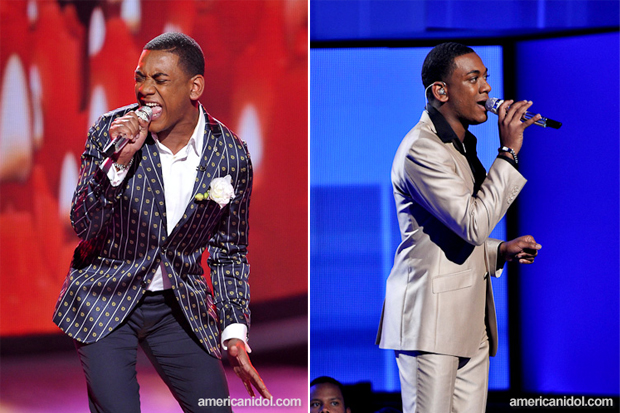 Phillip Phillips
This week was a ton of fun with Phillip. He's a simple guy style-wise, but that doesn't mean he doesn't have style. He represents the man that lives by "less is more." The one way to accessorize Phil this week was with a Red Monkey guitar strap for his performance. A cool guitar strap can really tie in and finish off a look!
(Left) To sing Genesis' "That's All," I styled Phillip in a James Perse top (worn open) and Lucky Brand tee with Citizens of Humanity pants (with a bit more snug of a fit this week!). His shoes were by To Boot New York by Adam Derrick and he wore his own bracelets.
(Right) For his duet Phillip wore a James Perse t-shirt, B.D. Baggies top, and J. Crew jacket.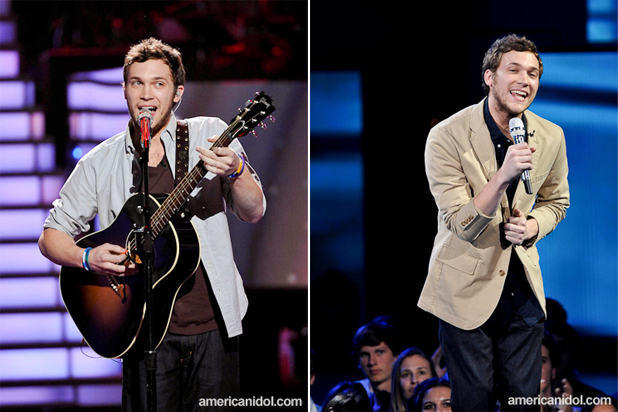 Jessica Sanchez
I #LOVE stage and natural lighting! Jessica's black dress for her duet had two layers of the long skirt at the same length. I cut the inner layer short, so when the light hit her during her performance we could actually get legs! This made her look tall and gave that elegant dress some edge.
(Left) To sing Whitney Houston's peppy "How Will I Know," Miss Jessica Sanchez wore a Bebe Sport top w/ neon accents (that was a dress before), a jacket with perforated leather strips by Espaço Fashion, waxy pants by Robin's Jean, and shoes by Boutique 9. Jewelry included earrings and a bracelet from Prb Studios, Private Collection, a necklace by Micha Design, and Swarovski rings.
(Right) For her duet, Jessica wore a dress by One Teaspoon and Bebe shoes. Her jewelry included earrings from LIVE! On Sunset, a Mani bracelet, and rings by Immortals.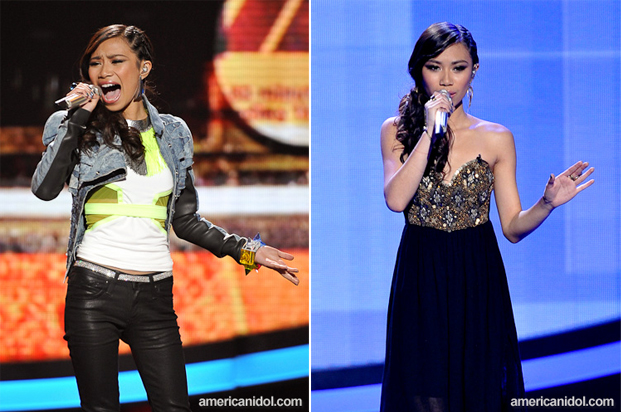 Elise Testone
I wanted to show the two sides if Elise. She can clean up really nice in an evening gown, but also keep to her roots in her boho-ways. And if you watched my boho video, you'll know what that lifestyle is all about! I try to keep to the style Elise and I established for her every week, which is a layered jewelry look or asymmetrical style lines.
(Left) I styled Elise for her performance of Foreigner's ballad "I Want To Know What Love Is" in an Impero Couture dress and Bebe shoes. Her jewelry included Neon Dirt earrings, Saint Vintage necklace, and rings from Prb Studios, Private Collection. (P.S., Jennifer Lopez said she loved her look!)
(Right) For her duet, Elise wore a Forever 21 tank, a sheer top from Arden B., and Lucky Brand jeans and belt. Her shoes were by Steve Madden, and her jewelry included Forever 21 necklace and rings and a Saint Vintage turquoise necklace.