For performances Wednesday night, the #Idols took on a Queen song and another song of their choice. So that meant a total of 12 fabulous fashion looks! Here is the low-down on what the Top 6 men and ladies wore.
AND, don't forget to send your style questions or comments to me on Twitter at @SoysFashion. I'd #love to hear from you!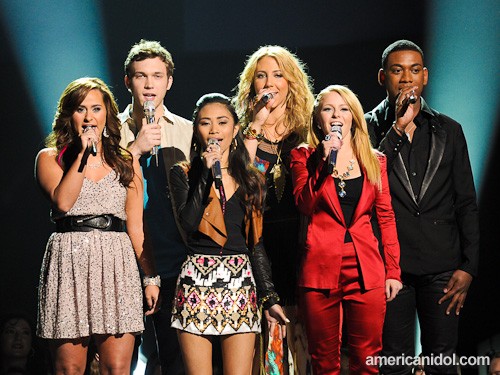 HOLLIE CAVANAGH
You can achieve so many moods with a suit, and with Hollie's look this week I wanted her to look clean, chic, and cool with just a simple black tank underneath. Her red suit and statement necklace tied the outfit together perfectly. I started off Hollie's fittings with simple gowns for "The Climb" and nothing seemed right. Since the beginning of the season I've had a black modern poodle skirt for Hollie. She pointed to it as a reminder and said, "What about that one?" I wasn't quite sure of the look until I finally heard her sing her song. I grabbed the top from Kitson, which matched the sequence trim on her skirt to a 'T' that they seemed like they meant for each other.
(LEFT, "Save Me" by Queen) Hollie wore a red HOT pants-and-jacket combo by Bec & Bridge, a Forever 21 shell tank, and Bebe shoes. Jewelry included Neon Dirt earrings and necklace, and rings by Charriol.
(RIGHT, "The Climb" by Miley Cyrus) I styled Miss Hollie in a God Save LA top from Kitson, Abyss skirt, and shoes by Boutique 9. Jewelry included a Deepa Gurnani necklace, a Charriol bracelet, and Bijou Tresor ring.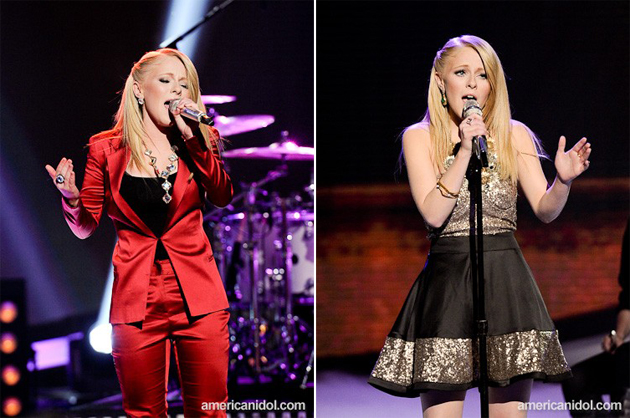 SKYLAR LAINE
I had been waiting to pull the trigger on the alice + olivia dress for three weeks, and finally the perfect song presented itself with Queen week. Of course I belted the sparkly frock with Skylar's signature belt look to show off her tiny little waist, and boy, did her legs look super long this week! We're on a budget here on #Idol, so I jeweled up an already-worn pair of Steven Maddens. And what better way to play the guitar than with a fringe vest and cowgirls boots? I had so much fun styling Skylar this week!
(LEFT, "The Show Must Go On" by Queen) Skylar wore an alice + olivia dress, a Bebe belt, and Steve Madden shoes with Kizmit customizations. Jewelry included a Neon Dirt necklace and Supreme Jewelry rings.
(RIGHT, "Tattoos On This Town" by Jason Aldean) I styled this tough country diva in a Lipsy dress, a custom Kizmit vest, and boots by Corral Boots. Jewelry included a Neon Dirt necklace, Bijou Tresor earrings and rings, and a Neon Dirt ring.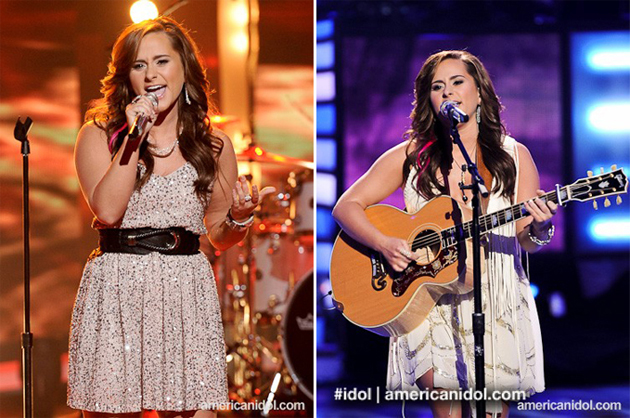 JOSHUA LEDET
Rock inspired this week with Queen in the studio, and I wanted to switch up Joshua's blazer look for a leather lapel for an all-black sleek look. In keeping to his signature blazer style, I added a bit of edge too so he still felt right at home. But blazers aren't the only look that makes Joshua look like a rock star! With his rich R&B voice, I wanted to show a different side of style this week for Joshua. I chose a leather jacket because the shade of brown really complimented his skin tone. The white on his shirt brightened up his face, and what guy doesn't want a fresh pair of kicks?!
(LEFT, "Crazy Little Thing" by Queen) Joshua wore an all-black ensemble of an Express button-up shirt topped with a Kill City Jacket, Zara pants, and custom shoes. Accessories included socks from H&M and a Pennyroyal Studio necklace.
(RIGHT, "Ready For Love" by India.Arie) I styled Joshua in a Zara top and shoes and G-Star jacket, pants, and scarf.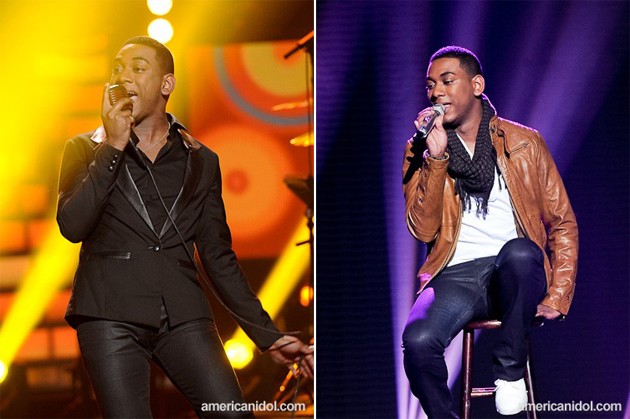 PHILLIP PHILLIPS
Each week Phillip comes to wardrobe with surprises! For "Fat Bottom Girls," a fun song title, I wanted Phillip to be in brighter colors. The blue shirt really brought out his eyes and the warm tan color from his linen shirt tied in the laid-back look that is Phillip's signature style. This week he made me really happy when he took a chance on a wax-finished jean from Dylan George, black V-neck, and black button-down shirt with a black guitar strap. The clean and sleek black look really made the Dave Matthews song more mysterious.
(LEFT, "Fat Bottomed Girls" by Queen) Some color for Phillip this week! I styled him in a Supima tee, James Perse button-up shirt, and shoes by The Frye Company.
(RIGHT, "The Stone" by the Dave Matthews Band) Phil wore a James Perse tee layered with a Hyden Yoo button-up shirt, Dylan George pants, and shoes by The Frye Company. Accessories included a J. Crew belt.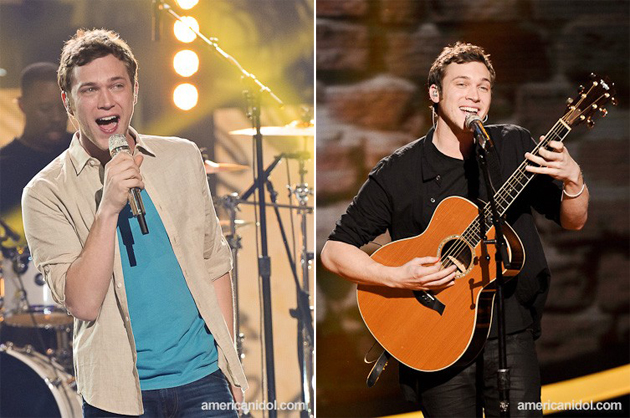 JESSICA SANCHEZ
JLo called us out on Wednesday's show regarding Jessica's sneakers. With all the changes that happen up until the live taping, Jessica didn't dance and move as much as she initially anticipated. I even added the pink Swarovski crystals on her shoes three hours before the show, because from a wide shot the white parts of the shoes looked like white socks. But hey! We all got to see that Jessica can still look fly in her sneaks! The "yellow" dress I put Jessica in for "Dance With My Father" was actually GREEN. Cameras do funny things to color, but I wasn't mad at the color. I wanted a bright funky color for her to keep her young and fun, even thought it was a beautiful, soft dress to accompany the song.
(LEFT, "Bohemian Rhapsody" by Queen) I styled this 16-year-old fashionista in a BCBG Max Azria top, ring, necklace, and earrings, a Bod & Christensen jacket, Parker skirt, and Creative Recreation shoes with Kizmit customizations. Other jewelry included a Bijou Tresor bracelet and necklace.
(RIGHT, "Dance With My Father" by Luther Vandross) Jessica wore a bright high-low BCBG dress and belt combo with Jessica Simpson shoes. Jewelry included earrings, necklace, bracelet, and rings all by Bijou Tresor.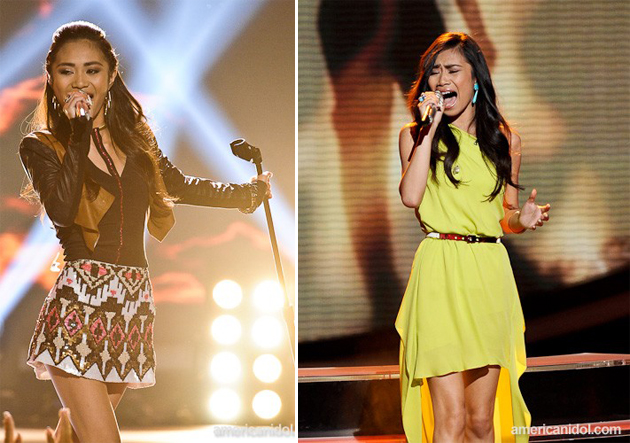 ELISE TESTONE
Elise got it all with her first outfit! I rocked out her bohemian style with a black leather fringe and mesh top. We brought back her bohemian edge with accessories, shoes, and a colorful duster. I had fun crystallizing tone-on-tone colors on the duster to give her more sparkle on that big stage. And I had so much fun with Elise's second outfit! I loved working with Elise because we get really creative together, and what you saw Wednesday night is one of our creations. I slit the front of Elise's dress to show off her great legs and draped the remainder on the sides of her dress. I then inserted the tie-dye silk vintage chiffon from the center of the back of her dress and attached it to her finger to create a psychedelic illusion while she performed Jimi Hendrix.
(LEFT, "I Want It All" by Queen) I styled Elise in a Zara mesh top, skirt, and duster (with Kizmit customizations), and Unlisted shoes (available at Macy's). Jewelry, and tons of it, included a DeLatori necklace, bracelets by Bijou Tresor and Energy Muse, Bijou Tresor rings, and Energy Muse anklet.
(RIGHT, "Bold As Love" by Jimi Hendrix) Elise wore an Aidan Mattox dress with Kizmit customizations and Steve Madden shoes. Jewelry included Bijou Tresor necklace and bracelet, and Silpada rings.