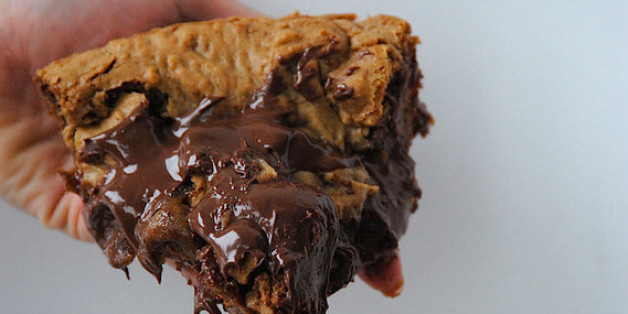 Imagine a giant jar of Nutella.
Now, imagine a pie.
Not just any pie, a brown butter blondie pie.
Look at your lonely jar of Nutella. Now back to the pie. Now back to the jar.
Now back to the pie.
Sadly, your pie is not nearly as delicious as it could be.
However, if your brown butter blondie pie was stuffed with Nutella, it would rock your world.
One bite at a time.
Taste the difference.
Nutella. Stuffed. Brown. Butter. Blondie. Pie.
Prep Time: 15 min
Cook Time: 25-30 min
Total Time: 45 min
Servings: depends on how nice you are #sharingisntalwayscaring
Ingredients:
2/3 cup Nutella plus 1/4 cup Nutella
12 tablespoons butter
2 cups dark brown sugar (packed)
4 ounces cream cheese
2 large eggs
2 teaspoons of vanilla
2 cups all-purpose flour
1/2 teaspoon salt
1 teaspoon baking soda
1 handful semi-sweet chocolate chips
Get the full recipe here.
Original post by Na'ama Landau on Spoon University. Photos by Phoebe Melnick.
Follow Spoon University on Facebook: www.facebook.com/SpoonUniversity