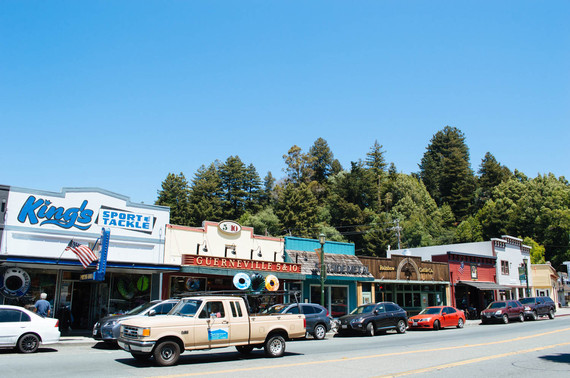 Photo courtesy of Fluxi on Tour
In the middle of Sonoma (considered by many to be Napa's cooler, younger cuz) is Guerneville, an unassuming town made up of little more than a main street and a bend of the Russian River. But things are happening here. The kind of things that call for extending your weekend trip to San Francisco by a couple of days so you can head north and explore. And by things we mean old buildings flipping into artisan collectives, restaurant openings, and a couple surprisingly kickin' pool-party scenes.
So, looking for all the best spots, we reached out to Ana Kamin, a Bay Area-based travel writer and photographer who documents west-coast finds on her blog Fluxi on Tour (named for her nickname) and Instagram, and for other local outlets including 7x7 and RUE magazines. "Guerneville is a perfect all-in-one trip," she says. "If we're day-tripping, we almost always start with canoeing on the Russian River, stopping for a picnic, and just soaking up nature while floating along. We'll follow that with a cozy dinner before we hit the road back home. If we're staying overnight, we'll go for brunch, then lounge at the pool or by the river, get some ice cream, have a walk, dinner, and a nightcap. It's such a great mix of adventure and relaxation paired with really good food."
From the team at Spot, your guide to the best places in the world, all according to the friends & experts you trust.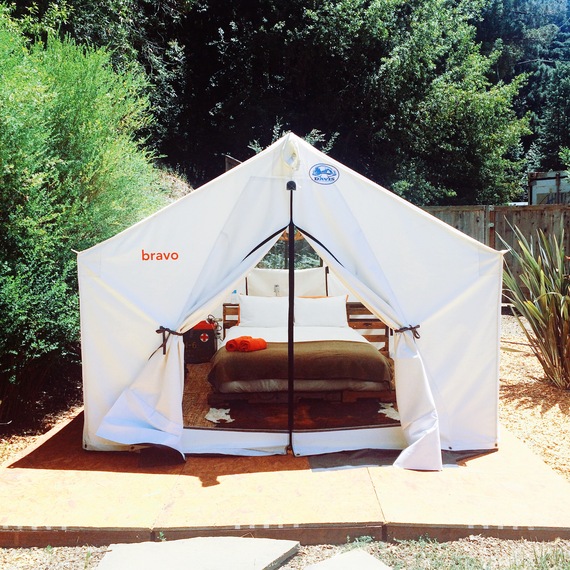 Photo courtesy of Fluxi on Tour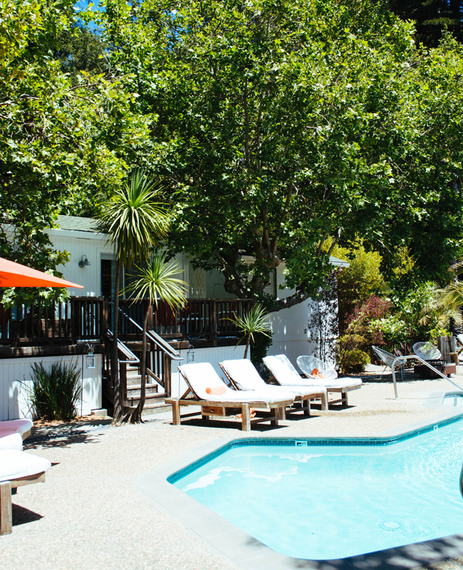 Photo courtesy of Fluxi on Tour
"Love this spot! It's a hip stay with calm vibes and simple, stylish decor. You can relax under the redwoods, take a dip in the swimming pool, or get a spa treatment. But best of all is their seasonal offering: glamping! During the summer, three decked-out tents invite you to experience glamping at its best."
More from Spot: 5 Insane Overwater Bungalows You Can Actually Afford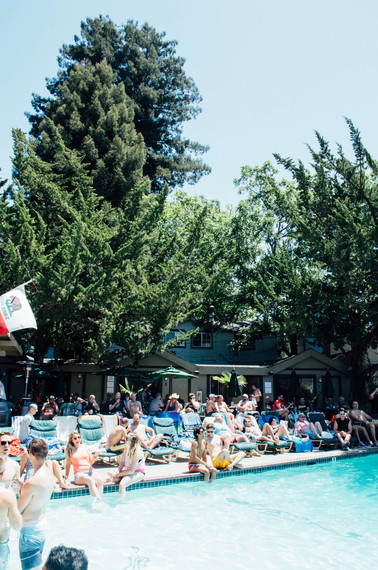 Photo courtesy of Fluxi on Tour
"If you want to get the party going, this gay-friendly, adults-only hotel is the place to be. There's a restaurant and bar so you can hang by the pool drinking cocktails while a DJ plays tunes. It's the perfect location for hot summer days and nights."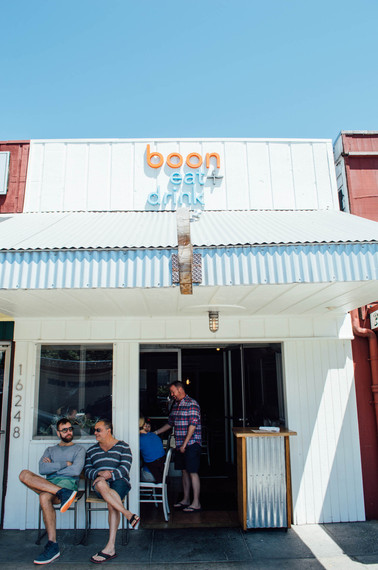 Photo courtesy of Fluxi on Tour
"This is a sophisticatedly simple California bistro opened by Crista Luedtke, the owner of the Boon Hotel. It might be in a small space, but it's big on flavor, combining fresh ingredients with pure cooking. Their exceptional truffle fries, for example, are a twist on everybody's favorite side dish. I consider this a must when in Guerneville, and since they do brunch, lunch, and dinner you'll have plenty of chances. (And the fries are served at all meals.)"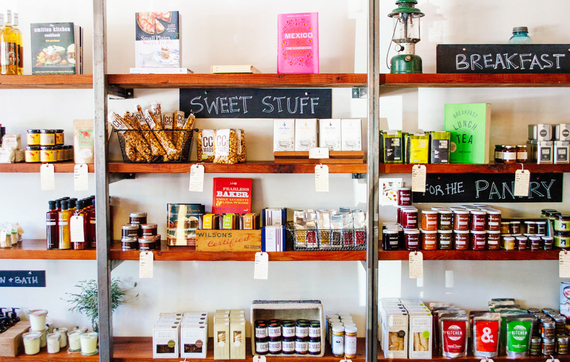 Photo courtesy of Fluxi on Tour
"From the same forge as Boon Hotel and Boon Eat + Drink, Big Bottom Market is a Main Street institution. It's a one-stop shop for delicious sandwiches, soups, salads, and foodie gifts. And they make the softest, most buttery biscuits ever!"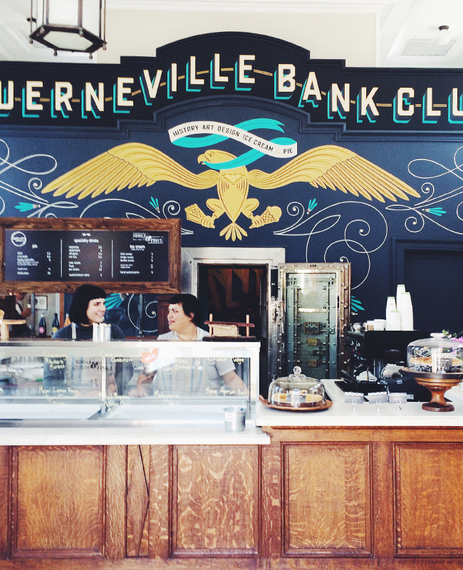 Photo courtesy of Fluxi on Tour
"After a major renovation, the old bank building has united some serious artisan power: Chile Pies from San Francisco, Nimble & Finn's Ice Cream, and Commerce Fine Goods shop. I highly recommend getting a scoop of ice cream, cup of coffee, or slice of pie here to nibble on while you wander around Guerneville."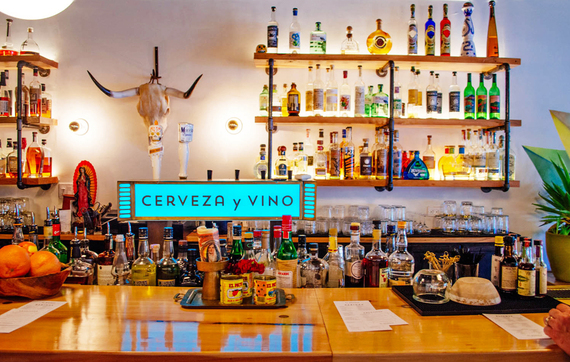 Photo courtesy of Fluxi on Tour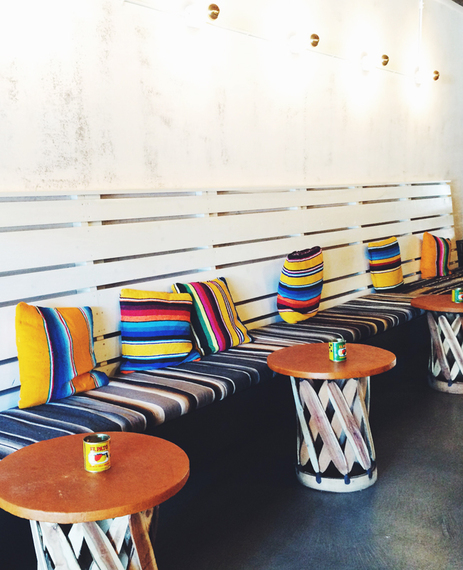 Photo courtesy of Fluxi on Tour
"After Boon Hotel, Boon Eat + Drink, and Big Bottom Market, El Barrio is Crista Luedtke's latest gastronomical venture. The interior is modern Mexican, the bar shelves are stocked with craft booze, and the kitchen serves Mexico-inspired snacks. Think it's well on its way to becoming a neighborhood favorite."
More from Spot: This Road Trip is One for the Bucket List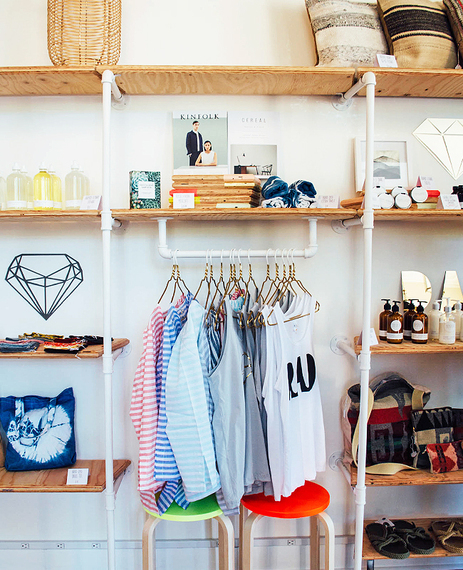 Photo courtesy of Fluxi on Tour
"So obviously the food scene is booming. But this is the first modern, timely shop here. It was dreamt up by the creative couple behind San Francisco-based Edyta Szyszlo Photography and Tomfoolery Photobooth and is stocked with handmade goods from local designers and artists. Tip: Don't miss their photobooth in the bank's vault. Start. Pose. Smile. Share. And find your pictures on their site."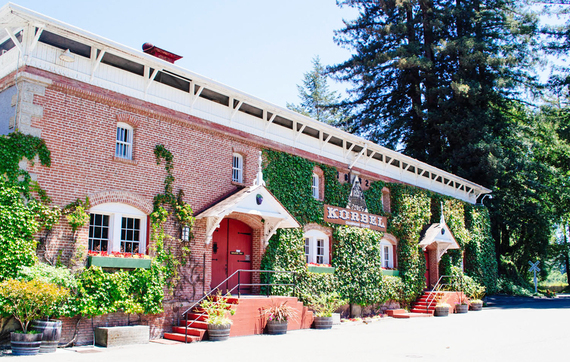 Photo courtesy of Fluxi on Tour
Wine Tasting
"There are a couple of nearby wineries where you can challenge your inner sommelier:
Korbel Winery
(above) is bigger and buzzier, but has a lovely old house open for tours during certain hours. And
Porter-Bass Winery
is more laid-back with a focus on biodynamic wines."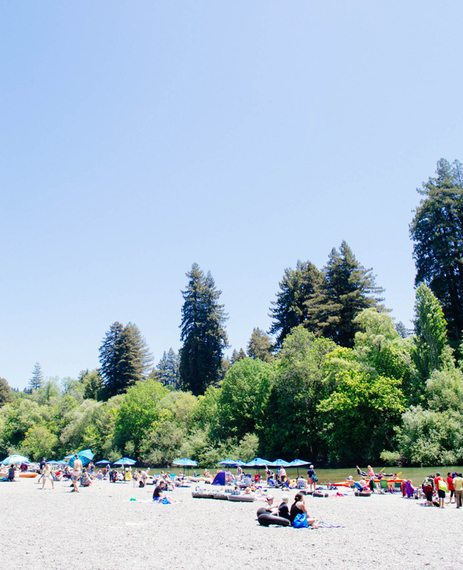 Photo courtesy of Fluxi on Tour
Beach Time
"During the summer, pack a beach blanket and savor the hot days on the shores of the Russian River. Johnson Beach is super easy to get to--only a few blocks from Main Street--which means it's a fun, lively spot. Or if you're going river tubing, you'll float by many hidden beaches between Forestville and Guerneville."
Canoeing
"Ok, this is my absolute favorite activity up here. Fill your cooler with provisions, slather on some sunscreen, put on your sun hat, and paddle away. Anchor on small beaches for a picnic and swimming break and enjoy the ride through the nature. For canoe rentals, check out
Burke's Canoe Trips
in Forestville."
Discover more at Spot.com and follow our adventures: