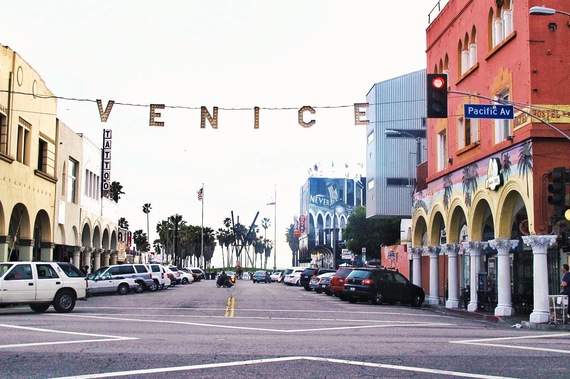 Photo courtesy of DM on Flickr
As much a Los Angeles icon as the Hollywood Sign and Walk of Fame, Venice Beach has undeniable allure. There's the sun-baked boardwalk, two-and-a-half miles of showboating rollerbladers, beach bunnies and bros, street performers and soothsayers. There's Muscle Beach, an oceanfront gym that saw plenty of Arnold Schwarzenegger back in the 1960s and '70s. There's buzzy Abbot Kinney Blvd. with so many chic shops and in-demand cafes you won't know where to start first. And, of course, there are the quaint canals, built by developer Abbot Kinney in 1905 as part of his Venice of the West plan (which also gave the city its name). While these sights are all more than worth a look (especially for first-timers), we really wanted to know one thing: Where do the locals go?
So we reached out to Michelle Halpern. She's the in-the-know social-media manager of three quintessentially SoCal fashion brands--Joie, Equipment, and Current/Elliott--who, after a stint in NYC, has adopted Los Angeles as her city and Venice as her 'hood. "Venice is unlike any place I've ever lived," she says. "I love that you can't stereotype Venice residents by a certain set of qualities because you come across quite the mix of characters on any given day. But the best part is that, as varied and diverse as the people can be, everyone coexists in this crazy, creative little town which only adds to its charm."
Michelle kindly cooked us up an insider agenda that makes sure you avoid endless driving, soul-crushing lines, and the kind of scenester-y hotspots that deliver the hype but don't live up to it.
From the team at Spot.com.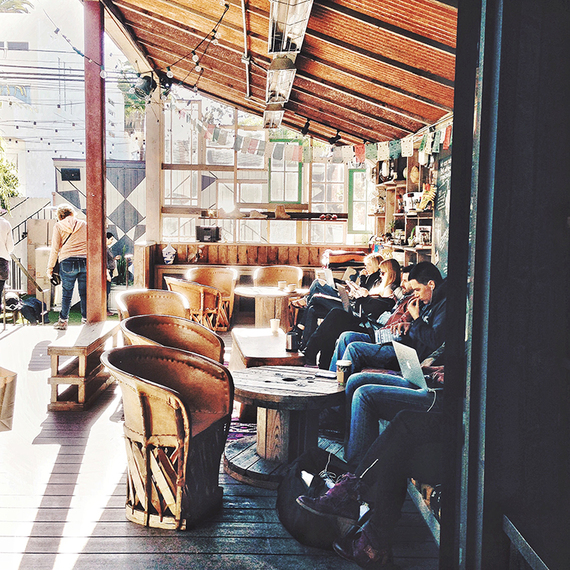 Photo courtesy of Michelle Halpern
Caffeinating at TOMS
"There's no shortage of great coffee spots in Venice, but Intelligentsia and the newly opened Blue Bottle Coffee are typically where people gravitate, which also means they have the longest lines. I like the coffee at TOMS--yes, the shoe company's Venice flagship--just as much, and you can camp out and work all day in their cozy backyard if you'd like. It feels more community working space than boutique, which I think is so Venice."
More from Spot: 5 Insane Overwater Bungalows You Can Actually Afford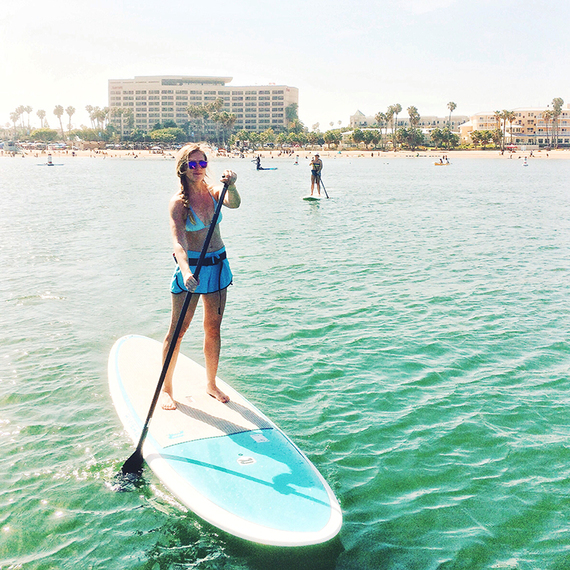 Photo courtesy of Michelle Halpern
Paddle Boarding at Mother's Beach
"While most people looking to get out on the water will head to Venice Beach by the pier, there you'll spend too much time fighting territorial surfers for waves. At Mother's Beach, a small bay in Marina Del Rey Harbor, you can rent a board from the
Pro SUP Shop
, and paddle out for about $25 an hour. Also a must are SUP's little-known moonlight paddle sessions, which take place every Wednesday and Friday at 7 p.m. The staff is super nice and it's also a great way to meet locals."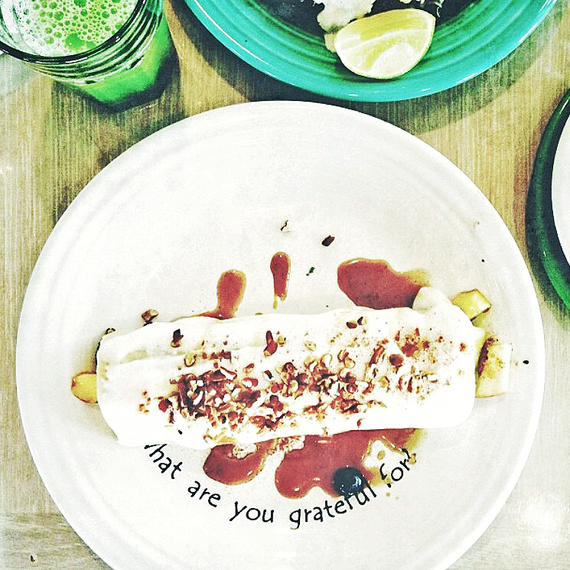 Photo courtesy of Michelle Halpern
Dining on Rose Ave.
"Places like Gjelina and The Tasting Kitchen on Abbot Kinney are so great and obvious visitor go-tos, but they're also pretty pricey and often require reservations weeks in advance. Instead, skip Abbot Kinney in favor of Rose Ave. where locals head for happy hour and dinner with friends. Restaurateur Oscar Hermosillo transformed the area with his openings of Venice Beach Wines, an intimate wine bar that's great for dates, and Oscar's Cerveteca for delicious Latin-American fare. But you'll also have your pick from Superba Snackbar--order the crispy Brussels sprouts--and
Cafe Gratitude
[above], one of my all-time favorites doing vegan with a side of mindfulness. For brunch, Flake is a great joint that serves up a pretty mean burrito. You can't go wrong with any of these options!"
More from Spot: This Road Trip is One for the Bucket List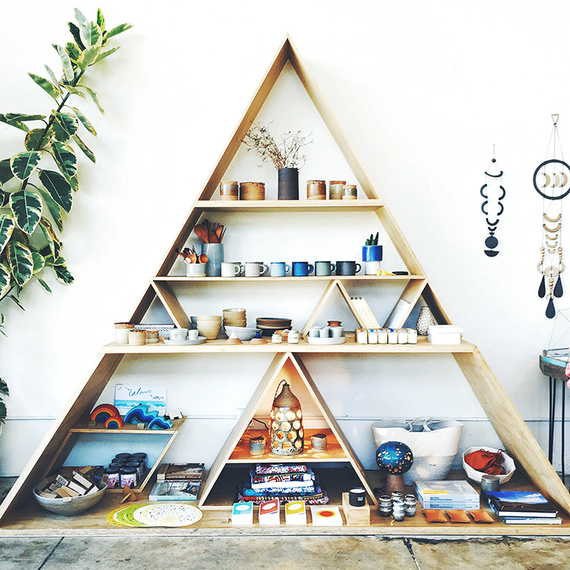 Photo courtesy of Michelle Halpern
"This incredible little space is located on Lincoln Blvd., the most traffic-saturated street in Venice, which means it's way too easy to overlook. If you don't already know about it, chances are you'll miss it completely. But despite the hectic surroundings, as soon as you step inside, you'll immediately feel the calming effect of the earthy design elements. A long wood table in the center of the room holds much of the merchandise--a cool selection with a focus on locally made artisan goods--along with a healthy dose of succulents and hanging plants."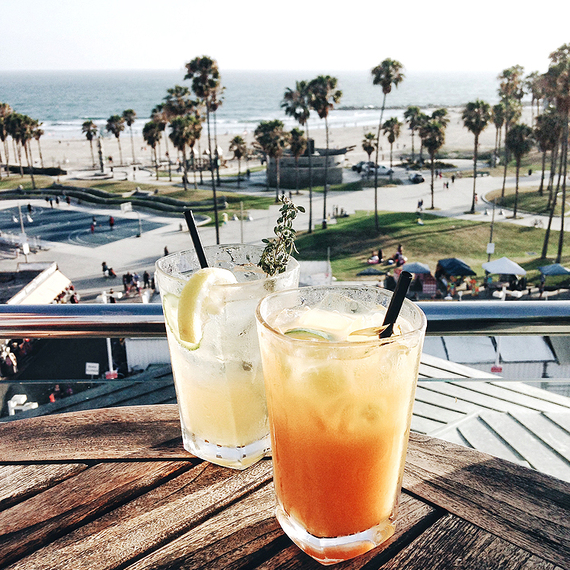 Photo courtesy of Michelle Halpern
"So this isn't exactly a Venice secret--it is the best spot in town for panoramic views of L.A., after all. But what most people won't tell you is that if you want to reap the full benefits of watching sunset from the rooftop, you need to make a reservation. While the space itself is pretty large, fire codes only allow a certain number of patrons up at once and on a beautiful sunny day they hit capacity quickly. Don't risk being caught in line while the sun is going down!"
Discover more at Spot.com and follow our adventures:
Instagram
Facebook
Pinterest
Twitter