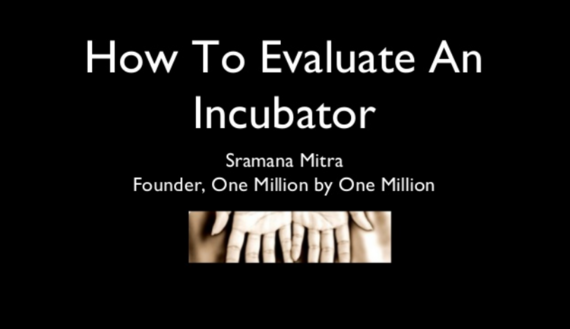 There are over 7,500 incubators/accelerators in the world. Most fail.
Entrepreneurs are thoroughly confused on how to evaluate incubators and accelerators.
Entrepreneurs are also thoroughly confused on why they get rejected by incubators and accelerators on the grounds of being too early.
This short slide deck outlines some points you ought to keep in mind in selecting an incubator/accelerator.
Remember: Success is More Than Funding
Most incubators use funding as a success metric, which is a somewhat flawed criterion. Over 99% of companies should operate as organically grown, self-sustaining businesses -- bootstrapped, without external financing. For them the goal is to achieve customer validation, not financing. Yet if the incubator uses financing as its success metric, it will try to force inexperienced entrepreneurs into an unnecessary financing round. And more often than not, they will fail.
Of course, where funding is appropriate and relevant, helping entrepreneurs connect with angel investors and venture capitalists is an important service. Equally important is to provide education on what is and isn't fundable.
Today, most incubators and accelerators operate as feeders into angels and VCs who are all chasing Unicorns.
Unicorns, by definition, are rare.
You want to work with folks who will help you succeed regardless of whether you qualify as a potential Unicorn.