Mary Barrett Costello is no ordinary entrepreneur, she's extraordinary by all rights. She has built an empire that consist of 3 restaurants (The Abington Ale House in Abington, MA and The Charlie Horse in Kingston and West Bridgewater, MA), a massive catering business, a haunted house (World Famous Barrett's Haunted Mansion), and more than 325 employees. She grew up watching her dad in the restaurant business as he worked his way up from bus boy to Executive Vice President of Howard Johnson's, and then eventually opening his first restaurant in 1971. Mary eventually took over the family restaurant business with her siblings and, due to her love of all things scary, she launched Barrett's Haunted Mansion right in the back yard of her Abington restaurant. People come from around New England throughout the Halloween season when more than 1000 people a night come through the haunted house.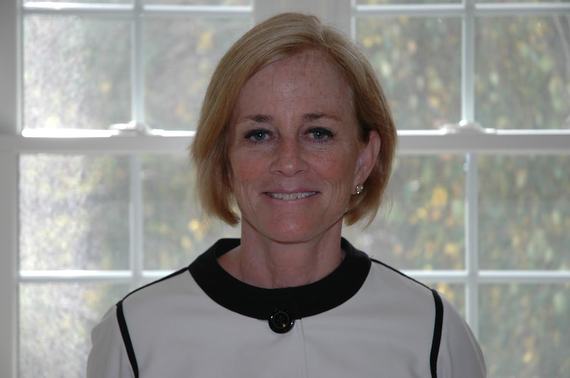 Mary has become a star among entrepreneurs in New England because, with the help of her sister and business partner, Carey Barrett Allan, she continues to build their restaurant brands, now 30 years old, competing against big chains that dominate the restaurant market, and because of her ability to take a passion for horror and turn it into a profitable business venture that gives thousands of dollars back all Halloween long to local charities and community organizations.
Here are four lessons to building a massively successful business Scary Mary style:
Give Everyone a Voice - Mary says that the hallmark of her business success is that everyone in the entire organization has a voice. All the managers are operating partners in the business and every single person in the organization has a say in how to make their job and the company better. Mary says that it is her dad who taught her this simple principle. Mary grew up working alongside her dad at the restaurant and she said that he would constantly ask her and the other employees, "So, what do you think?" It was her dad who taught her the importance of inclusion and making sure their work environment was one where each member of the team felt comfortable voicing their opinion.
Anything Built With Absolute Passion will Succeed - For many years there was a tiny miniature golf course directly behind their Abington restaurant. One year, Mary's dad had the idea of turning the mini-golf course into a pumpkin patch. Mary asked her dad if they could do something even better, create a haunted house. Mary has always had a deep seeded love for horror movies...the scarier the better. When her dad gave her the ok to build the haunted mansion she went to work building something so real, so scary, that people would keep coming back for the experience. That was twenty three years ago and today the attraction, which opens late September and runs through October, usally welcomes more than 1000 guests per night, with people often waiting hours to get the opportunity to go through the life-like haunted house. Mary attends Halloween and horror conventions all year, and as one season closes out, she starts preparing for the following year as the haunted house never looks the same as the year before. The haunted house has professional make-up artists on site who help prepare the characters each evening and the team spares no expense working on the little details that make it so scary. Mary explains that when you are 100% passionate about something, it comes through in your work, and so her passion exudes into the restaurant and the haunted house, turning it into a world famous attraction.
Create a Legacy - Mary says that it's important when building a business to think about what your legacy will be. It's a driving force behind her charitable initiative. A portion of all haunted house proceeds go to local charities and community groups, with each evening being dedicated to one particular organization. Creating a legacy is also the driving force behind how she and her sister, Carey, treat their employees. Mary says that the employees are more like family. They celebrate wins together. They support each other in difficult times. Mary recounted a recent memorial she had attended for a friend of a friend who passed away. She listened to guests eulogize the person who passed on and she wished she had known that person because he sounded like an amazing person who cared about others and gave back to the world. She hopes to leave that legacy herself.
Give People Second Chances - Occasionally, Mary has to let go of an employee, and this is the one thing about being an entrepreneur she hates. She believes that all people are good at heart and that every employee wants to do a good job. There are spotters that go into the restaurants regularly to make sure that the customer is treated well, and even in instances where the spotter catches an employee who is not offering the customer the service that is deserved and expected, Mary says she'll talk to the employee and give them a second chance. She says to those employees who occasionally get it wrong, "I want to give you a second chance to prove you are the great employee that I believe you are." Mary says that the best employees are those who take pride in their work and who believe in a team culture. She says she looks for the employee who would go pick up another employee whose car broke down on the way to work....because that's what Mary would do for any of her employees. Mary says that the culture of any home family is usually built on forgiveness and second chances, and that the same should be true for any work family.
Scary Mary's office doesn't look like most, as it's decorated with figurines and posters of Michael Myers, Freddy Krueger, and Hannibal Lecter, but when you get down to the mechanics of the operation, Mary Barrett is 100% entrepreneur...an amazing one at that. As for her dad, he passed away seven years ago at 79 years old, but not before leaving behind his own legacy ... one which I'm sure he'd be proud to know is being carried on by his amazing, albeit different, entrepreneurial daughter, Scary Mary.