Mama, I can't do that! I don't want the kids to think I'm weird.
My daughter's words struck my abdomen, like a knife plunging into my soul.
"Weird!" She said the "W" word.
The first time I heard my child fearing others' opinions, similar memories of mine were stirred up. Childhood fights on the playground, bickering in the girl's room or even worse ... debating whether "Babe" cologne or "Love's Baby Soft" was the best fragrance. It could get nasty.
Recently, I read a quote by Meryl Streep, which struck a nerve: "What makes you different or weird -- that's your strength."
Seriously, if I'd heard that advice when I was young, I might have avoided 25 percent of my childhood angst. I was a professional weird kid. If they had turned our fifth-grade spelling bee into a standing Weird-Off, I would have gone to Nationals. I was that proficient. In college, I tried to major in weird, but was denied. Theater and Film were an adequate backup.
With Halloween around the corner and people's gory, graphic yard art popping up, one starts to ponder weirdness. (Oh, and thanks for my kids' nightmares. I really enjoy a tiny foot in my face in the middle of the night.)
My journey of weird started at an early age. Lip-synching to Donny Osmond, into my purple hairbrush, with a red sequined tutu on my head. This was standard attire at my house. The kids in the neighborhood came to expect it, as did my parents.
Although the only day I could parade my weirdness was Halloween. Costumes mandatory? How glorious!
My costumes started off innocently. A bunny, a witch with a big rubber nose, and a picture book-perfect Raggedy Ann, complete with a full wig constructed of red yarn. But those costumes don't sound so weird, do they? It wasn't until I had the choice of what to be, instead of my parents choosing, that my flair flew.
In the fourth grade, I was Phyllis Diller. Yes, I teased my hair high, put on obnoxious makeup and hot pink-framed glasses. I was a dead ringer for the comedienne. The best part was the reaction I would get at neighbors' doors.
Trick-or-treat!
(gasp) Oh, my. What are you, honey?
Phyllis Diller.
The answer was either followed by laughter or absolute confusion as to why a young girl would choose this over a cute pumpkin or ghost outfit. A boring ghost uniform would have been booed from my bleachers.
Junior high was a time for many kids to bow out of costumes in my town -- but not for me. I still wanted to take my younger brother around to houses, so I could steal his candy later. What was his costume? A werewolf, of course. And living up to high standard "weirdo" expectations, I was a full-term pregnant ballerina.
There were countless kooky costumes, too many to list. But those were the years I embraced my weirdness. However, at some point I began to worry what others would think of me. I'm certain this is a developmental stage that all humans face. It's how you react to it and learn from that uncertainty that defines your character.
So when my munchkin said she was afraid of what the other kids would think, I pulled her over to my computer to teach her about Meryl Streep. I wanted my daughter to see someone who is famous -- a great role model -- and learn that a woman of that caliber knows being "weird and different" is awesome!
I never imagined Ms. Streep would help me with my parenting skills. Makeup and acting tips, maybe. But her lesson is being practiced in my house now.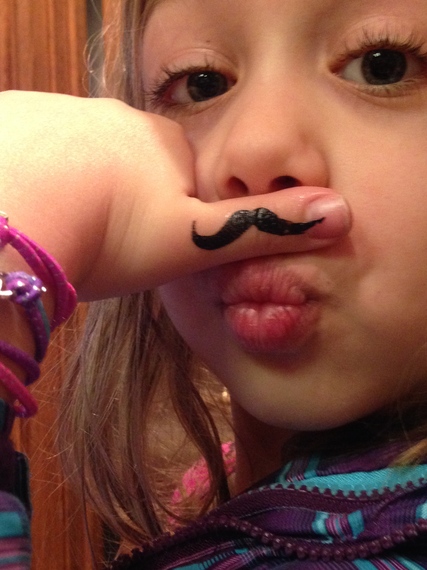 Mama, I don't mind being weird, if when I grow up, I like myself.
Standing ovation, my munchkin. Standing ovation!