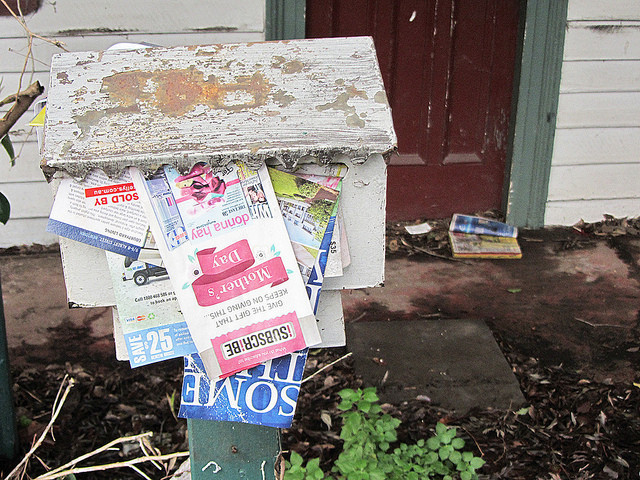 Flickr photo by Newtown grafitti
There are several ways to combat junk mail. Catalog Choice is a service that lets you "unsubscribe" to catalogs you don't want. Filling out a form at www.donotmail.org will take you off the lists of several major junk mail offenders. You can also call 888-5-OPT-OUT (888-567-8688) to stop receiving unwanted credit card solicitations. You will have to provide your name, address, previous address, and Social Security number.
For a low annual fee, Tonic Mailstopper will automatically remove your name from junk mail lists and monitor lists on a monthly basis to keep your name from reappearing. You can cancel catalogs you don't want to receive, and the company also plants trees in your honor to help the environment.
Bear in mind that names, addresses, and buying habits are regularly traded on the open market. There is nothing to stop a company from selling yours, but these steps will help to reduce the volume of junk mail and solicitations:
-When ordering a product or service or donating money via mail or over the phone, specify verbally or in writing that you do not want your information sold or traded to other companies. Most organizations will respect your wishes.
- Product warranty cards are often used to collect information on your buying habits for direct mail purposes. Read the fine print to see if warranty cards are actually required to validate the warranty. If not, think twice about mailing them in.
- Avoid filling out entry forms for "contests," as these are often a ruse for gathering consumer data.
For more cleaning tips, check out What's A Disorganized Person To Do?