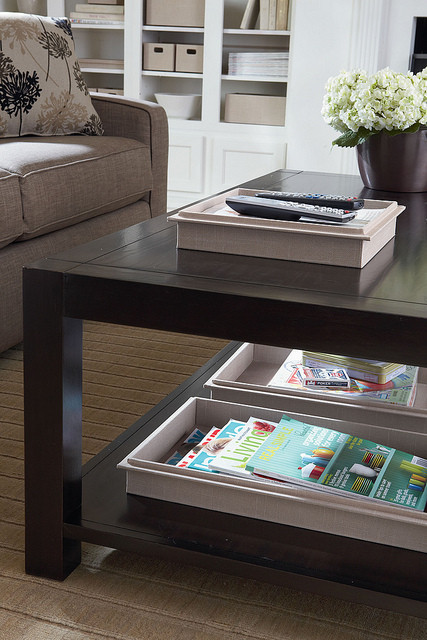 Flickr photo by Rubbermaid Products
A versatile addition to any family room or living room, a tray can serve a multitude of functions. Plus it's easy to whisk things out of sight whenever necessary. Some tray chic ideas:
- Fashion a coffee table out of an ottoman by resting a tray atop one. Use it to hold candles or a vase of flowers.
- Place a tray on a sideboard table to hold a stack of current magazines or bar items.
- Store remote controls on a tray on the coffee table.
- Create an end table, using a tray as the tabletop. Make the base out of a stack of books, a luggage stand, or a stool
- Use a tray to display a collection.
For more organizing tips, also check out these stories:
Double-Duty Decorating Ideas
Shopping Serving Trays
10 Coffee Table Topper Ideas
For more cleaning tips, check out What's A Disorganized Person To Do?