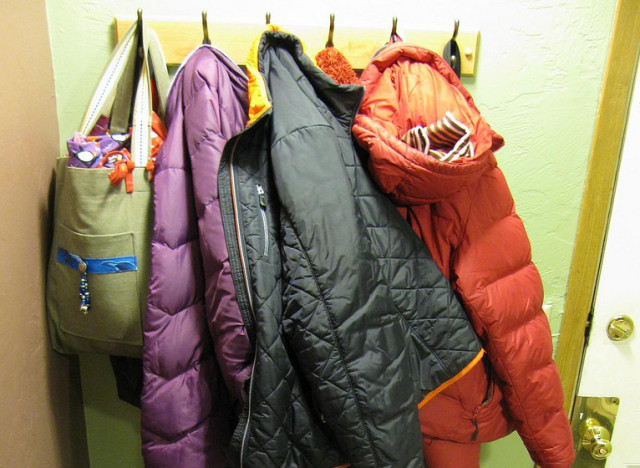 Flickr Photo by LizMarie_AK
Instantly upgrade your coat closet, or any closet for that matter, by replacing mismatched hangers with matching ones. This will create a uniform look and give an overall neatened appearance to your coat closet. The best hangers for coats are wide-shoulder wooden hangers, which bear weight better than plastic ones. The contour of the hanger will keep the shape of coats, and the width will ensure space between coats and prevent them from wrinkling.
To maximize closet space, hang short and longer coats in two separate groups. This way, you can utilize the space under the short coats to store other items. Face all coats in the same direction, noting that the curved side of the hanger (if it has one) goes to the front. If coat closet space is tight, then limit how many coats each family member keeps there. This will make it an active, user-friendly closet rather than a storage closet. Store off-season coats elsewhere. Aim to leave space in the closet (and a few empty hangers) for guest coats.
For more cleaning tips, check out What's A Disorganized Person To Do?