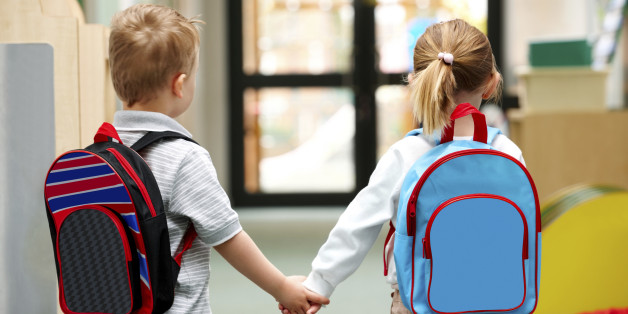 Two kindergartners were sent to the principal's office during their second week of school. One hit a little girl after she refused to share a toy. The other smacked a little boy after he cut to the front in the lunch line.
At the principal's office, each child was asked what happened in their respective confrontations. Both admitted they used their hands, and both knew they were in the wrong. As would happen in many American schools, both boys were issued two-day suspensions.
One child, Bobby, had been removed from his parents' care and lived with a foster family. The other child, Sam, lived with his parents, both college educated and involved at the school.
That evening, Bobby received a brief lecture from his foster mother. He was sent to his room early, and the next morning he spent the day at his social worker's office, watching television and playing video games, as his foster mother could not take off work to stay home with him. A week after the incident, Bobby's regular social worker received an official letter from the school board, notifying her that Bobby's suspension was now a part of his educational record. Next year, his new teacher would learn of the incident before even meeting Bobby. If Bobby one day applied to a magnet program, the admissions committee would not only consider his grades but would also review his disciplinary record.
Sam's parents also took a stern tone with him that night, refused his request for dessert and sent him to bed early. Later that evening, their anger shifted away from their son, and they became outraged at the school's disciplinary policy.
How could a kindergartner, yet to have taken a spelling test or bring home a report card, now have a permanent disciplinary record?
How could a school system create a policy that sets young children up to face such serious consequences for developmentally normal early childhood behaviors?
The next morning, Sam's father made an appointment to speak with the school's principal. At the meeting, he acknowledged that his son was in the wrong. Sam's father suggested other options, like not letting Sam attend the school's ice cream social, asking that Sam meet with the guidance counselor, or requiring his son to stay inside during recess for a few days. The principal agreed to the father's request. She decided to change Sam's punishment. The principal tore up the suspension paperwork and instead required Sam to miss a week's worth of recess and to meet with the guidance counselor during his classroom's monthly ice cream party.
Because of his father's intervention, Sam no longer had a disciplinary record. His first grade teacher would never hear of the incident. If Sam applied to a magnet program, it would be as if it never even happened.
The dichotomy of Sam's time-out and counseling compared to Bobby's suspension and permanent record might seem appalling, but these sorts of inequities occur in schools across the country every day. Clearly, Sam benefited from his parents having the skills, time, and motivation to challenge the status quo. But not all children have the benefit of confident, involved parents to help them navigate in the public school system.
Generally, parental involvement in a child's school life decreases behavioral problems and enhances student achievement. While children living with family members may benefit from their support, children in foster care are at a significant disadvantage due to the transitional nature of foster care and the large caseloads of social workers. In addition to the difficulties foster care workers confront, researchers at Chapin Hall at the University of Chicago found that, "foster parents and child welfare caseworkers alike often do not feel empowered or times are not available to advocate for a child to be reinstated in school or receive necessary services."
While one might be quick to point the finger at Sam's father for "giving him an easy way out," it could be argued that a five-year-old is more likely to feel the weight of a missed ice cream party than a day home from school. Unlike suspensions, which do little to stop repeated episodes of misbehavior, effective behavioral modifications reduce referrals to administrator offices which benefits a child's academic performance. Though a child might not mind missing a day of school, research shows that suspending children actually has lasting, harmful effects.
Early childhood is a time for children to develop their social skills and gain respect for the educational process. Frustrating this process, suspension stigmatizes a child and "may also delay or interfere with the process of identifying and addressing underlying issues, which may include disabilities or mental health issues." Unlike counseling or the disappointment of missing recess, suspension does little to address the underlying problematic behavior, like hitting another child in response to a stressful situation.
Many organizations are stepping up efforts to help foster children succeed in school. Volunteer Guardian ad Litems and Court Appointed Special Advocates speak on behalf of children both in court and in the school system. Many states have created laws allowing for the appointment of special educational surrogates to represent foster children and other at-risk youth. Similarly, some school districts train community members to serve as both mentors and advocates for all at-risk students.
These are great bandages to solve the problem of inequity in our school systems, but the permanent solution must lie in changing the landscape of school discipline in public education. Sam's father wasn't wrong in advocating on behalf of his son. As a parent and child welfare attorney, I also advocate for my own children (both biological and court appointed) in the same individualized manner. However, I recognize that true change will come not as the result of advocacy for the select few. Perhaps we can all resolve to not only look out for our own when faced with an antiquated or unfair policy but instead take these opportunities to engage policymakers in a meaningful discussion that could improve the lives of all children in our public school system.
Stacey Steinberg is teaches legal writing, appellate advocacy, and juvenile law at the University of Florida Levin College of Law. She is also a lifestyle photographer and a mom. Visit her website, or follow Stacey on Facebook.