During Fashion Week, there are two types of runways where participants witness fashion; the actual designer show and the streets of New York, where the entire city, especially the Lincoln Center corridor, becomes a catwalk.
Fashion show guests and passersby are privy to an amazing array of unique beauty and fashion trends live in action at Lincoln Center.
I captured a few great inspiring fashionistas whose ensembles were near perfection. It was obvious great care and planning went into making them look effortlessly chic. And of course, the attention to detail paid off in many ways.
For one, you're greeted with your own personal paparazzi for the day. From the professional photographers to bloggers to style admirers, many scrambled to capture stylish shots of women and men putting their best look forward.
Here are few street style looks I captured during NY Fashion Week: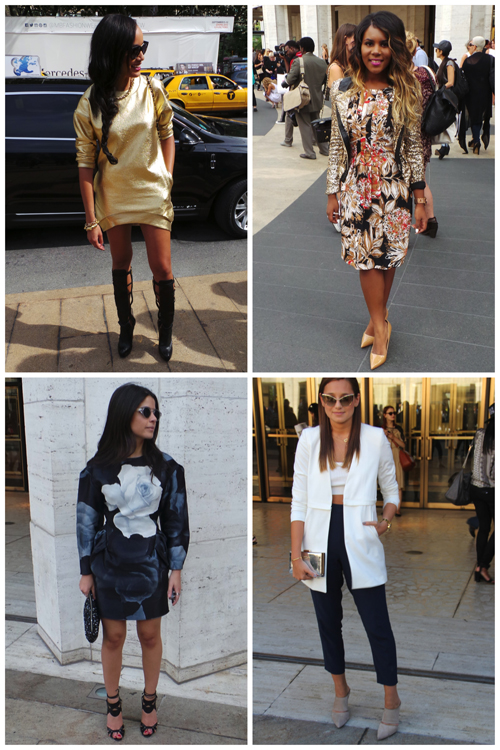 The best part of dressing your best everyday is getting a huge confidence boost that comes from looking good and feeling great. We walk taller, smile more, speak up in meetings, close more sales and attract more kindness.
Even though you may not be strutting your stuff down the catwalk for Diane Von Furstenberg, you can certainly channel the runway confidence of high fashion models when you get dressed daily. If you're still wondering if it is even worth the fuss of getting gussied up, here are a few reasons to take a little extra primp time in the morning:
Increased Confidence. When you look amazing, you feel amazing and it shows in everything you do.
Increased favor. Your image is the billboard that educates people on how to treat you. When you are looking your best, people respond well to you. Your appearance requires respect and attracts others to want to know you more.
Increased income. Dress for where you want to go, not where you are. When you look like senior management in a polished suit or elegant ensemble, you will be viewed as such and treated that way. Your appearance, in many cases is the first step to getting a raise or promotion.
Add the following tips to your daily routine to enhance your appearance and boost your confidence.
Plan your attire the night before. Take time to try on outfits to make sure you have a good fit. This will cut down on the morning frenzy of finding something to wear.
Check your look in a full-length mirror before leaving. Make sure you look put together before you leave home.
Clear the clutter. Clean your closet of all ill-fitting, out-dated clothing that you haven't worn and don't really plan to wear. When your closet is full of clothes that look great, you're more likely to put together winning combinations daily.
Get a standing hair appointment to keep your hair trimmed and styled regularly. Many times, it costs less to buy your appointments in bulk.
Experiment with makeup. Consult a makeup counter and get a color analysis. Get a makeover and try the colors that are in for the season. Just a little change in your makeup can make a huge difference in your appearance.
These five tips will certainly give you the catwalk confidence you need to strut your stuff on the runway of life. Check out a few more of my favorite street style looks below: