Another year, another Fat Tuesday! What better way to celebrate Mardi Gras than to enjoy the mightiest of all foods that hail from the great city of New Orleans: the muffuletta. No ordinary sandwich, the muffuletta is the quintessential sandwich. A specimen that speaks to how all sandwiches should be made.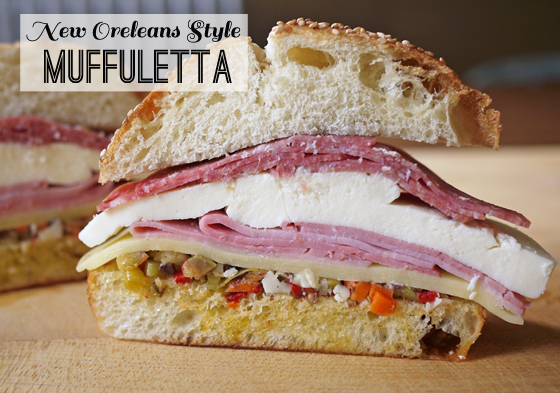 In years past, I've celebrated the food of New Orleans by whipping up easy red bean gumbo or making jambalaya alongside my New Orleans-native brother-in-law. But this year, my role as school lunch queen (a self-appointed title, thank you very much!) has inspired me to take on the muffuletta, the mother of all sandwiches. I figure this New Orleans classic can serve double duty: help us celebrate Mardi Gras and also teach us a few things about how to construct any great sandwich.
If you haven't had the pleasure of eating a mufuletta in New Orleans, allow me to break it down. The foundation of the sandwich, which originates at the Central Grocery, an Italian deli opened in 1906 in the French Quarter of Louisiana, is a large, round Sicilian loaf similar to focaccia. On to the bread, olive salad, mortadella, salami, mozzarella, ham, and provolone are piled high. Sound like a pretty typical Italian sub? Not when made with a traditional olive salad, key to making a proper muffuletta.
It's perfection. In fact, it's so right that the muffuletta teaches us about how to build any sandwich. Everything you need to make a killer sandwich is present in a muffuletta:
Great, fresh bread
Acid from pickled vegetables
Crunch from the olive salad
Creaminess from fresh mozzarella balanced by the sharpness of provolone
Delicious meat. And lots of it!
You can buy olive salad in some states, but I say make your own. If you can't find the ingredients you need to make a traditional version, improvise like I do! I use both black and green olives and mix them with roasted red peppers. I also throw in some lightly pickled cauliflower, celery and carrots made using my quick refrigerator pickles method. So easy!
Chop it all up, spread it on your sandwich, layer on the cheese and meat and, presto, a genius lunch -- or dinner -- is made. I like mine cold, but you can press this for a lightly toasty version, too. Either way, a mufuletta totally delicious and making one will teach you a thing or two about making sandwiches like a pro.
For more simple tips and easy family recipes visit Stacie at her blog, One Hungry Mama. Stacie also has a client practice that serves parents nationwide who are struggling to fit healthy cooking into their busy family lives. Email Stacie to learn more about how you can work with her. Also be sure to subscribe to One Hungry Mama on YouTube to catch all of Stacie's videos.